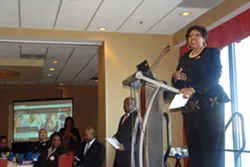 Over 150 representatives from local government, social service agencies, law enforcement and the judicial system are meeting today at the Call to Action Summit.
The summit is part of the City of Savannah's participation in the Cities United initiative in partnership with the National League of Cities. Launched in Philadelphia in 2011, Cities United assists mayors and municipal leaders in reducing violence and improving the achievement of African-American men and boys.
"This is the start of a conversation," said Mayor Edna Jackson. "This is about the children of our community and it has to be a community effort. We're hoping with the assistance of the NLC, we can come together to produce an actionable plan to end the violence in our community, encourage educational achievement, and produce opportunities for our young people."
At today's Call to Action Summit, participants engaged in a series of visioning exercises and discussed a range of topics to contribute toward an outline for a strategic action plan to close the achievement gap for young men and boys of color in the community. The collaborative effort will continue into 2015, when the plan will be presented to the public for feedback before implementation.
"It's time for a courageous conversation about the taboo issue of race," said Alderman Van R. Johnson II. "If we're going to continue to thrive as a community, we must frankly, holistically, and exhaustively address the issue of negative outcomes of African-American youth in Savannah and Chatham County."