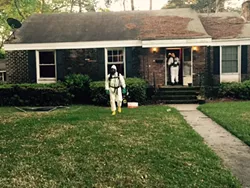 Multiple people were arrested following an early morning search warrant conducted by the Chatham-Savannah Counter Narcotics Team (CNT) this past Thursday.
Just after 6 a.m., CNT, the Chatham County Sheriff's Office K9 Unit, members of the Savannah-Chatham Metropolitan Police Department (SCMPD) and SCMPD SWAT executed a search warrant at 401 East 63rd St.
"Five people were located inside the house and taken into custody without incident. Reynolds and 63rd Streets were blocked off for approximately two hours until the area was safe," police say.
Agents found "various forms of controlled substances to include but not limited to Dimethyltryptamine (DMT), methamphetamine, cocaine, marijuana, and prescription pills; a total of 12 firearms; items commonly associated with the distribution of a controlled substance and nearly $10,000 in cash."
CNT's investigation began in March 2015 after undercover agents "received information that various drugs were being stored, distributed and sold from the house," police say.
Agents were able to determine that people connected to the house "were likely manufacturing DMT, a hallucinogenic drug," police say.
DMT is known by other street names to include Businessman's Trip and Fantasia. It comes from plants in South America and can be boiled to make a brew or ground to make a powder.
CNT arrested 35-year-old Jeremy Lueken, 21-year-old Benjamin James Butler, 23-year-old Cadell Quentin Martin and 27-year-old Justin Redmond, all of Savannah.