The Savannah Children's Choir has announced the hiring of Jared Hall as Managing Director.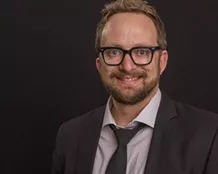 Hall will direct the Choir's operations, educational programs, and performances.
He is currently Music Director for Historic Trinity United Methodist Church, where he also directs the Church's concert series.
Hall recently served as the Managing Director for the Flannery O'Connor Childhood home, where he was responsible for all day-to-day operations and programming.
But probably most Savannahians know him for his role as keyboard player in the very popular local gypsy swing band Velvet Caravan, which recently "got discovered" at the SXSW festival in Austin.
"My music career has been dedicated to the celebration of music and the furtherance of music education for children. I look forward to collaborating with the Choir's talented and dedicated staff and conductors, and to sharing my skills and passion for choral music with the children of Savannah," Hall says.
"It is such a coup for us to bring Jared on board," says SCC Executive Director and co-founder Roger Moss. "Not only can he handle the day-to-day operations of the choir and manage the logistics, he's passionate about music and teaching it to others. He's going to be a tremendous asset as we continue forward with our mission."