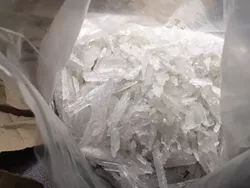 A joint operation between the Chatham-Savannah Counter Narcotics Team (CNT) and the Effingham County Sheriff's Office (ECSO) Drug Unit led to a large seizure of crystal methamphetamine.
"Shortly after 3 a.m. Sunday, CNT arrested 39-year-old Charles Tillman Jr., of Guyton, and 30-year-old Courtney Jones of Savannah. They were found inside a vehicle at a Chevron gas station located near the Interstate 95 and Highway 204 corridor," a CNT spokesman says.
"Agents seized more than one pound of crystal methamphetamine, two firearms and other controlled substances. Tillman was wearing a security officer badge around his neck area at the time of his arrest," CNT says.
Tillman and Jones were charged with multiple felonies to include Trafficking Methamphetamine and Possession of a Firearm during the Commission of a Felony. Tillman was also charged with two counts of Possession of a Firearm by a Convicted Felon. They are being held in the Chatham County Detention Center without bond following their arraignment hearings in the Recorder's Court of Chatham County.
CNT and ECSO's joint investigation uncovered that Tillman and others "would make regular trips to Atlanta to purchase methamphetamine and then distribute it throughout Chatham and Effingham Counties," CNT says.
During the investigation, undercover agents learned that Tillman and Jones "were in the process of resupplying and were able to make contact with both persons. It is believed that the crystal methamphetamine was seized before any of it could be distributed."
CNT Director Everette Ragan stated, "I am very proud of the outstanding partnership we have with the Effingham County Sheriff's Office. By working together, our agents are able to maximize their investigations without having to stop at the county line."
Effingham County Sheriff Jimmy McDuffie stated, "Criminals often times operate in multiple counties. Joint investigations prove that when our agents work together, they are more effective at keeping drugs off the streets and keeping our citizens safe."
The Chatham County Sheriff's Office K9 Unit and Georgia State Patrol also assisted in the operation.
The seized narcotics have an estimated street value of up to $60,000