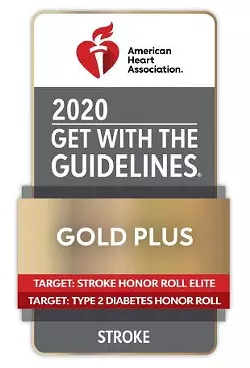 For the ninth straight year, Memorial Health has earned the American Heart Association/American Stroke Association's (AHA) 'Get With The Guidelines' Stroke Gold Plus Quality Achievement Award.
This award recognizes the hospital's commitment to ensuring stroke patients receive the most appropriate treatment according to nationally recognized, research-based guidelines based on the latest scientific evidence.
Memorial also won the 2020 AHA Target: Stroke Elite Honor Roll and Target: Type 2 Diabetes Honor Roll awards.
Get With The Guidelines is the AHA's hospital-based quality improvement program that provides hospitals with tools and resources to increase adherence to the latest research-based guidelines. Developed with the goal of saving lives and hastening recovery, Get With The Guidelines has touched the lives of more than 6 million patients since 2001.
"These awards demonstrate our team's commitment to providing safe, high-quality care for stroke patients," said Dr. Joseph Hogan, emergency room physician. "This quality initiative helps us measure our success in meeting clinical guidelines that improve outcomes for our stroke patients."