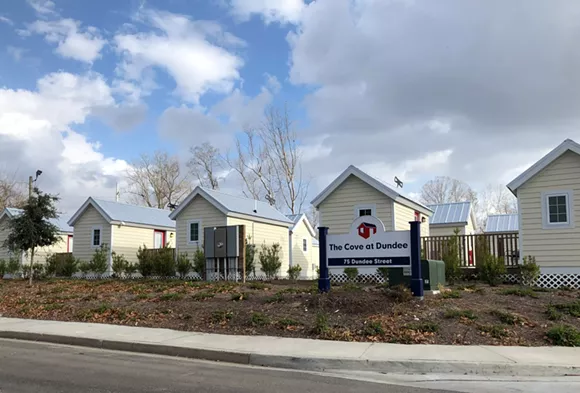 Two dozen homeless veterans are closer to having a roof over their heads as a result of a $5,000 grant from Truist Financial Corporation to boost Savannah's Tiny House Project, according to a Dec. 29 announcement from the Chatham Savannah Authority for the Homeless (CSAH). The funds will go directly toward the construction costs for Phase 2 of the Tiny House Project. During Phase 1 of the initiative, completed in fall of 2019, the Cove at Dundee was constructed in Eastside Savannah with 23 fully equipped tiny homes now occupied by formerly homeless veterans, who have access to an onsite clubhouse, walking paths, and a small medical clinic. Phase 2 of the project will provide 24 more fully furnished homes and a second clubhouse for laundry, community meetings, and access to classes and supportive services provided by CSAH staff and community partners. CSAH anticipates that Phase 2 will be completed in 2021.
"We are honored to have Truist's financial support for the Tiny House Project," said Cindy Kelley, executive director of CSAH. "The pandemic continues to put additional stress on our community's meager supply of affordable housing, so we are especially thankful for their assistance during this time." Savannah's Tiny House Project is Georgia's first effort dedicated to reducing veteran homelessness by providing a community of permanent, affordable tiny homes that occupants rent for $240 per month, utilities included, according to CSAH. Visit
homelessauthority.org/tiny-house-project
for more details.