Savannah is pretty famous for shopping, so it should come as no surprise that folks come into town from all around to buy gifts for the holiday season! While you can stroll the malls (in person and online) and look for the perfect finds yourself, we thought we'd put together an abbreviated gift guide, filled with presents that say "HO, HO, HOSTESS CITY," all wrapped up with a perfect Savannah bow!
Here are a few of our favorite finds this year!
Shop and stroll down Broughton Street:
This has been Savannah's shopping avenue since anyone can remember. And there are lots of local finds all up and down the street.
Capital Bee Co., doesn't just have the best honey gifts in town, they also have tons of Savannah-centric items that say "I'm a local." They are also the only spot in town to find that Biscuits and Honey scented candle everyone talks about!
Right across the street is Java Burrito, and if you've been there at any point in the day, you know how popular they are. Pick up a gift card for someone who needs a coffee/burrito fix. By the way, have you had their brownies? Easily the best in town.
Farther down the street and crossing over Bull is J. Parker Ltd. It's our favorite menswear store, but there's something for everyone, especially if you're looking to celebrate the Georgia Bulldogs' success on the gridiron with some keepsake clothing or items.
Specialty chocolates? Chocolat by Adam Turoni. Nothing else needs to be said. And Savannah's favorite pamper-me store has to be The Soapery Savannah. Follow the bubbles to find handmade bath bombs, sugar scrubs and soaps made right here. Peppermint marshmallow lotions? Put it in my stocking, please.
Shiny Things:
Jewelry is always the best gift at Christmas, right ladies? So check out local offerings at Atelier Gallery, Savannah Jewelry Gallery and Harkleroad Diamonds. You can't go wrong with any of those.
Got Pets?
We can't leave out the furry family members. Make sure you check out Woof Gang Bakery and Grooming. There's so much! From pet toys to that table full of cookies to gift cards for grooming. You can't go wrong.
Let's face it, that phone full of photos of Rover and Fluffy aren't cutting it. They want a full-on modeling session with Savannah's premier pet photographer Photos by Becky. That 36x40 canvas print of your chihuahua is exactly what you need for over the fireplace.
Get Classical:
Got friends with musical vibes? There are so many tickets already available for 2023 festivals: The Savannah Music Fesival, Savannah Jazz Festival, Savannah Philharmonic all have packages available on their websites now!
Get your Groove on:
Tickets to all the shows coming to Enmarket Arena, Johnny Mercer Theater, District Live, Tybee Post Theater, Victory North and more are all great gift items. (Janet Jackson/Ludicris were just announced and tickets go on sale Dec. 16!)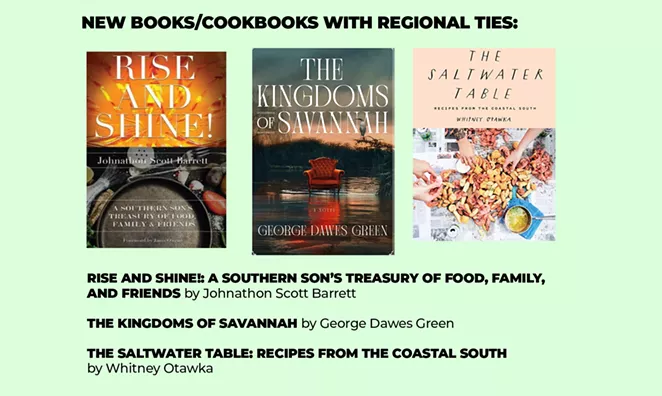 Experience it:
A great gift would be a membership to a local museum that could be enjoyed all throughout 2023. The Telfair Museums, Ships of the Sea Museum, Savannah Children's Museum, Savannah African Art Museum and SCAD Museum of Art are great choices.
How about the gift of learning an artform? Hostess City Hot glass offers classes in glassblowing. So does the Cultural Arts Center in lots of subjects like pottery and painting. Cooking? Check out Chef Darin sehnert's classes and learn to make a Lowcountry feast. Portman's Music offers classes for all ages in just about every musical instrument imaginable. Also make sure you get tickets to the Savannah Gatsby Gala for next April!
'Tis the Seasoning:
Savannah is definitely known for our food culture. And The Salt Table is on top of all things spicy (and mild). The local company ships all over the world! Pick up some Peach Bourbon BBQ sauce from Savannah Sauce Co. And if coffee is your thing, you should check out Boston Coffee traders. Don't let the name fool you, these are local beans! Also check out some authentic Italian items at Frali Gourmet.
Put it on the Card:
Sometimes the best way to give a little bit of Savannah is through a gift card. Here are a few that we would definitely like to receive!
McDonough's Restaurant and Lounge
The Crab Shack
Barnes Family Restaurant
Vel- Premium Work Cafe
Coach's Corner
Water Witch Tiki Bar
The Printed Peach - Lily Pulitzer
CBD - Coastal Vibes
Auspicious Bakery
Cohen's Retreat
Savannah's Candy Kitchen
Oak 36 bar + kitchen
The Black Rabbit
Top Deck Rooftop and Bar
IN THE KNOW: THE SAVANNAH GIFT GUIDE FROM OUR FRIENDS AT THE LOW
The holiday season is almost here, which means it's time to start thinking about gift shopping. If you can, start shopping early to take advantage of seasonal specials, sales and discounts. During the festive season, we give gifts to our loved ones to show appreciation for their roles in our lives. Rather than give something basic that anyone can get from anywhere, step up your gift-giving game with a present that's uniquely Savannah. If you want to set yourself apart this holiday season, here's a brief guide to local gift giving.
Chocolat by Adam Turoni
There's nothing like a sweet treat to enjoy during the holidays. Give the gift of velvety smooth, delicious artisan chocolates handcrafted in the Hostess City by local chocolatier Adam Turoni. With a wide variety of decadent bars and bites to choose from, there's something for every chocoholic at Turoni's shops. There are two locations in Savannah, The Chocolate Dining Room on Broughton and The Chocolate Library on Bull. Stop by one of them to see their sizable selection of satisfying chocolates yourself.
Mary Kay Andrews Novels
Is there a voracious reader on your holiday shopping list? Gift them with a page-turner from lauded local author Mary Kay Andrews. A Tybee Island resident, Andrews often tells intriguing stories about life in the Southeast. Her latest novel, The Santa Suit is a perfect read for Christmastime. Celebrating the magic of the holiday season, the novel follows a newly-divorced woman who buys an old farmhouse in North Carolina and discovers mystery, family and a second chance at love. Andrews has a collection of more than 30 titles, so there's plenty of books to choose from. (Most are available at our friends at E. Shaver Bookseller)
Starland Strange & Bazaar
If you're shopping for someone with a quirky sense of style, get them a cool tee from Starland Strange. All of their tees are locally made and exclusively designed, so they'll definitely make wearers stand out in a crowd. Their unique tees are available online and in-store, so check out their stash and find something superb for the fashionista on your list.
The Hipster Hound
Of course, you can't forget about your furry friends during the holiday season. You can find something Fido will love at The Hipster Hound. Their products include toys, treats, food and accessories, so there's a wide variety of goodies to choose from. With two locations in Savannah, The Hipster Hound is ready to serve you and your pup (or kitty) this Christmas.
While you're shopping around, give yourself a little Christmas gift for FREE! Sign up for THE LOW, and fill your inbox weekly with everything you need to be a Hostess City expert! Visit getthelow.com
- Chantel Britton