Springtime in Savannah is particularly gorgeous, boasting beautiful, vibrant flowers and statuesque, moss-dripped oaks. With the cold days of winter behind us, now's the time to get out and enjoy the warm, sunny weather. Picnic season is officially in, so pack some sandwiches, fresh fruit, and a bottle of water — or wine — and head to these picture-perfect places for a fun alfresco meal.
Forsyth Park (above)
With lush lawns and beautiful scenery, Forsyth Park is probably the top picnic destination in Savannah. Find a shady spot underneath a pretty oak, or get some sun on the open lawn. You can pack your picnic beforehand, or grab food nearby from the Sentient Bean, Collins Quarter or Brighter Day to take out into the park. After you're done eating, curl up with a book in front of the peaceful fountain, or enjoy a game of tennis.
The Squares
Savaanah's famous squares make for perfect picnics downtown. Boasting beautiful greenery amid well-preserved historic buildings, the squares provide the right atmosphere for your open-air meal. Sit where Forest Gump did in Chippewa Square. Or enjoy the quaint white gazebo in Whitfield Square. Or grab a bite to-go at one of the many eateries surrounding Reynolds Square and enjoy your meal there.
Tybee Island's North Beach
Want to picnic on the beach while avoiding the crowds? Head to North Beach. It's a bit more secluded than the popular South Beach, making it the perfect place for a quiet seaside picnic. Set up a blanket on the sugary white sands and take in the sights and sounds of the beach. You may even spot a few dolphins in the distance. (Note: No glass or breakble containers are allowed on the beach at Tybee Island.)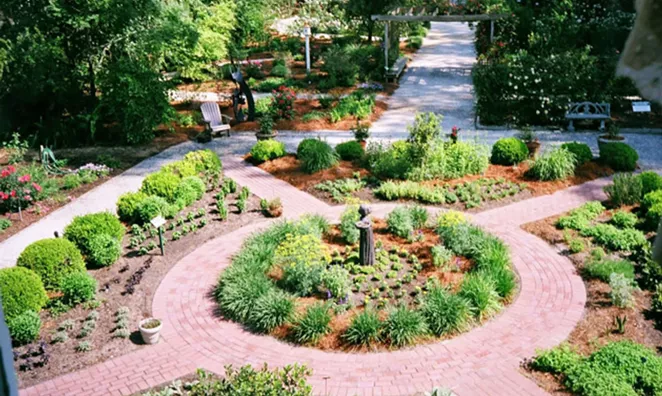 Savannah Botanical Gardens
Located off Eisenhower Dr., the Savannah Botanical Garden is an idyllic picnic destination away from the hustle and bustle of downtown. With fragrant roses and camellias in view, the picnic grounds are the perfect place to enjoy a nice meal outdoors. After you eat, feel free to stroll through the garden, taking in all of the magnificent flora along the way. The public areas are free!
Wormsloe State Historic Site
Sitting off Skidaway Rd., Wormsloe Historic Site is a great place to picnic for those who love learning about Savannah's rich history. Enjoy a nice meal in their pretty picnic area, then take a stroll through the stunning live oak avenue. Also, be sure to visit the tabby ruins, which are the oldest standing structures in Savannah. Check out the museum and gift shop before you go for nice tchotchkes to take back with you. (NOTE: Wormsloe charges admission, so check their site at gastateparks.org/Wormsloe before heading there.)