FEW GUITAR players have rocked a hollow-body Gretsch the way the Rev. Horton Heat has. The Dallas-based purveyor of psycho-rockabilly has evangelized sweat-soaked crowds with his fast, aggressive, country-on-crank sounds in legendarily intense live shows since the mid '80s.
Touring behind the kickass new release REV—his debut on the Victory Records label—the Reverend, aka Jim Heath, returns to Savannah for the first time in several years, allowing a whole new generation to see what an old-school rave-up really looks and sounds like first hand.
1. I'm fascinated with your personal and professional relationship with Motörhead. Lemmy has recorded with you and joined y'all onstage. You do a sick 'Ace of Spades' cover. A lot of your music could easily be covered by Motörhead and vice versa. How did that all happen?
Rev. Horton Heat: I don't really know or remember how that all started, to be honest. I've gone to their shows for so long I don't remember. I do know that Lemmy had wanted us on one of his records for a long time, and he ended up coming down to Dallas to do some recording with us.
I just think it's their type of fast, intense rock 'n' roll that's appealing to me. You know, the slow, grindy stuff has never been my deal. My roots are firmly in the era of the '40s and '50s. Rockabilly, Jerry Lee Lewis. That good ol' '50s rock 'n' roll is my thing. And that's really Lemmy's thing too.
2. You see old footage of Jerry Lee, and really nobody has put on a more crazy or energetic show since. Is rock 'n' roll proof of entropy, the idea that everything starts out at its peak and deteriorates with time?
Rev. Horton Heat: That's true in some ways, but it's also true that in so many respects the art form has expanded so much. Back then they were playing through tiny little amplifiers, and you can just play so much faster now. They were playing on strings as big as telephone wires, through these chumpy amplifiers.
But yeah. Jerry Lee's whole stage demeanor was just off the hook. He was smashing his piano, jumping up and down in his seat, propping his boots up on the piano. I love it. Then again, when you're sort of fixed to the piano in the Elvis era, and can't get up and swing your pelvis around, you gotta do something to compensate.
I've sort of come full circle to a point where I see my job description as less of a singer and guitar player and more of an entertainer. There are different ways to skin a cat, and my thing is about that connection with the audience.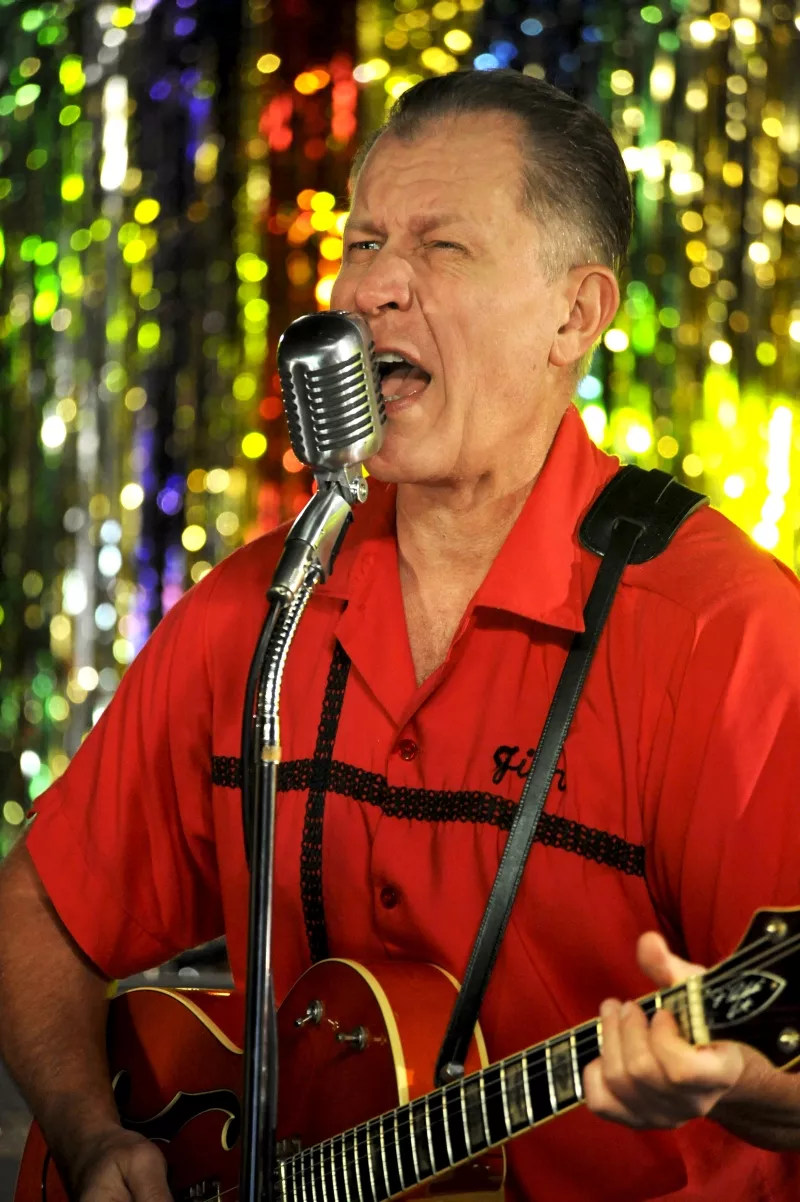 3. There's something so unique about really loud, aggressive guitarists like you who play hollow-body guitars not designed for that kind of amplification. What is it about that sound? How do you manage the volume and the feedback?
Rev. Horton Heat: Everybody says they get so much feedback when they try playing like I do. But it's weird, I don't really get any feedback. I do have these sort of super-hot vintage pickups, though, so there's that.
Now, unlike almost everybody else, I don't use any distortion pedals. But I get my amp to sound real metal. Everybody thinks to sound metal you have to play through a 100 or 200 watt Marshall. But what you should do if you wanna sound like that is use small wattage amps, and crank 'em to 10.
Really, the least metal thing you can do is play through a 200 watt Marshall. That's just a real weak, wimpy, clean thing to do.
4. Earlier this year you just put out a new album, REV, after a lengthy hiatus from recording. It sounds great. Tell us about the sessions.
Rev. Horton Heat: I recorded it myself, essentially. I've been collecting vintage recording equipment for a long time. A lot of it was recorded at a rehearsal space, and there were other spaces being rented at the same time. So on a lot of the best takes, all of a sudden somebody would start giving drum lessons next door. We decided to just keep doing takes through it all. Then we'd stop and someone would go, hey, did they quit the drum lessons?
This is sort of getting back to the era of the mid '90s. There are a couple of country-feeling things on there, but mostly it's a lot more rocked up.
5. Your videos from the record are outstanding. Seems like bands don't focus on videos as much anymore.
Rev. Horton Heat: Thanks! But I don't know if you're right about that. YouTube is the new Holy Grail of music. A lot of young bands will now go in the studio and do maybe five songs. That's it. No albums anymore. That will be their new CD, and they'll make a really good video for each of the five songs. Then they have their own YouTube channel with content for it.
That's the major thing that's changing. A lot of things are changing in our business. Some changes aren't so good, but most of the changes are really for the better.
cs