PAINTER AND sculptor Ashley Inniss credits God with leading her to pursue art in Savannah.
Inniss, surprisingly, is legally blind, and she never thought a career in art would be possible.
But she felt called to go to Savannah State University and pursue art instead of writing.
Now, she's a talented artist who also runs Safe Harbor Gallery. She draws much of her inspiration from scripture and the word of God.
We caught up with her last week.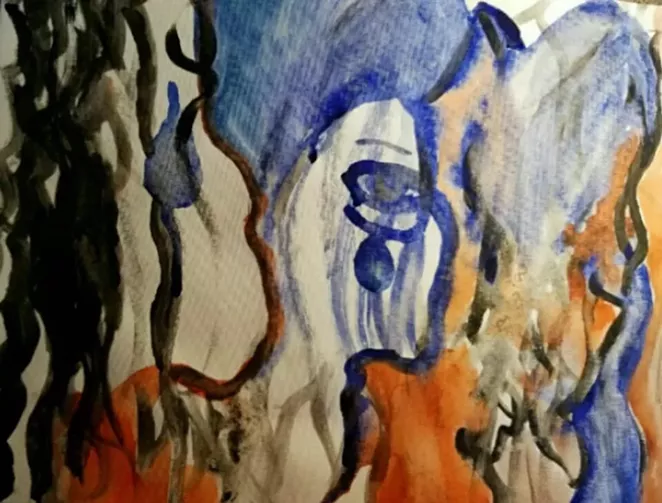 1. Have you always been interested in art?
It's actually a pretty funny story. I'm an artist, but I'm also a legally blind artist—I have a visual impairment. I was working on my autobiography the other day for my thesis class.
I'm pursuing a MFA in sculpture. I said, "Art was never something I considered." I never would've considered it.
I'm a proud graduate of an HBCU, Savannah State University. I came to Savannah in 2006; God led me here, and I graduated with a BFA in fine arts. I became a Christian through campus ministry at Savannah State.
I always thought I was going to be a writer, just write poetry and that's it. I was about to graduate with an English degree and I just felt led to go into the field of art because God was pushing me into that area.
I started out as a painter. I got a mental image that said, "Art might be something you want to consider." I began to hear in my mind and see different pictures in my mind of paintings. I saw an image called "Fruit of the Womb."
I had to stop what I was doing to draw it out. It's an image of a woman with fabric coming from her stomach. That's how I knew I was supposed to be an artist. There's something special about this. What does God want me to do with this?
It wasn't a childhood thing. You know how when you say when you're little, "I want to be an artist, I want to be all these things."
2. What's it like working while legally blind?
It's very difficult. It's very hard to perceive color and light and details, enough specificity where it's going to be something that speaks to people. It's difficult, but I'm relying on touch. That's how I'm able to be a legally blind artist and still be operative.
I'm an abstract artist, so I have to follow the picture. You never start off with a clear vision, but as you continue the process in the work, that's what you're doing. It comes into view.
If you're depending on just vision, you have a certain object you look at, but if you're depending on the process, then you create it. I'm more based on process and being creative versus having a clear mental picture and going from there.
3. Where do you get your inspiration?
The source of my inspiration is the Scripture or music or praise and worship songs. People have a lot of different inspirations, and my inspiration is set in the Scripture of Genesis and Revelations. And creation itself—when you open your eyes and you're inspired by the beauty that you see. As an artist, my goal is to create value in the unseen. God is my creator.
The one with the man with the yellow hat is called "Adam's Petition" and it makes reference to Adam in the Garden of Eden before Eve was conceived, when he made the petition to God.
4. What are you working on now?
I'm moving into the discipline of sculpture as well, so I'm working on a piece entitled "Instrument of Praise" and it's going to be an alabaster sculpture. The inspiration is always from the Word, and the account of Mary in the different gospels where it says she poured forth a precious ointment that came from the alabaster jar. I wanted to continue to use that particular stone as a I develop my art thesis. I'm going to flow with the different gradients and colors to represent just how precious everything that God has made is.
First at the Academy of Art, I was doing an MFA in painting, which relies heavily on vision and precision. But now, moving into the discipline of sculpture, you rely heavily on feeling and you're able to touch and be intimate with what you're creating. That's how I ended up moving into sculpture. I was struggling trying to do the best that I could, but I couldn't because of my limitations.
There's always a specific avenue that's your purpose to do something, and God will create a particular assignment for you. That's what I feel like sculpture is.
I'll keep painting, but everything will be depending on whatever the moment or the assignment requires.
5. What do you hope people take away from what you make?
I would like them to take away a little piece of God's heart. The reason I say that is because the name of the gallery is called Safe Harbor Gallery and the harbor is representative of being the heart of God. If you see my work, I want you to be able to take away just a little portion of God's heart. I'm not imparting anything to anybody, but if someone can look at what I'm doing and say, "I see God's heart in this," that's what I want them to take away. I don't have anything to give.
CS