BORN STORYTELLER. Revolutionary. Genius.
The writer Harry Hervey is one of Charleston and Savannah's treasured creators. Pass a bookstore in the Historic District, and you're sure to a copy of his masterpiece, The Damned Don't Cry, sitting proudly in the window.
Despite his revolutionary blend of local color, masterful language, melodrama, and revolutionary homoerotic themes that both delighted and scandalized early-1900s readers, Hervey has largely been forgotten by the literary world at large.
Prolific writer Harlan Greene is ready to change that. As the author of Why We Never Danced the Charleston, What the Dead Remember, and numerous books and essays on the South Carolina Lowcountry, and African-American, Jewish, and gay subjects, the Lambda Literary Award-winning author uncovers Hervey's mysterious life in The Damned Don't Cry, They Just Disappear: The Life and Works of Harry Hervey.
Hervey lived openly with his male lover right here in Savannah and in Charleston, penning novels, short stories, nonfiction books, and Hollywood film scripts that directly addressed a gay male readership while simultaneously engaging a mainstream audience with both wisdom and humor.
Greene's captivating and beautifully-researched work is the very first book-length study of Hervey's life and the first scholarly attention to him in more than 50 years.
Greene, who currently serves as the head of College of Charleston's Addlestone Library, will give an engaging author talk and sign fresh-off-the-presses books at Trinity United Methodist Church on Friday. The event is free and co-sponsored by The Book Lady Bookstore and The Learning Center at Senior Citizens, Inc.
We spoke with Greene about his research, pushing forgotten Southern stories, and the fascinating life of a literary genius.
1. When did you first become familiar with Harry Hervey's work? What drew you to his story?
I was always interested in Charleston, South Carolina fiction, and back in my early 20s, I saw a reference to a novel by him called Red Ending. I found it and read it, and it was so astonishingly different from any other book about the city from the time that I decided I had to find out something about this fellow.
2. What were some of the most challenging and/or rewarding aspects of your research for this project?
The challenges were daunting. Until a few boxes of his material were found in the trash on the street and eventually taken to the Georgia Historical Society, there was no paper trail on him. Nada. Which made research on him virtually impossible. The opening up of the internet search engines that allowed you to delve into newspaper archives opened up a treasure trove of information, but it was also a Pandora's box. Because every time Hervey was interviewed, he seemed to contradict himself—because he made up his life story as he went along and as it suited his moods. So the fun and frustrating part was to figure out what was fact and what was fiction—to puzzle out a beginning, middle and end.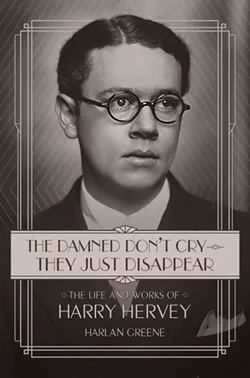 3. Hervey is often overlooked in surveys of LGBTQ 20th century writers. Why do you think that is?
That's a good question. One of his books, The Iron Widow, is so transparently gay, and so inverts the morals and mores of the day and shows love between men more noble that than that between men and women, that it is astonishing no LGBTQ literary historian has found it. The fact that it is tongue-in-cheek while being deadly serious also lifts it into a realm of its own. It was published in the Depression, and though it went into a second printing, I suppose there are just a few copies out there. But after his death, no heirs tried to keep his memory alive. That and the lack of any archival materials on him removed him from the radar of LGBTQ researchers.
4. From Atlanta consistently being considered one of America's great LGBTQ cities to the widespread popularity of Southern queer narratives like S-Town, it feels like Southern LGBTQ history and culture is finally getting a voice outside the region. As someone who has advocated for and written about gay history in the South for so long, do you find that to be true? What makes this the moment to tell Hervey's story?
Big cities have always overshadowed small ones and with few exceptions, major universities and research centers are beyond the South. Let's face it. Queer studies were legitimized in Northeastern and Western intellectual centers long before they were taken up in the South. While LGBTQ life flourished here, it was not taken seriously as a topic of research or even polite conversation. Hopefully, we have all matured beyond that. Not only has there been a sea change, but the seas are also rising!
5. What are you working on next?
I am investigator on a recent 200k grant from the Donnelley Foundation that will start a LGBTQ oral history and archive at my library at the College of Charleston. We will be trying to capture a way of life that is vanishing and document a brave new world that is rising.
But there is still at least one novel left in me if I have time to get it out—and I'm working on the biography of Dorothy Heyward, wife of DuBose Heward, of Porgy and Bess fame. Meanwhile, there is still my insatiable need to collect. Does anyone know where the portrait of Harry Hervey, ostensibly by Savannah artist Christopher Murphy, might be?
cs