When Dana Richardson was beginning her painting career, a teacher told her, "You're painting with the wrong colors."
Now, Richardson is known for her bright palette, particularly hot pinks. Shows how much he knew.
A native of Sewanee, Tenn., Richardson moved to Savannah in 2002 to attend SCAD and has been here ever since. She's a member of Kobo Gallery and ventured into murals this year with her participation in the Starland Mural Project.
We spoke with Richardson last week.
1. How'd you get started with painting?
I came to Savannah in 2002 to go to SCAD, and the year before I spent a year at a painting school in the south of France that I found by accident. When I went there to study French, as luck would have it, there was this painting school run by two American guys that you could take classes at if you wanted to. It was amazing. It was landscape painting, painting outside every day, and Cezanne's ideas because Cezanne's studio was just a few meters down the hill from the school.
I always liked art in high school. It wasn't a new idea, but I had thought, "I don't want to go to art school," but when I got there I ended up staying the whole year. I came to SCAD, but the real root of my interest in painting was formed then with the landscape painting.
It was everything. I was seeing colors for the first time in a way that wasn't local color, not the color you call things. I remember the teacher saying, "If that shadow is gray," which is what we all said, and he led us through comparing the colors around it, "How could that color be gray if the wall was a little bit yellow?" Then when you switch your mind in that way and start seeing the colors in things, you can't turn it off.
It really saved me to have that early, clear idea of a direction for subject matter. It always kept me centered when I was doing odd jobs after college, and I'd just go and paint on the weekends with my easel. I don't paint outside that much anymore. If I had more daytime hours, I could go.
2. From that time in France to now, have your interests changed?
I feel a very continuous line from France to now, because what I'm really interested in now is what the position of landscape painting is in contemporary art right now. It has such a loaded history, and those guys that went out and did Impressionist paintings were really the first modern painters—where they were painting the everyday instead of painting some sort of arcadia or historical or biblical landscape. It was like, no, go and paint your old boots or a pub scene. That idea is still very much a part of painting now.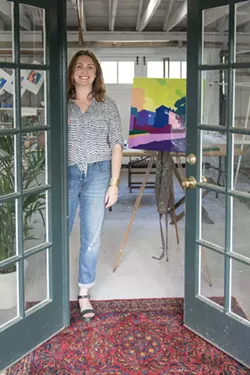 But if you were a plein air painter now, like going outside and painting, there's something about it that's a little stuck in the past, I think. It's like you're trying to look like something that happened in 1820. They're taking the look of what happened then, rather than the concept. I think I'm very much still into the concept of the idea of large planes of color, and also changing the picture plane and that sort of abstraction. Whenever you paint, you're abstracting what you're looking at, but the style of it can't be too archaic, I think, for it to have its real original meaning. I don't think those painters would have approved of people still painting in 2020 in that exact style, because they were out searching and experimenting.
It's what you call the long aperture of painting. It's like taking a picture, but rather than it being a fraction of a second, it's a mesh of many moments all together.
There is a lot of editing you do, and also invention you do, because finally it just has to work on the canvas as a composition. It just depends on what you want to focus on. If you're the kind of painter that wants to focus on value and tone—more traditional atelier people, they'd be interested in that.
3. What was it like for you to be part of the Starland Mural Project?
Well, I learned what it is to paint on a wall rather than on a canvas. You can't improvise as much. It needs to be very designed and ordered. You can't step back and look at it and go, "Mm, I think I'll just change that." Because that's going to be a whole kettle of fish.
I was painting 4"x4" for years! It's fun to see it big, and I'm glad it translates big. It's a lot of planning, and the shapes have to be smaller. Rather than the sky just being one color chunk, I have to make more. I guess I could do it super minimal—why not? It asks a little bit more of the shapes.
4. Do you think the murals have longevity?
What I've noticed about the mural thing is that everybody wants it to be temporary. Like, everyone's okay with it as long as there's a caveat that it's not going to be here that long. We can deal with it for a little while. I'm fine with it, things on the wall can move, but I feel like it's a little one foot out the door.
It's got to have an economic profit also. It's got to be like, "Well, if there are murals, then this community will thrive," which I have heard murmurs that that is the case. People take care of their properties and their streets, because it seems like this place has had some attention put into it.
5. What's next for you in 2020?
Jose Ray, Kevin Bongang and I are working on the Waters Mural Project. And I'm doing a mural at the Jepson—that's my next thing. It's on the wall when you come up the stairs that Katherine Sandoz had done. It's going to be the wall into a show about painters in Savannah, like the Savannah Art Club in the 1920s, which is really perfect for what I'm thinking about, because how do we look back at those people?
I think it's like 17 feet by 18 feet. I'm going to start in the middle of February. I think it's cool too because of the building it's in—it's a white contemporary clean space and then having that kind of nod to the old way of painting I think is really cool.
CS