Artist Daniel E. Smith believes that each of us have two sides: our chaotic side and our organized side.
That belief informs much of his work, particularly in the show "Interregnum," which is on display through this week at the LGBT Center.
A stylistic departure for Smith, who gravitates towards landscape paintings, the abstract works in "Interregnum" are a talented, colorful commentary on existence.
We spoke with Smith last week.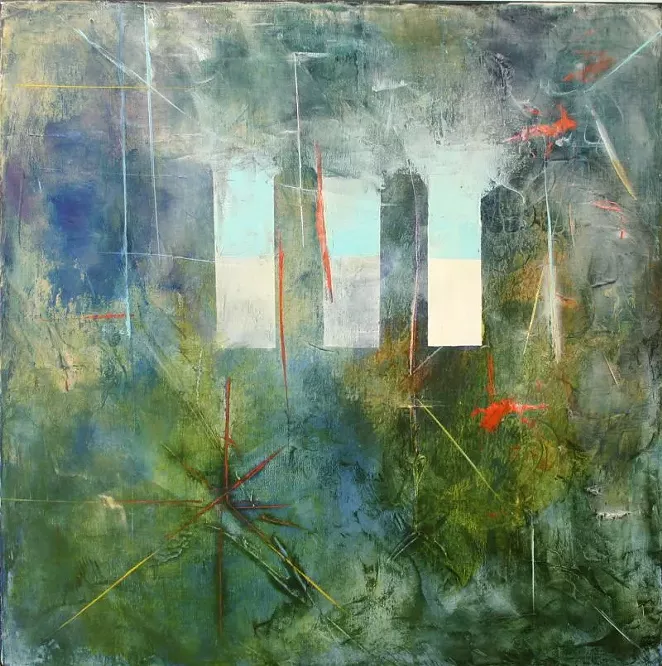 1. Tell me about how you got started with the work for "Interregnum."
Usually in Savannah, you see my landscapes, but I'd been talking to Peter [Roberts, of Location Gallery] about reintroducing my more abstract work. Landscape is so accessible for people. They can look at a landscape and they love it, and it can be personal and emotional. But they're not as challenging for me as abstracts. I like the challenge of abstract.
2. Why is abstract more challenging for you than landscape?
You're basically starting from a blank canvas. You make a few marks on it and from that point on, you let the paint interactions lead you on whatever that particular journey is.
I did have a couple themes in these; I used a lot of very fine linear work, and this idea of openings and passageways and doors. My main thing is that people seem so divided now, and I think the problem is that we all have a lot of chaos inside us, and then we have this organized part of ourselves. We tend to want to present just the organized part, because that seems so solid and acceptable. What I'm trying to do in these paintings is present that chaos and order at the same time, because they can both be beautiful together. You don't have to change your chaos into something organized. You can embrace it.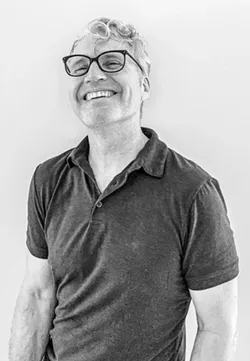 3. What was your life like before coming to Savannah?
I was in a Catholic monastery.I started out in Harlem, then moved to Rochester, then moved to Boston. It was the early 70s, and the college I went to was run by this congregation, and they did a lot of inner city work. Which, if you think about the 70s and what was happening in the cities, that seemed like a very good use of the skills I had. My parents had left the city in the early 50s because it was getting rough. We weren't suburban, we were more rural—we were on an RFD route. They had tried to remove us from that, but seeing what was happening in the Vietnam War, what can I do?
I'd taught art on different levels, but my major focus was English and theology until we got to the 80s and the schools I was teaching in realized they had no arts programs at all. They wanted me to start them. I actually moved through four schools and either started an art program or built on an art program that was falling apart. At one school, three were 3,000 students and eight people taking art. By the time I left, there were 250 kids taking art, and the school's population had gone down to 1,100.
My philosophy on teaching is: give them the tools you want them to work with and after they've experimented a while, they'll have questions, and then they're ready to learn. Sometimes the experiments –what would have been mistakes if you were being very technical—turn out to be really interesting ideas that they and the paint created. That's where I came up with letting the paint talk to me instead of me telling the paint what to do. It's the chaos and the order.
4. Why did you begin painting landscapes?
People asked me to. They're not what I showed when I was first here, but people really liked them and bought them, and that's a great incentive. They get harder to do as you do them, because you can do a mental switch to where you're not creating with paint, you're using paint to make a picture. For me and what I do, once you switch from letting the paint guide you to you guiding the paint, you're switching the whole direction of your work. That's why these are actually quite difficult: they're easier to execute, harder to create.
A lot of people come here because it's a beautiful place. For some people this long, level horizon and the consistency is very calming, spiritual, peaceful. It has this duality, that double purpose.
5. What direction is your work taking?
I've been continuing the thread from "Interregnum." It's about the same thing, about organizing and the unknown and being drawn to other places, what would that mean. It deals with those kinds of issues we all have. I look at other people's work about the same themes and how they're visually handling it.
We're trying to work our way through this social and political situation. We're thinking about it. Yes, there are people and things I disapprove of or don't want in my life, but I don't see it as I have to change and make you like me. I can show you who I am and maybe you can see some of yourself in what I'm showing you.
I came from what would appear to be a very organized, happy, productive situation that, within, was not that at all. My father was an alcoholic, my mother had her issues, they had 10 kids. It looked perfect, but inside, it was not.
It's the same thing in society, too. If you're gay and it's not apparent, people actually reveal things about their attitude towards you and they don't know it's about you. It's people in your own family.
Dealing with my sexuality in that way, that's why I'm glad to be at the LGBT Center because I grew up with those issues. Indirectly I was told about myself, so [art is] a whole way of exploring that for me. I'm hoping that, especially in that place, it would resonate with some people.
CS