MULTIMEDIA artist H. Gene Thompson draws on important topics like consent and isolation in their immersive performances.
Currently the artist in residence at Sulfur Studios' ON::VIEW residency, Thompson creates soft fabric sculptures that connect people to each other, but not allowing them to touch. Through the residency, they have hosted workshops facilitating movement and holding space for another. Thompson concludes the residency this First Friday with a public performance with the sculptures.
Originally from Pittsburgh, Thompson is a passionate activist for many of the social issues that our society faces, such as incarceration and privilege, and that passion is clear through their work.
We spoke with Thompson last week.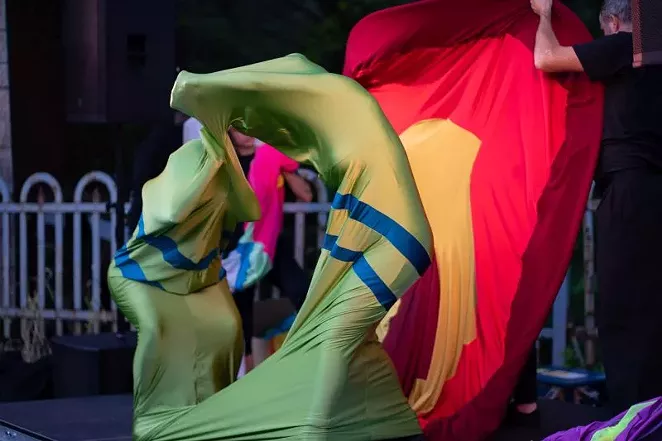 What are your plans for this residency?
What I've been working on with the movement workshops is about using authentic movement techniques and bringing people into a space where there's a lot of listening and witnessing going on. I'm working with the truths we're able to speak across when we're witnessed and when we're holding space for one another. I'd say that, personally, my art practice has become a lot more about space-holding, and there's a lot of energies to making art in space, period, I would argue.
I'm working on these fabric sculptures that physically conjoin people, but people aren't necessarily touching. The idea is that the fabric, you can feel one another's movement through the stretch in the fabric and there's a lot of weight-sharing involved. It's like contact improv without contact.
I'm definitely making work responding to personal boundaries and personal space, and what does that mean? I think a lot about boundaries and accountability and how that's a constant conversation. I think when people hear that, they shut down, they get afraid. Really, it's just that all of us are in this constant conversation.
Do you think the sculptures have been successful in getting that point across?
I think they have been. If you facilitate public creative space workshops, you're always going to be learning because you're putting yourself in a learning environment and you're learning how to respond to completely unique situations. I think the word authenticity comes up a lot, because we are authentic beings.
I think what does come down to it also is, unfortunately, some of the learned behavior people have to unlearn to get into these situations with themselves, like pit them against themselves, and taking assumptive language out of it altogether. It's inherently confusing because we're changing language.
Last night, there was some impatience with the workshop and moments where people were like, "Well, what am I supposed to do?" And I was like, "Well, here are some ideas and some options to work with." I really refuse to give people answers because the answers are within themselves. And adults want answers more than anything.
It was so interesting to see who was comfortable touching without asking. I was really trying to scale back and be like, "Ask consent from your partner right now in this activity. There might be touching, there might not be touching, but find out ahead of time if that's going to be okay. Although these are new ways we're verbalizing things, these are not new concepts."
You told me, "Until you put in your 10,000 hours, you're not able to trust yourself." What was that process of learning to trust yourself like?
I think I hit the 10,000 hours in 2016. I was doing a four month residency in Lubbock, Texas, and I knew nobody. You hit the 10,000 hours in a moment like that! I was really starting to work with some of this content, and I didn't know what I was in for. I did and I didn't. I was like, "Oh, wow, this is hard."
I was in a position where I was directing three dancers and I had never directed before, only performed. It wasn't until the end of the residency that I really felt like I was able to trust myself. It's really a back and forth kind of thing. I'm really grateful I just went for it.
Trump got elected at the beginning of the residency, and the two of us were really responding to this very confused, dark place we were all in. We knew we were very fortunate to be in a space to process it, because the rest of the world was just in shock.
I created and directed this piece, I worked with the sound person to make these things that are reacting to our movement and making sound based on that. I also wrote the grant that funded the piece!
Another piece is called "Apart From Me" and it was definitely about isolation and the world at large and how we're oftentimes in looking outward, and we feel really trapped and disconnected from one another and we have no avenues to verbalize it in ways that make sense.
Personally, I had to work through my own assault and things that happened to me. It made me feel isolated when I was already feeling that way. In the last year I've started owning a lot of that and putting that in my artist statement, saying, "Yeah, as a survivor of violent rape and assault, I make this work and I make it about isolation and connection." I processed that with this piece.
You're interested in working in third spaces, which is a public space that doesn't require money to occupy.
And how do we make public space a third space? How do we make this a comfortable space? I definitely grew up in a place of much conundrum, right by the steel mill and it was not a comfortable place to be outside. So I'd ride my bike to the city, somewhere I could sit outside and feel like I wasn't going to have somebody hold me at gunpoint, which I've had happen to me.
I also think the power and the strength that I have gotten to a place of some interesting perspective on my privilege as a white person through some of this. I definitely learn new things everyday about what it means, what new layers of privilege and where my blind spots are, because there's so much we cannot understand as white people in this country. To not acknowledge your privilege, you end up then saying, "I support white supremacy." I'm not trying to say that in an accusatory way, but if we're complacent as white people, we end up saying, "I support white supremacy because it benefits me."
What do you hope people take from your work and what you have to say?
I would really like it if everyone could be a little more involved in, specifically, incarceration, and if everyone could be a little more connected to what incarceration looks like. If we were a little more aware of what incarceration looks like, we would be more understanding that slavery is happening now.
For the residency, I would hope they would respond to the moment. On First Friday, I'll be doing three different performances. If there's a big crowd at 9 p.m. I might even do four!
CS