VIRGIN ISLANDS native J'Aaron Merchant came to Savannah to attend the renowned Savannah State University. There, she was able to explore a variety of artistic media, which has contributed to her success as a freelance artist.
Merchant is an illustrator, character designer, and storyboard artist. She counts it as her mission to help others tell their stories and help children of color feel more represented in visual media.
Her illustration style includes bold colors that complement and celebrate darker skin tones, and she's been praised for creating realistic-looking characters.
We talked with Merchant last week.
1. How did you get your start being creative?
I was always creative. I was a bit of an Army brat, and we moved around, so my way to pass time was drawing. I was the kid in class that just drew in notebooks. People would be like, "Dang, girl, what you drawing?"
I did my undergrad at the illustrious Savannah State University. I love my HBCU experience; I talk about it all the time. If you can go, definitely go. I got exposed to so much there. A lot of the art community in Savannah overlaps, so it was interesting to see how that worked out.
At Savannah State, I got to dabble in a little bit of everything. I think that's what helped me figure out exactly what I wanted to do in art. I got to do theater, photography, sculpture, painting, illustration, some of everything. I came out pretty diverse.
I got into freelancing and basically figured it out: "This is what I really want to do. I'm not going to let the fact that I didn't finish [grad school] stop me from doing it." I basically jumped off the cliff and built the plane on the way down. If you really want to do something, there's the University of YouTube.
2. What are you doing now?
I'm a freelance illustrator and animator. These days, I'm doing a lot of visual development. There's been an uptick in need for diversity in visual entertainment, so a lot of people are hitting me up to help them design different characters for shows and giving feedback on how characters look.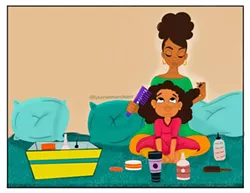 Some of the feedback I got was that my Black characters look Black, my Asian characters look Asian. They love the variety of skin tones I do. With everything that's been happening, some studios are really trying to make strides, which is cool. We've got some work to do, but we're getting there.
People just reach out to me [for projects]. I post a lot of my art online and then people eventually reach out saying, "Hey, I want to do a children's book and I'd love for you to be my illustrator." Or, "I'm working on this show, I'd love for you to help me with some characters." I usually jump on board; I'm usually down.
Most of the work you see on my site, they found me. Always be consistent, always post your work, and make sure you're easy to find.
3. How do you avoid creative burnout and find the balance?
I feel like, as a creator, there isn't really a balance. It's just a matter of if you want to work or not. I would love to say I have the perfect work style, but I don't. I'm learning that I'm a bit of a workaholic. I do a little bit too much; I need to scale back.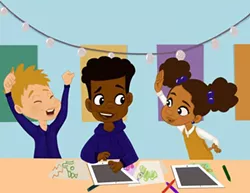 But if you've got a really great story, I want to do what I can to help you. Right now, children of color in general are not represented in children's literature. My mission right now is to widen the gap.
Bruce W. Smith is one of my favorite animators. He's known for the Proud Family, and he also used to do this show called Happily Ever After: Fairy Tales for Every Child. It was different spins on traditional stories, so it'd be Rapunzel, but she'd be Puerto Rican. It was cool to see those different kinds of spins on those stories. I've been wanting to figure out how to do my own version of that.
4. What's your work process like?
I work on a lot of projects at once. A lot of people do one or two projects at a time; I tend to do four or five. It's very busy and very hectic, but it's just how I work.
I usually have three children's book projects, an animation project, and maybe a storyboard project I'm working on all at once.
I'm more productive at night, so during the day I do my administrative things, like my invoices, my emails, my follow-ups, any meetings or calls I might have with anybody. Then, closer to the evening, I draw into the night. I have a couple of projects open at once and just jump back and forth between all of them. I usually stop around 6 or 7 a.m., take a shower, get breakfast, lay down, take a two or three hour nap, and I get up and I'm back at it again.
I'm still trying to learn the business side of it. My big thing is I'm trying to figure out how to make art, but not always have to be working. There are some artists who put out collections and that's all they've got to do. I'm very service based: if I'm not providing the service, I'm not making any money, and I want to get away from that.
5. What are your future plans?
Stick with me here: if Oprah and Disney had a baby, it would be me.
I have a very world domination, Pinky and the Brain approach to what I do. In five years, I want to have a fully functioning production studio up and running, creating and producing our own original content. And yeah, that's it. That's the goal.
CS