PHOTOGRAPHER Jason B. James makes the case for playing with your food in "Beforeafter," his new exhibition on display now at the Rat on Bull.
James partnered with nine local restaurants and bars: Gottlieb's, Cotton and Rye, the Grey Market, Bull Street Taco, Atlantic, Sandfly BBQ, Vittoria, Big Bon Bodega, and Lone Wolf. He captured the pristine presentation of the dish, and then the aftermath of actually eating it.
The result is a fun set of photos that both embrace and reject the commercial approach to food photography. We spoke with James last week.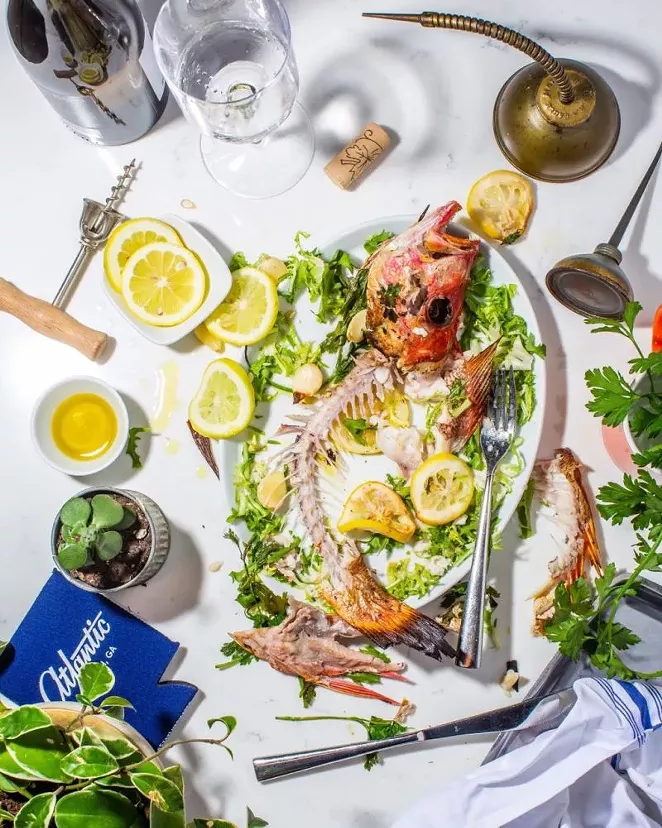 1. How did you come up with the idea for this show?
Over the past year, I developed more and more of this idea that food and eating and dining doesn't have to be just one aspect—it can be a party where you're eating stuff rather than just a dinner party. Having done so much commercial and editorial work, everything clean and nice, I love the idea of seeing the other side of the picture when you're done partying. What does that look like in reality?
I feel like that also lends to a lot of fun motion and graphic nature of images anyway, so it was like, why not explore that idea?
What I did was, I paired up with different restaurants and bars in town whom I've had good relationships with, who have supported me in the past, worked with, whatever.
I decided to take one item or several items from each place that I enjoy, that I could see myself having that same party with myself and others.
We did a before-you-eat-it [shot] and an after-you-eat-it [shot]. It gives you both aspects of the clean, editorial commercial style with a more fun, realistic, the more fine art side of my work. It's fun to take those two worlds and put them together.
2. Is this exhibition indicative of your usual style?
As far as my aesthetic goes, it's kind of redeveloped itself over the past six months or so. When I was in school, at Creative Circus in Atlanta, I was shooting and working with some fashion photographers as an intern, learning how to light. It's very hash, directing lighting, but you also get the lens for detail, which can also be very scary for some. I moved into food directing from school, and everyone was shooting shallow depth of field and natural light. It's pretty and it's great, but it was never for me.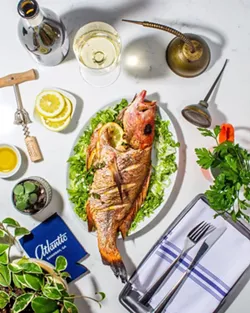 I decided to go back to how I was shooting in school, which was the fashion direct lighting and apply it to food. I think it gives you more detail and pulls color better—it felt right for me. Everyone has their own style; it's kind of going in and finding what works for you. It's fun for me. I have way more fun with work now. It feels like I'm doing something that's mine, not just somebody else's. I feel like it's great to direct yourself towards what's right for you.
3. What has this project been like to work on?
It's been a fun project. It's been fun to take my photography in more of a project-based [direction], not just relying on clients' work but making my own stuff, so to speak. I noticed that since I've been here for five years, I have not once walked around town with my camera. Photography has purely become, in some ways, just my job. I kind of forgot to do those things and make those practices for myself.
The practice is great to see a different perspective, because I was just shooting what I was shooting for work. I decided, "Let's not do this."
I did some small group shows but I hadn't done a print show since I've been back from Atlanta. I realized I missed doing that.
4. What brought you to Savannah from Atlanta?
When I got out of school, I was working against a lot of professors for jobs. Atlanta is a very saturated market. And I was born at St. Joseph's here, but I lived an hour west of here in Lyons, Georgia, so we moved to Atlanta when I was young. Instead of moving to New York or Seattle or bigger markets, I was ready to move on and try something different.
I came down here and realized [Savannah] was just getting its restaurant legs. Why not be on the ground floor for something and help build that community? It's been a nice place to find my voice and help this community grow by helping them with their needs visually or doing some loose copywriting with my English degree I have.
5. In the five years you've been here, the restaurant scene—as well as the city as a whole—has changed drastically. What's it been like to be a part of it?
It's always great to see people have passions and ideas, and it's great to see people come from other places and doing their things here. Hopefully we'll be able to get over that proverbial hump.
We were in New York this past week, and we were discussing the idea that there are so many people coming down from New York to do things here, which is great. But I really want to see more of our homegrown, too. That'd be awesome to see, if it's there. There are so many people from Atlanta and New York and other places, but I'm ready to see more of our home folks shine through, too.
CS