Jennifer Moss pulls double duty in Savannah's art scene: she's a talented fibers artist and the gallery director of Sulfur Studios.
Before moving to Savannah almost ten years ago, Moss went to Western Michigan University and discovered her love of fiber art on a study abroad trip She's one of three founding members of Sulfur, which recently celebrated its fifth anniversary.
Moss most recently had a solo exhibition of work, "Marked," which was on display at the Savannah Cultural Arts Center before it closed to the public.
We caught up with Moss last week.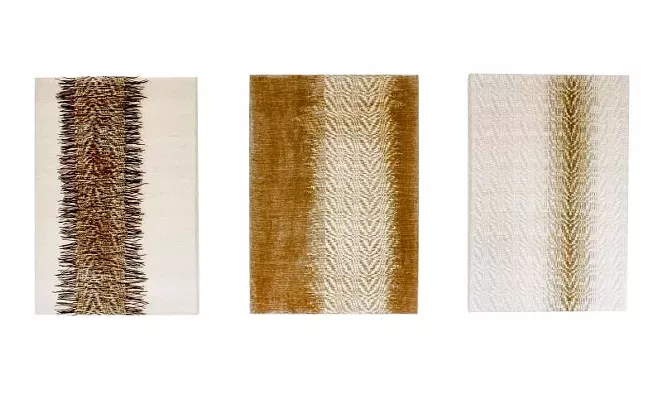 1. Tell me about your latest body of work.
It's a body of work that uses steel wire and natural fibers. I really like to, in all my work, try to explore material properties and look at what is inherent about a material and try to highlight that through the pieces I make. With the steel wire, what I'm looking at is its ability to rust. By using different types of weave structures and combinations so I'm ending up with different amounts of wire and linen on the surface, I can get different colors of rust.
I weave these different compositions, and once they're off the loom and ready to present, they get sprayed with salt water, and that just activates the rusting process. They take on the color from the inside out. I'm embedding the wire into the fabric as I'm creating it, so I'm setting a blueprint for how it's going to rust from the inside out.
2. How did you get started with this type of work?
I started working with steel wire a long time ago, when I was in undergrad. At that time I was doing some different kinds of sculptural metal work and just learning to weave. I really just wanted a color contrast, so I chose black oxide steel; it's very low-carbon so it's very dark and black. I chose it then just for the color because I was using a bright silver.
At that time, as a younger artist, I wasn't necessarily thinking about my materials and their properties and what would happen. I had some pieces unintentionally rust when I did not want them to. At the time, it was the worst thing ever because they were these things I had spent a lot of time and money on. It was like, this is not the right material, why am I using this?
It was several years after that, when I came to Savannah and was starting my graduate work at SCAD, that I was thinking again about these material properties and the rusting and I started to ask myself, "How can I use this and highlight it? How can I make the pieces about the fact that this material is going to rust?"
3. Does this body of work vary from what you typically do?
I have two main, ongoing bodies of work. They stem from the same kind of interest in materials and traditional textile structures and inspiration from nature, and how those things have a really interesting relationship. Nature's full of all these little parts, and so are textiles—there's this relationship of structure and chaos in both.
They look very different; they diverge in the material and the way I'm working. I have the whole rusted series, which is made on the loom and created with cloth, and another body of work that is using a lot of textile patterns but in different forms. Instead of creating them on the loom, I'm using some of the patterns, but looking at them in a different way and then using them to do embroidery and different mark-making.
The other body of work is carbon, which is usually based in graphite and other materials. That led to the experimentation at the Green Truck box, where I was using the same patterns, but translated into cut vinyl. Instead of being the threads moving through the fabric surface, what would've been the threads I use as the positive of the vinyl, with the background being the negative of the vinyl.
There's times when they converge. I think they're converging now a little more, and I'm thinking of ways going forward where they might be more intertwined.
4. How did you first start weaving?
I was studying sculpture and metalsmithing in undergrad, and I had the opportunity to study abroad. I went to Florence, Italy, and I had a free elective while I was there. Looking down the list of electives, there was weaving, and I was like, "Oh, there's something I can't do at home." My school didn't have a fiber department; it wasn't even on my radar. I just took it on a whim and I really loved it.
I was there taking weaving and a metalsmithing jewelry class. When I got to do my own project at the end of the weaving class, I started trying to weave with the wire I was using in another project and got really excited about those sculptural qualities of the wire. When I was coming back to the States to finish my undergrad degree, I knew from my capstone project I wanted to continue to weave with wire.
5. How do you balance your personal artistic practice with the work you do for Sulfur?
A big part of why Sulfur exists is because I wanted studio and workspace and I couldn't find it. So it was a way to make the space for myself and also for others. Part of the design from the very beginning—with the gallery and the open hours and me as the gallery director—was that we were going to be open three days a week and I was going to be here those three days. Being in a public space and having the First Fridays, having those monthly events, has been a great way to keep me working more.
[Sulfur] is a proof of concept. We were able to do it and we had a lot of fortunate circumstances of a very friendly and supportive landlord, the right time for the neighborhood and coming in when we did. But it proved to people that it was a need and something that could succeed. Anywhere else I've ever lived, they all have a building full of artist studios. And when I came to Savannah and it didn't exist, I was like, "Well, why not?"
I think there have been a few times where something else like [Sulfur] has happened, and it just didn't last. That was the thing for so long, but what I think is getting better is that the student population was so transient—people would come and maybe something cool would happen for year or two while people were here for school. But then they were heading to LA, heading to New York, feeling like they didn't want to or couldn't stay in Savannah and do what they wanted to do.
People are finding that if they're happy here, they can stay here and work here.
CS