It's hard to tell just by looking at Kayla Williams' jewelry that she's been making it for less than two years.
Under her business, Flaire Handmade, Williams creates polymer clay jewelry with bright colors and fun shapes. She's been creative for years but began playing around with clay a few years ago. She was urged to sell her work by someone who, literally, bought the earrings off her ear.
Born in Ila, Ga., Williams marks her five-year Savannah-versary this August after moving here with her husband to start a family.
Now, Williams is the mother of two girls and works as the Communications and Development Coordinator for Savannah/Chatham CASA, as well as creating her unique jewelry.
We talked with Williams last week.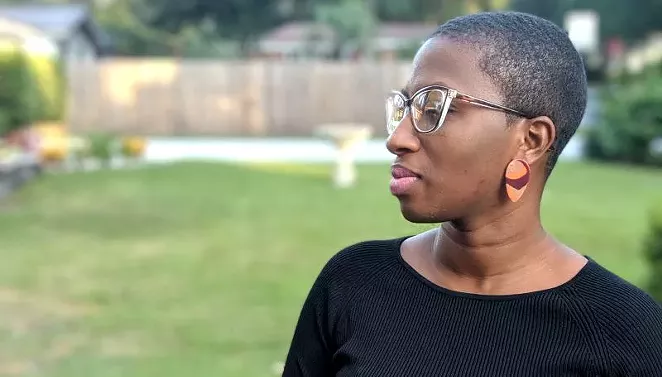 1. Have you always been a creative person?
I would say I've always been a creative person. I really think it's part of my DNA, because my father was an iron worker, jeweler and knifemaker. As long as I can remember, he was making something out of nothing.
I've always been creating different things; I've always had a stockpile of crafted items, just ready to make something. The first thing I can think of is having an easel and pads. I'd play around with pencils, and my mother would buy me charcoal. Whatever I wanted to do, she would just buy it.
With Flaire, I was making these earrings for myself because I enjoy them. Honestly, I was really stressed out, so it was therapeutic. And then I realized other people liked them, and I was like, "Wait a minute—I enjoy this, and this could be something to add to my family." It was a win-win.
2. What's your creative process?
A part of my creative process is I just wait for something to come to me. I don't go and sit down for days and ponder on art. Something I've done, which is intentional on my part, is I don't follow any other polymer clay artists. Not to be shady with who I follow; it's just that I don't want to see theirs and try to replicate it, because you can do that subconsciously and not even realize it.
I'm really new in the marker world, and I really want to be true to my ideas and to their ideas. I want to make with true integrity to what I feel and what I'm inspired by. It's also hard to say what's mine and what's yours in that maker world, because they may have gotten inspiration from someone else.
Now, when it comes to molding the clay, it comes out differently every time. I'll see it as a jigsaw puzzle and it'll come out looking like marble, but I think that's just a part of the process. As you're transforming it, it's making something of its own.
I get a lot of inspiration from my family because I think everyone has a high personality—there is not a dull moment. My grandmother, who has dyed her hair every type of red, I was going to name that collection Firecracker because I name them based on the inspiration I get when I put the colors together.
3. How long has Flaire Handmade been a business?
Sixteen months now since I've been making and selling them. There were about three months before when I was playing around with polymer clay and some other things.
It was around April [2019] when I was in Durham, North Carolina, for a conference and I was wearing a pair. I had started posting a couple, but I didn't make the effort to market them. So this lady came up to me and was like, "Do you have more of those earrings? I've noticed you've been wearing them the lat couple days of the conference." I told her I haven't, but I can sell them, and she said, "You should really think about it." She purchased a couple pair, and that was just confirmation that other people like these just as much as I do.
I have a couple friends who are makers in Savannah, and I was asking them about business: what's the market like? How does everyone respond? And she said it's great, like an open playing field as far as entrepreneurship and makers.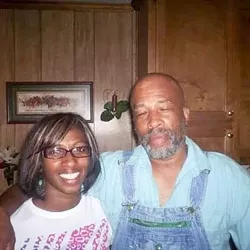 4. What has it been like for you to get into the market scene?
I got into a couple; I did the Sulfur Studios market a couple times, the Desoto Street Market, and the Melanin Makers' Market in Brunswick. I guess because I'm so new I can name them all!
There were many others I applied to, and I guess you never really know why you don't get in them. I think that might just be a point for Savannah to reevaluate being welcoming and opening to all businesses, whether they've been established for years or are new.
I can't pin down what it is except that it's too exclusive at times. Everyone deserves the opportunity of visibility. I feel like everyone deserves at least a shot to have their work shown.
But on the flip side of that, I also am a complete advocate for, if there's not a seat the table, build your own. I want to get to this table, but why do I? It's something that should be addressed at every market. If we always limit those that can be included, we're stunting the growth of that market, or that organization, or that company.
5. How do you balance your work and family life with your creative life?
Recently, I learned that I wasn't giving Flaire as much attention as it needed. I was in a new role at CASA, and I'm still learning the ropes. As soon as I thought I had a swing, then came COVID and I had my babies here full time.
What I've been doing that works great is I sit down around 8 o'clock to check my emails and start out the day. I try to get as close to eight hours of solid work as possible, with interruptions because there's lunch, snacks, all that. Then it seems like there's no time for Flaire, right? So I get in bed around 8 or 9 o'clock at night, and then wake up at 1 a.m. to do Flaire.
I have a studio outside my home, which is basically a souped-out storage unit that we put my shelves and ovens in. I'll do two or three hours in the morning, get some slabs ready, drill holes or sand or do whatever I need to do for that, and then I come back in the house to take a quick power nap to get started again. It's good because it's silent—I don't have to worry about little fingers poking around at clay.
I think this is the best system I've created since COVID. It takes a lot of discipline to balance it all; I could beat myself up about it. I want to do it all well. I'm just trying to find the balance of being the best mom, the best wife, the best maker, the best coordinator that you can be, but there are 24 hours in the day. It's not always balanced, but you can try again tomorrow.
CS