Savannah State grad Kench Lott Weathers is a sculptor with a unique and meaningful body of work.
In his studio, a repurposed storage facility, Weathers welds new and repurposed steel together to create angular, geometric shapes. He's experimented with painting them, sandblasting them and adding wood to them, but his body of work remains the same at heart.
Currently, his work is on display at the Savannah Convention Center as parts of Arts Across the River. Weathers has recently been featured in British Vogue and Vanity Fair, so keep an eye on this rising star artist.
We caught up with Weathers last week.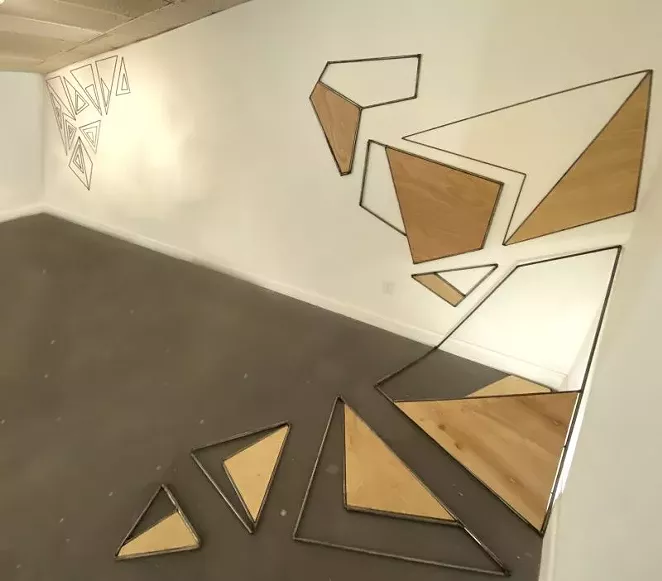 1: How did you get started on this particular body of work?
I got my undergrad here at Savannah State; I've been here off and on since 2007. I've been a 2D artist the majority of my life. It's not until maybe the last semester of undergrad, when we were doing stuff with reclaimed materials and I made a sculpture piece out of it and I really enjoyed it. It was my first time using a band saw.
I've been a painter, a printmaker, a drawer—I still draw. My last semester, I took a higher level sculpture class and was working with reclaimed materials. When I went to grad school, I brought my portfolio and the chair liked my 3D work better. I was open, I'd do anything, so I ended up in 3D studio.
The first semester, you have to figure it out—you might have a nice aesthetic but the concept might be lacking. I also didn't want to take my whole aesthetic from undergrad to grad school. I wanted something new, and the professors were promoting that.
Up until the end of my first semester, I started forming this new aesthetic for me, with more hard geometric design qualities. And then it wasn't until maybe the second or third semester that I had this really sound concept.
2: What inspires your work?
My thesis was called "Mindful Escapism" and it was about escaping, but not in a negative sense. I just think so much is going on. I don't want to get into politics, but a lot is happening, a lot of polarization, and it's nice to escape. It's not in a bad way, I just think that's part of human nature to escape. If you can get away, at least for the time being in an art gallery with people, talk about how much you like the work, maybe about how much you don't like the work, as long as you're getting together and conversing, that's a plus. You can find the humanness in other people.
I don't know whether it was the stress of grad school or what, but I just wanted to escape. That's what Isamu Noguchi would do. I'm influenced by the East and the West, and Noguchi was a Japanese American artist, a sculptor, and he'd form these things influenced by zen rock gardens and this idea of creating nonrepresentational structures. I used to be more representational when I was 2D, and since I've been 3D I've stuck to the nonrepresentational. The past few years it's been more hard geometric.
I think everyone goes through this stage of, you have to prove your skill level. You go through that realistic stage because you want to prove to yourself and everybody that you can do this. Then I feel like there's a step where you can go into nonrepresentational, more abstract work.
What I've been doing with my 3D work is I mixed it with 2D; I've been doing kind of a hybrid. My sketching is more for documenting purposes.
3: Most of your work has German titles. What's the reason behind that?
I'm working with these German names. I like a good contrast. Usually, you hear German and it's stereotypically a little crass-sounding; it's a harsh language. I'm also trying to stay away from cultural appropriation, but I have some German ancestry. The English language is a mixture of Germanic and Latin, so I'm on these German-Latin themes. These themes I've been working on is about mindfulness and compassion, so it's this contrast, and there's some ambiguity in that as well.
The concept of Vorsehung, it means "providence" in German and it also means a pathway protected by God. I was watching a sci-fi movie and they said something about providence, and I hadn't heard that word, so I looked it up. I like these words that have different meanings that don't translate to English exactly.
So Vorsehung is a pathway protected by God, and basically I believe there are different right paths, different right ways to do things. The conclusion to that concept is that there are multiple paths for one conclusion, whether you believe or don't, whatever cultural or religious identity you hold, there are multiple right ways.
I try to relate my work not to just one specific demographic. I try to be more universal. That's some of the reason I use nonrepresentational forms; I feel like it can relate to more people.
4: What's your newer work like?
I've been working on this idea of inner corners and outer corners. I like working with corners; some things just come to me. I like simple optical illusions, so what I've been doing is either sketching basic optical illusions or projecting them onto an inner or outer corner. Then I'll lay it out to where I've projected it and I'll think about it and abstract it. I don't want to have the same format as something I've Googled. I'll either add onto it or take it out and come up with tape, and I can print them and paint them. I've done a few of these and plan to start doing them flat on the wall so they're more marketable. They're site specific-ish.
5: What do you work on in your studio?
I try to come here daily and do at least or two chores. I'll write down in my calendar the projects. I've gotten some recognition recently, so I'll find the time to publicize my work. I try to do at least one physical thing a day here, and if not, I'm still working, publishing or working on an interview.
Savannah is a good place to be around artists. It's saturated with artists, so there's pros and cons to everything. Artists here need to think about getting their work elsewhere. There's a community of artists here, which is awesome—you can get feedback and all that stuff—but also, as creatives, there's a whole world out there.
I took this past year to publicize my work, and I'm still concentrating on that. That's still goals, but also to market my work to sell. I'm still going to be working with corners and all that, but I also want to do more flat pieces that will still be my work, just more marketable.
CS