PAINTER Shiloh Smith creates work that's inspired by his own life and experiences.
Now in his final semester at SCAD, he hopes most of all to be relatable to those who view his work in an effort to help them feel less alone.
Smith came to SCAD from Illinois after learning about them at school, and he instantly felt at home in Savannah.
While Smith often paints the figure, his work verges on non-representational: he's more interested in the texture and feel of the painting than of what it's depicting.
We talked to Smith last week.
1. What's influencing your work right now?
Where I stand with the Black Lives Matter movement—I've been making a lot of work based on how I perceive what's happening, like how it's hitting me. Putting myself in positions of others. Doing a lot of reflecting and thinking about how this could be me.
Every time I hear something crazy happening in the world, I have to sit and ponder and think, "That could be me." That's the only thought happening. I can't be naive and think that nothing could happen to me, which is kind of the way I lived before.
A lot of my work is placing myself in other people's positions, trying to get my viewers to understand that this does hit home because that could easily be me. It could easily be someone you know.
People don't get it. I come from a place where I was surrounded by more white people, and my friends always see me differently. They see me in a way like, "Shiloh's not fully black." I want them to understand that yes I am, because when it comes down to it, I am the color of my skin.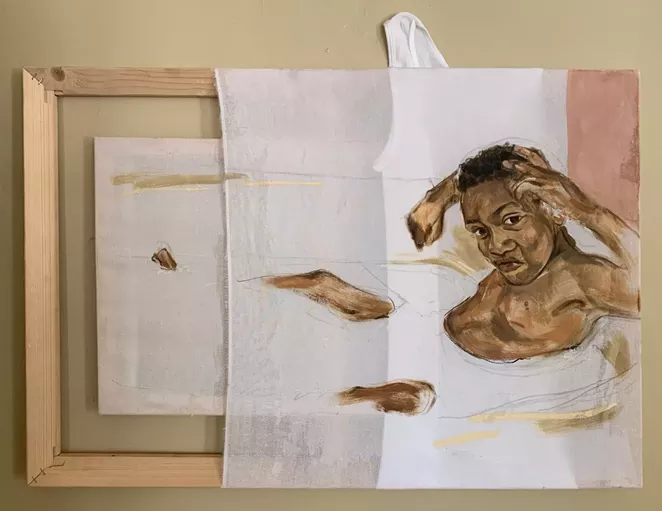 I also just want to be relatable to people, so I try to do personal pieces about things that I have wrong with me, just hoping to connect with other people. For example, I have a condition where I pull my hair out of anxiety. It's just an obsessive compulsive thing. I did a few pieces based on that and that did great; I was able to connect with people from around the world who have the same issue. People were messaging me about it.
In my work, I want to connect with other people and send the message that they're not alone. I post a lot of pictures of myself smiling, so I wanted to get personal and let them know there's problems too.
2.It looks like a lot of your work is figures. Is that the work you typically do?
Yes, I do. I tend to use my nephew often. That all started in high school when my nephew was born—it was a tough time for me, and I was going through a lot. So when he was born, it was like a relief. I call him my Renaissance. His birth is the rebirth of him and I. I made a decision to change, and he's been my focus a lot.
It was also the first life I got to experience grow. I never really got to witness a kid grow up and be involved in raising a kid.
I always try to figure out, "What is my obsession with my nephew?" But that's what it is. He came to me at the right time and I fell in love. I enjoy watching him grow. My paintings of him are more documenting his growth.
I'm very in love with bold mark making, which is why my work is figurative but not realistic. I'm not going for a hyperrealistic look. I'm all about the texture. I'm a big fan of white lines in my work. I use the lines to tie the piece together.
When I paint, I work fast to capture the emotion. It's like I'm waiting for it to pour out of me. I have pieces where I work really quick. A lot of my work, I just go at it. I love the mess and the chaos; I create my own chaos.
3. What has your creative process been like through your life?
In high school, I found out I had ADD, but I always had problems in math and science classes. They weren't my thing. But I always loved my art classes; I took art classes all my life. It was the first class I would choose to sign up for.
I enjoyed sculpting, but drawing was the first introduction to the art world, so that's what I did the most of. In high school, when I was taking the AP course, painting was an option, so I was like, "I'll take that and get stronger with my painting." That's when I really became a painter, I think.
[Art class] was the one place I felt like I excelled. Plus the attention I got from other people—that was my comfort. It made me realize, "Maybe I am gifted."
4. How do you get into the creative mindset?
I go in my sketchbook and jot down some ideas in my phone, in my notes. When I finally get around to it, when I paint, I sit out on my porch and have my music playing—blasting, actually—and I'm in my own world of painting.
5. What are your plans for the future?
My plan is to go back home and be with my family for a little bit, but I love painting, and I know that's what I want to do. Me coming to school at this age, I wanted to get this start now so I could learn the right techniques and just get on them and perfect my craft. That's my goal for coming to art school.
At the same time as perfecting my craft, working a regular job until things turn out for me. Painting has always been my passion.
cs