A Chicago native by way of the Bay Area, Sophie Funck is finishing up her senior year at SCAD, which has been a bit of a unique quarter.
Funck is in the painting program and likes to switch up her practice every now and then so as not to get stuck in a rut. After graduation, she plans on taking a year off to produce more work before pursuing her MFA.
We caught up with Funck last week.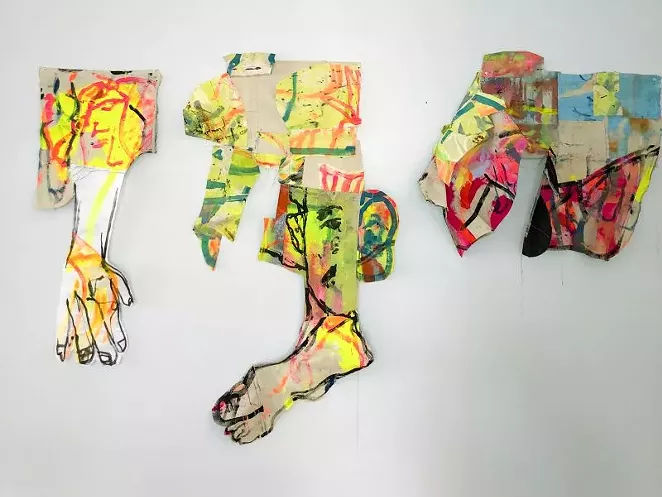 1. How's your last quarter at SCAD going?
It's definitely a memorable last quarter with everything that's going on. I have to say the painting department, especially the professors, are doing such a good job transitioning. It's nice to be able to at least see our classmates and the professors since we're all pretty close.
I have two painting department classes; one is exhibition design that's preparing us for our senior show, which we're going to do still. We're all doing different projects, but it just won't be public exhibitions. Luckily, we have Zoom and are able to submit hi-res documents and everything through the SCAD portal.
They canceled the commencement the last day of winter quarter. There's nothing we can do about it. I'm not too upset about it, just because we have no control over the situation. But I think once we're able to go back and socialize, a couple of us from the painting department have been talking about having our own little commencement gathering, which will be kind of nice.
2. What are you working on for your senior show?
I'm using some of the more recent work I've been doing over the past three-ish months. I'm having a duo show with Hannah DiGregorio, who's also a graduating senior. She and I decided to do a duo show just because of the situation. It takes a little bit of the pressure off of trying to throw together a show when we don't have venues.
Hannah and I had been talking about it months before all this happened because our work balances each other out, really contrasts nicely but has really similar concepts and themes throughout. Our show is called "Insatiable Creeps;" we'll be using part of my apartment to hang the work and have a virtual visit.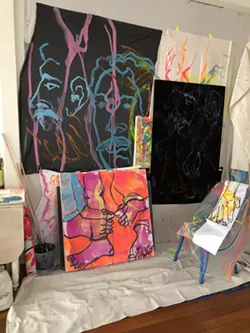 I started sewing together some of my work about a month and a half ago. Since I started painting on top of different fabrics and materials with more of my observational practices, I'm very into observing the figure like a live model and then using different tools and brushes I've made myself, doing blind contour drawings/paintings of these models, which are typically my friends.
Instead of paper, which is usually what I'd be starting out with, I started using different materials—polyester, satin, velvet. I'm looking for burlap, plastic-y, drop cloth materials.
I started cutting them up and putting them up in my studio and painting them while I'm doing the observational drawings; I typically use acrylic gouache. Then I started cutting them up and sewing them together to make these strange figures. I have so much of this painted material, I'm going through it again and cutting up and trying to create these three dimensional figures. I'm trying to make those blow-up figures at the car dealership and filling them up with foam or water. It's super fun.
3. How did you decide to take your work from 2D to 3D?
I was feeling a bit stuck a couple months ago and wanted to expand myself a bit. Some of my friends in the class had been experimenting a lot with hand sewing and embroidering. I love anything that's visceral, so I love using my hands to create things. I've always been like that ever since I was little.
I'd find a foot somewhere in this giant piece of fabric, or an ear or a leg or a hand, and I wanted to collage them together to create a form. I explored it a bit more. There are a few artists doing similar things. It's nice for me to have variety in what I'm making because it keeps me on my toes.
4. What other work do you create?
I've definitely been a person that hasn't always stuck with just doing one thing, mostly because I want to try everything. I don't want to get stuck doing one thing because I become bored and restless of it.
Earlier this year I was making these more graphic poster-like paintings that were based on vintage Playboy magazines. I'm super fascinated with old advertising because they were so beautifully done. Those were all painted or hand-drawn.
I did a couple of self portraits. I never really did them and then someone said, "You should do self portraits," so I started doing self-portraits that were totally bizarre. They don't really look like me, but that's even better, I think. I was focusing on texture, but I wasn't referencing anything, which I had been doing in the Playboy ad-based paintings.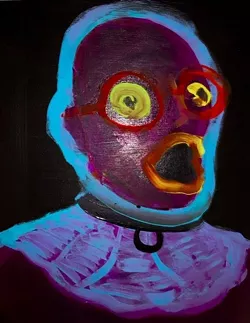 I was in a rut after doing those, so I wanted to let the process of painting reveal what I wanted to be showing in my work. That's when I would do more of my abstract paintings, so I went back to my roots and that's how I ended up working from the live model again.
5. What's your background?
I grew up outside Chicago. I was definitely creative. I worked really hard in school but I had a hard time learning, so I was always a little bit slower and I resorted to creating or building things by myself.
A fibers artist grew up next to me and she was a big inspiration for me, as well as my grandfather. He was a radiologist most of his life, and then as he got closer to retiring, he became really interested in life drawing.
He was a huge influence for me; he'd always take me out and draw people at the beach.
I was a competitive swimmer my whole life, and I learned everything I ever wanted to learn about time management. It's interesting, I think, connecting a lot of my swimming days with my work recently.
When you're underwater for that long and you're working so hard, it's like your mind totally goes to these different places.
cs