The walls of Stacie Jean Albano's studio are covered in ephemera that tells her life story. Pictures of her kids, a cheerleading certificate and an autographed Dick Dale poster paper the walls alongside her rough sketches and finished pieces. It's a space that at once feels so personal and so homey.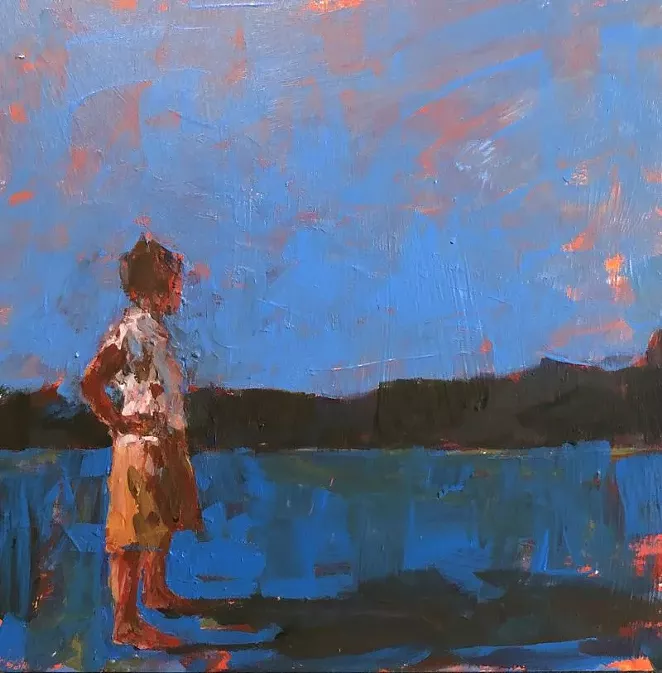 A Long Island native, Albano's been in Savannah since 1991 and has built a solid reputation for herself as an artist since. She's currently showing "Afterglow" at Location Gallery's LGBT Center and in mid-April will show "Home: Then and Now" at the Grand Bohemian at the Mansion on Forsyth.
She's perhaps best known for her landscape paintings with bright orange underpainting peeking through. The ambiguous landscapes leave the interpretation and assignment of place up to the viewer.
But painting is just one of Albano's passions: she's also a mother to two boys and is known to play a mean cello.
We talked with Albano last week.
1. Tell me about your show, "Afterglow," at the Savannah LGBT Center.
Peter [Roberts] gives me license to do whatever I want for my shows. Nobody knew I could draw until I had that show last year with the animal heads ["Instinctual" at Location Gallery]. It all started from one illustration he'd seen. I posted it by chance, and that's how it all came to be. I had so many people saying, "I didn't know you knew how to draw the figure!" I'm like, "Well, I went to school for lots of things besides landscape!"
The same thing with this current show was the underpainting. And it makes your eye vibrate, the colors. It peeks through but it never has that same quality as when I first put those layers down, just bouncing off the panel. Some of the paintings right now, I was trying to take pictures of them to put on social media. I really had a problem and had to constantly adjust my eyes, but I love that friction that comes with the colors. Of course Peter was like, "Do you want to do a whole show with that?"
I wanted to call the show, "Hey, Your Underpainting Is Showing," but that's because my personality is just gutter humor.
2. What draws you to the idea of underpainting?
Two reasons. When I was in school, it was always that sienna underpainting. It gives you an idea of where you want to go.
When I first started doing it, I remember there was a professor at SCAD who did a series of paintings that were complementary colors. I thought, "What an interesting concept," but I wasn't quite at that level, I wasn't a mature enough painter where I could've pulled that off. I just wasn't ready to make those colors work together. But then, I noticed when I started painting over it, but in layers rather than finished product, that's how the idea started to evolve.
And also, having the stark white canvas or panel is very intimidating. You're afraid to just put that first mark down, but if you know those first marks are going to get colored over, where's the fear? It takes away that initial fear of, "What am I doing?"
It doesn't matter how many years I've been doing this for, there's always that piece that you battle with. I had a piece I worked on for days, and I can't stop looking until it's correct, what I saw in my mind.
3. So you only work on one piece at a time? What's your process?
I used to be able to have five or six pieces going at a time, and that's when I worked in oil, but now I work in acrylic and the drying period is short. The older I get, the more patience I lack, probably because I have a lot of other things going on, like those little people that came out of my body. Things have to happen fast.
And I beat myself up a lot; I'm probably my worst critic. I do like more of my work that I finish now than I did, say, ten years ago. But I will constantly think there's more I need to learn. Acrylic has been better with that also, with having the kids. They're able to come in and out of the studio, but with oils they wouldn't.
[In the studio] everything I love is hanging on the walls. I used to paint on the walls, and it was a place I went to work; it wasn't a place I went to just enjoy being in. And that's when I decided the walls would be things I loved, things I'm constantly working on, things that remind me of how I got to where I'm at, and the people that brought me here, too. There's a reason I stayed in Savannah, because of all the amazing people I've met. There's a Damad poster that reminds me of my friends, and some of them have passed. Dick Dale—I mean, shoot, I love to be reminded that Dick Dale loved the way I shook my ass onstage!
I do miss having a studio that was separate from my house, because now it's very easy for them to come in. That's probably why I paint until three or four o'clock in the morning. Nobody's up, no phone call can be made, there's no interruptions.
It's funny that I chose the two jobs that are not really recognized as jobs. Being a mother, doesn't matter how much time I put into it, I don't go somewhere and clock in and clock out. And then being in the studio, it's the same thing. [The kids] come in and ask me questions, and I'm like, "Well, I'm just saying, if you had this question, would you call your father up and ask him it? No, you would not." This should be respected just as such.
4. Coming up next you have a solo show at the Grand Bohemian at the Mansion on Forsyth. How'd you get involved in that one?
I think I was insane by saying yes, but that's my thing lately—if I want to be successful, I treat this as a job that I love, but you say yes.
Carmen met me through Location Gallery shows. Besides the solo shows, Peter's always including me in the group shows, probably because I nag him! He's really good about showing artists or old artists that haven't been introduced to a constantly new, growing populations. Especially now with the art scene, the community of artists has grown stronger in such a way within the past five years.
It never used to be like that. I never used to be able to sell work in Savannah. It used to be that I'd have a show once a year at Gallery Espresso, which Jules was great about. I wouldn't have to do the whole trial-and-error and see if I could get in. We knew each other and it was easy. I'd sell pieces there, but as far as a continuing following, I never had that. Social media has probably helped with that, but a lot of it I think is galleries like Location, constantly having this revolving door of new artists, very successful local artists, and everybody in between. And with Starland, all of it working together has opened up the doors to Savannah being a really established place to look at local art.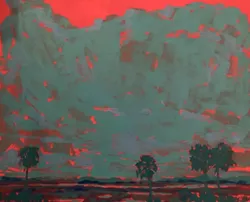 Before, if you weren't represented by SCAD or were from these old established galleries, you kind of were screwed. You'd have to look elsewhere beyond the city and that's what I did for a while; that's why I have work up in Virginia.
That's how the city will survive—by its artists. I wish the city would recognize the local art scene a little bit more. That would be helpful. But how empowering that thee community is kind of doing it all on its own. Clinton [Edminster] with the mural project and all that—amazing. There's so much stuff that happens now. I was out of the scene for a little bit because of having the kids. It made it easier to come back when I started painting again.
5. How did you come to Savannah?
When I was looking at schools, my aunt, who is an established book illustrator, was helping me look through and she saw it as an up-and-coming art school. They had a lot more scholarships back then, so it helped with finances. I loved the teachers I had. And then through the school I met really great people. I've been friends with Danielle [Hughes] since '91.
I have friends that live in larger cities and it seems harder to meet and get those well-connected relationships that you just know you're around somebody that is like family. That's why I stayed. And not for nothing—it's got some pretty good landscape around here!
I still do New York; we go back every summer for about three weeks. There's always going to be a little New York in my shows. I might not always say where it is. I also believe that if you're looking at a piece and if it reminds you of something in your life, I wouldn't put the work up if I didn't want someone to take whatever they wanted from it. It's their interpretation.
I typically don't put where the work is. With this next show at the Bohemian, I will be because the show is called "Home: Then and Now." It's going to be a little of this, a little of that.
CS