FOR YEARS, artist Stephanie Forbes has used art as a way to work herself out.
The daughter of two artists, Forbes paints and is set to graduate from SCAD's painting program in the spring. She's particularly interested in water as a theme, particularly its capacity for healing.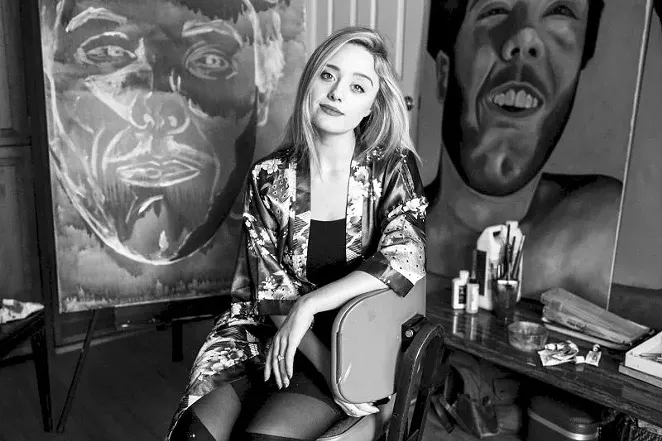 We spoke with Forbes last week.
1. How did you get into making art?
Both my mom and dad went to SCAD, so it was ingrained in me. It's in my blood for sure. I didn't take after them because they didn't put anything on me. If anything, my mom was like, "Let's see if you like sports!" She was a working artist and wanted me to have my own intention with myself, but I couldn't steer away from it. It's always been my way of getting through stuff.
2. What was it like to have artists as parents?
It was very sensitive [laughs]. I'm also an only child, so us three were this really beautiful, dysfunctional pack. It's so wonderful. I couldn't imagine having parents that [didn't] want me to have this free mind and life.
I decided to move to California when I was two years out of high school, and my parents didn't even question it. They were just like, "Oh, cool, let me know what you need." I think that is rooted in their artistic way of life. They know there's a freedom behind that, and they wanted me to feel that. It was always this colorful childhood, for sure.
3. What's your inspiration?
A lot of my work is based on the idea of water and healing properties. It's multifarious—it is literally all aspects, from taking baths to swimming to having dreams about water. Since I was a little girl, I've always been super drawn to the ocean. I always collected oyster shells. My dad grew up in Brunswick, so we would take trips to Jekyll every two or three months. They have the most beautiful oyster shells there, and I'd always collect them, so I'd have these mounds of shells. Two years ago, I was like, "What the hell am I going to do with all this stuff?" That's what got me into working with jewelry. It also spring-boarded from the idea that my work is centered around the idea of water.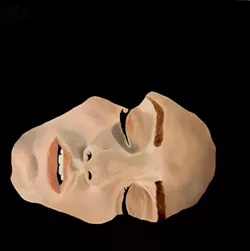 The current body of work I'm doing began ten years ago when I started having these plaguing dreams of being underwater and not being able to get to the cusp. They were anywhere from being in the ocean and not being able to swim up to being stuck under the belly of a whale. They're rooted in anxiety.
Those dreams prompted me to dig into my traumas and what was going on in my waking life. I started really investigating my childhood, stuff that had happened to me as a young person and into my adulthood. Those dreams started letting up and transformed into these peaceful moments in water. I'd have dreams of floating and I knew I was on the right path with my healing. That's what kind of pushed me towards making work about water. It's scary, it's deadly, and it's also life-giving. There's so much about it.
My dreams mixed with art is what got me to figure myself out. If I weren't an artist, I don't know how the hell I would have made it through that.
4. What would you want someone to leave feeling after seeing your art?
I'd want someone to feel a sense of peace where they're at. I do a lot of exciting movement in my paintings and some that is totally still. I'd want people to feel that overwhelming-ness and then also feel that sense of peace. I'd hope that someone would contemplate where they're at.
5. You used to own a gallery in Augusta. How'd that happen? Does that factor into your future plans?
When I was out of high school, I volunteered at this gallery. This guy owned a tattoo shop across the street and saw this space and wanted it. He was hosting locals and bringing in all kinds of art. His setup was salon-style. I just volunteered, but then he decided he wanted to move to Colorado three months into me helping him, and I took every dime I had to my name and took over the gallery. I didn't want to see the space go away.
I changed it up, I shut it down for a month and then did strictly artist exhibitions. I didn't do that very long, a little over a year, but I've been craving that lifestyle back since I left it. It was so much fun. It was a lot of work and I will say I'm a totally different person now than I was then. I was 20 and 21. I knew that I loved art, I knew that I loved seeing people make art, and I knew that I wanted artists to have a space to show their work. But aside from that, I did not know any of the back end stuff that I know now. I cherish what I did and I'm so thankful I had that courage, especially financially, but I was a waitress during the day and I barely slept. I think now I'm just more well-rounded of a human being.
I want that. I love serving artists too. I love showcasing my own work, but I love having a space for other people.
cs