ILLUSTRATOR Tate Ellington's cheery, bright works are uniquely hers and so Savannah.
Ellington illustrates the sights we know and love, from the Forsyth Park fountain to sunflowers in a field. She layers watercolors over each other and adds ink to create a style that's all her own.
Ellington is the mom to two-year-old Wallie and lives and works in Pooler.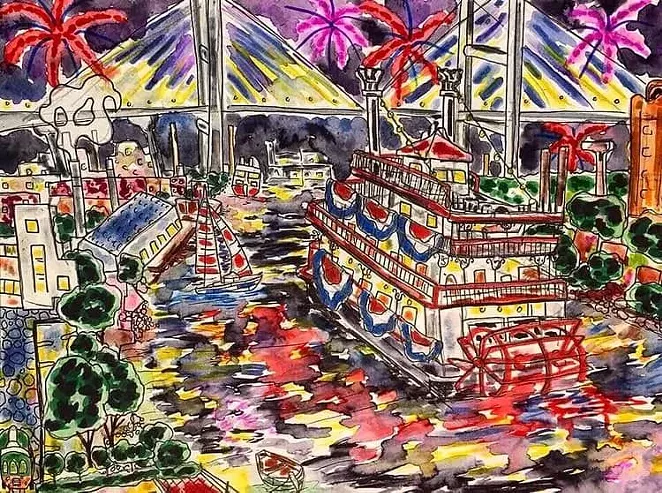 We spoke with Ellington last week.
1. When did you begin painting and illustrating?
Before this, I worked in the school system for a while as a special needs teacher. I've always painted, but [in teaching] you put some of your creativity into doing the doors, bulletin boards and projects.
I've always been kind of shy, I don't want to say timid, but more to myself. And after I had [my son] Wallie, it brought me out of my shell. He inspired me to be more creative. I made a resolution that New Years—I just wanted to do more and paint more and to paint every day.
2. How did you begin this series of work?
One day I was craving Leopold's—it was my birthday, it was in January, it was freezing—so I just painted it. They ended up reposting it. I didn't know much about Instagram at the time. From there, people were asking if [my work] was for sale, did I paint other things? And it just kind of went from there.
I had a friend who was like, "Did you paint the Pink House?" So I painted the Pink House. People send me requests and I still take request. There was a couple that I do markets with, and I painted B&D Burgers and they were like, "Oh my gosh, that spot is where we met." So it's cool that people can take little souvenirs with them."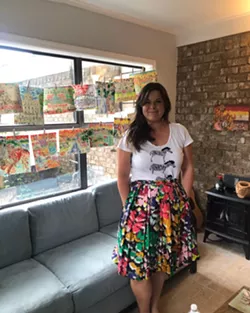 3. What's it like working on commission?
I like doing commissions. I've been doing a lot lately, and I think I'm going to slow down a little to foucs on catching up with more Savannah and Tybee stuff. I love hearing the backstory of people's commissions. When I did the Earth Day Festival logo, I really enjoyed it because getting to know all the people with Earth Day and SCSC—that was cool.
I always get those moments where it's like a creative block. With commissions I can see that sometimes, you want to do something from your heart and sometimes that's hard. But at the same time, I love the direction. I feel like when people reach out to a certain artist—which is what's so great about art, every artist has their own personality—they want that person's personality, they like that person's look. I think that's pretty neat.
4. What's your process like?
The painting itself takes about eight hours. If people want a certain building or business, I'll go down to that business and take a few photos. I take the street as well the buildings, see what bikes are there, newspaper stands, things like that.
I get enough where I think I can copy it, and I'll sketch it and add a few layers of watercolor. I keep layering and layering and let it dry, then go back and layer it again. I think it looks really cool. I'll add ink on top, just to see what happens, how it pops out a little bit. It's like tie-dying—you never know what you're going to get.
5. What's next for you?
So far this summer, I've been wrapping up some commissions and doing gallery shows. I have an upcoming one at Location Gallery, the 300 and Under show, which will benefit WRUU.
I just talked to the Charleston ART MECCA and I might put some pieces in there. Basically, I'm just doing that, stepping back a little this summer, doing markets, but I'm just trying to fill more inventory. I've got some surprises in the fall, cool stuff coming up. I can't say yet, but it'll be cool!
cs