INITIALLY, Tatiana Cabral Smith's jewelry class through the City of Savannah was intended to be a fun remedy for her anxiety. Instead, it turned into a lucrative business and a way for Cabral Smith to give back.
For about four years, Cabral Smith has been creating the sleek, modern jewelry she wanted to wear but couldn't find. She donates 15% of each sale to Wachuge, Ethiopia, after a service trip with Tapestry Church inspired her.
Born in the Bronx, Cabral Smith lived in central Florida before moving to Savannah ten years ago. She's of Dominican and Puerto Rican descent, and she's passionate about representation and making sure everyone is seen.
We spoke with Cabral Smith last week.
1. What was it like growing up in the Bronx?
It was beautiful and community driven, lots of different cultures and languages all the time. I come from an immigrant family: my family is Dominican and Puerto Rican. I'm just a second generation American on my mom's side, first on my dad's. It was really important to me to grow up in a community filled with other immigrant families. In my community I had representation, but on TV, growing up, that wasn't a thing. That's why I'm really passionate about that stuff.
[Moving to Florida] was the biggest culture shock. I literally could not sleep because it was so quiet. I definitely faced more overt racism, too: people telling us, "Go back to where you came from." People said that to my mom as a kid in New York, but more so in Florida. Somebody spray-painted our house, "Go back to Mexico," and I was like, we're not even Mexican, they don't even know!
I surround myself with a diverse group of friends, so I feel safe with the people I surround myself with. In the professional world, I definitely see some of that: it's more indirect and systemic.
2. Has racism and a lack of representation affected your practice?
Yeah, definitely. I'm very intentional about who I use for my images. I want it to be diverse and I want all people to be represented. I feel like I still have a long way to go with that, but I do that because I didn't always have that experience, and I know a lot of people didn't either.
I just want people to look at magazines or websites and say, "Hey, she looks like me." That's really powerful.
I've been hearing more brands have a conversation and that's a really good start. It should be, "Let's include a black vendor, let's include a Latinx person." Now that people are being looked at through a microscope more publicly and being called out about things. Hopefully that's more of a regular, everyday conversation.
3. How did you begin making jewelry?
I took a class because I have anxiety, so I needed a coping thing. My friend Katie was like, "Hey, I take this class. Do you want to come?" That was four or five years ago. It was probably the best thing I've ever done for myself because I really enjoyed it and had fun. My teacher was so encouraging.
I started helping fundraise for Ethiopia with the stuff I made. I had just gotten back from Ethiopia. We helped fund building a high school in a village that didn't have one, so we went to help the community on this project. In creating my brand, 15% of every sale goes to [Wachuge] village.
I like simple stuff that is made with good materials because I have really sensitive skin and I wanted to find affordable minimal, classic pieces, but I had a really hard time finding it. I'd say what I wanted, and my jewelry teacher was like, "You can make that, I'll teach you how to do it."
4. What's your creative process?
It's different all the time. Sometimes I'm just playing around with something I have left over because I try to use everything I have. I've actually had a dream of a design, and I woke up and had to make it. It just depends, I guess, on where I'm at mentally and what I have available to me.
I have a lot to learn. I have a really simple studio setup right now in my house, so collecting more tools that make it easier to make fun designs or to work on fun things I haven't been able to do. But I want to learn more before I start spending money!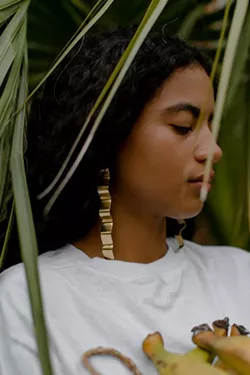 5. How do you style the photo shoots?
I love to collaborate with people. I have a lot of friends who are creative, so we'll do a shoot together. I like to do art direction working on those things: guiding the image, styling the model, the clothing.
I used to have fashion shows with my family as a kid. I'd dress my whole family and make them model. Somewhere there's a video where my aunt is like, "This fashion show is brought to you by Tatiana Cabral!"
[Styling] just starts with the piece and whatever it's related to. For example, my mom has natural curly hair, so I have the "Rizo" earring which means "curl" in Spanish. I wanted someone who looked like my mom to model the earring. I met someone who's also Dominican and has these beautiful spiral curls, so I had her wear them and carry a basket of plantains. It's just embracing the vibe of whatever the piece is and trying to showcase that.
CS