Best Green Business
Best Landscaper
Savannah Green Dirt Design
In a city that's renowned for green space and festooning flora, scoring "Best Landscaper" for the third straight year means you're a service-oriented small business that's tilling something right.
"Clients describe what I do as 'Savannah tropical,' or 'Savannah coastal style," says Timothy Gay, owner and landscape architect of Savannah Green Dirt Design. "Typically, if you see big masses of marshy-looking cord grass, you're seeing something that I've had a hand in — that's my signature plant."
This Savannah native's green thumbs and good eye for earthwork architecture derive in part from his father (also a landscape architect) and the University of Georgia (Class of '08). After dedicating himself to strict design work for the first two years, Gay decided to break off on his own and dig his hands in some good old-fashioned Georgia dirt.
"People really appreciate that the guy who's doing the design is the same guy who's outside working the shovel," he says.
Savannah Green Dirt Design is about as full-service as you can get, offering everything from concepts and installation to routine yard care. Bonus: SGDD even offers the occasional graphic design consultation, just in case you want to pump up your SEO potential while cultivating your garden's curb appeal.
Perennial double whammy: SGDD also raked in "Best Green Business" for the second year in a row.
As far as his green business model is concerned, Gay insists that all things starts and end with good design. While it certainly helps to avoid exotic plants that require a ton of water and not copter in chemicals, Gay also says that being green boils down to appropriate design, using natural fertilizers, and staying away from synthetics.
"We choose native and adapted plants that don't require much upkeep. You just put the right plants in the right place and make everything look good," Gay explains. "It's not too complicated." — Jenny Dunn
Runner-up, Green: Savannah Pedicab
Runner-up, Landscape: All Season Long Landscaping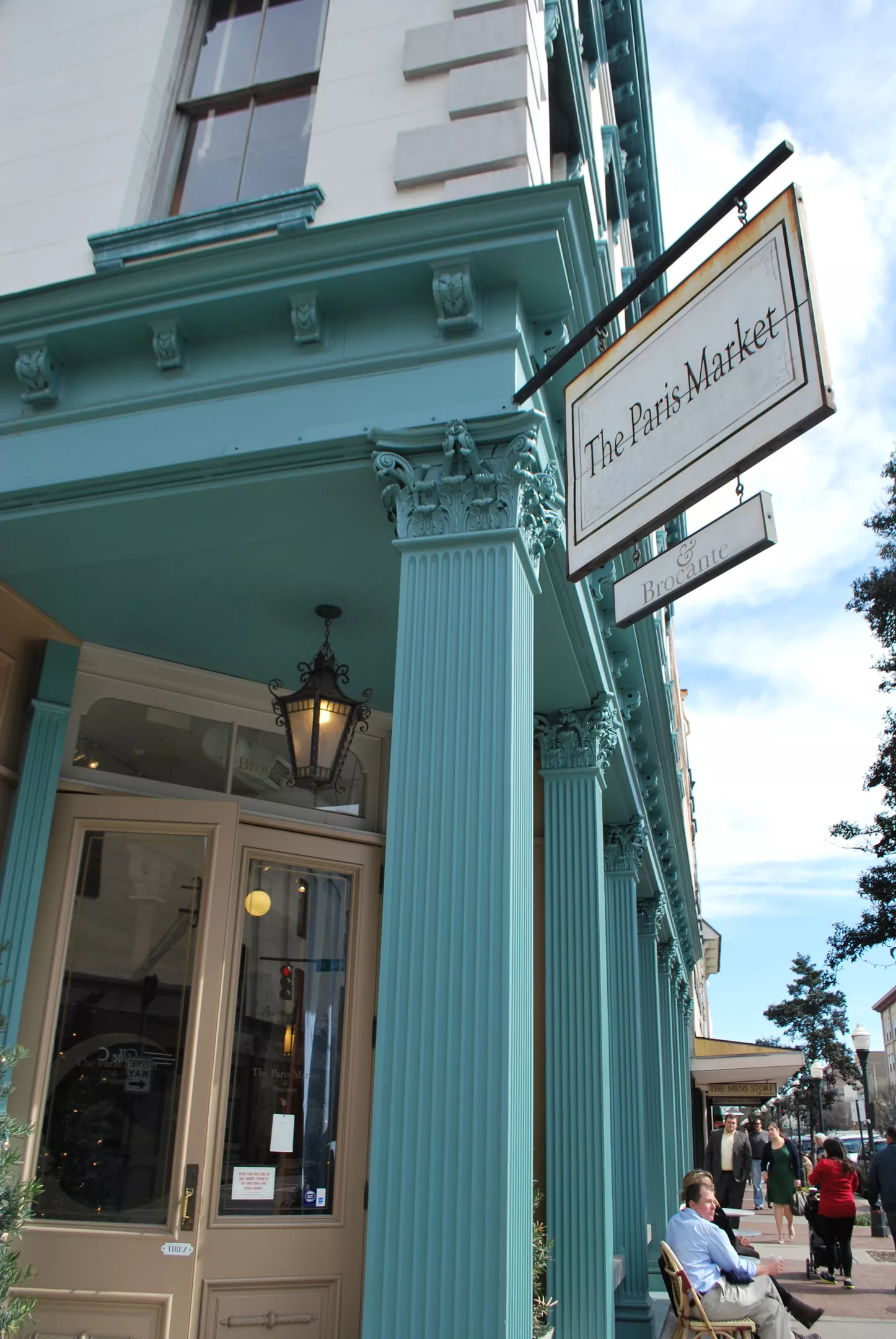 Best Gift Store
Best Window Display
Paris Market & Brocante
One of Broughton's coolest and most unique stores is something of a destination theme park in and of itself, Paris Market features two floors of way-cool French-themed home and furniture stuff, new and vintage. They also have one of the best little coffee/tea bars in town, with views of bustling Broughton, and some retail coffee/tea/treat items as well.
Runner-up, Gift: The Lady and Sons
Runner-up, Window: 24e
Best New Store
Owl About Kids
This neat little spot just around the corner from 24e is a great addition to the Broughton Street corridor.
Runner-up: Whole Foods Market
Best Indie Bookstore
E. Shaver Booksellers
Savannah's literary world was rocked when Esther Shaver announced she was selling her fabled store and the building containing it, all of it a downtown fixture long before the outside world ever discovered Savannah. The store's offerings and reputation have only grown with the city's. So what's going to happen? We don't know. You got a few million bucks or so? Let's go in together.
Runner-up: The Book Lady
Best Comic Book Store
Comics and More
This Montgomery Cross Road brick and mortar location also has a very active social media/internet presence, so you can stay up to date with all the latest releases in the world of graphic novels and sequential art.
Best Musical Instrument Store
Portman's Music Superstore
Every guitar player in town is intimately familiar with Portman's – it's simply where you go for instruments, strings, amps, effects and every other necessary thing. Keyboard people know it too, and drummers, horn players, etcetera. It's been the planet around which all musical satellites circle since 1936.
Runner-up: Georgia Music Warehouse
Best Place to Use a Military Discount
American Legion
Oh, is that why the PBRs are so inexpensive there?
Runner-up: Lowes
Best Furniture Store
24e
Ruel Joyner's fab space was the setting for last year's Best of Savannah issue cover shoot. It's also just an awesome place to browse around and meet folks – Ruel and staff always have something interesting going on. Don't forget to check out the completely renovated upstairs in this historic building.
Runner-up: Whelan's Home Furnishings
Best Cigar/Tobacco Shop
Ye Ole Tobacco Shop
Two locations, walk-in humidors, cigars from the Dominican Republic, Honduras and Nicaragua. Hookahs too! It's all about the smokes, folks.
Runner-up: Savannah Cigars Inc.
Best Lawn & Garden Store
Hester & Zipperer
Go local! The fine people of H&Z have been looking after Savannah's cultivated greenery since 1922. A full service retail and contractor store.
Runner-up: Lowes
Best Motorcycle Dealer
Savannah Harley-Davidson
Some things never go out of style, and Harley-Davidsons are pretty much at the top of the list. This popular location at I-95 and 204 has been delivering the heavy metal for years; they also have a River Street location.
Runner-up: Low Country Customs
Best Scooter Dealer
Motorini-Vespa of Savannah
Savannah's only factory-authorized, full service Vespa & Piaggio dealer, in what's basically the cutest spot in the world at that little vintage former gas station on Drayton.
Runner-up: Low Country Customs
Best Bicycle Shop
Perry Rubber Bike Shop
Get your bike stuff, or just browse around and make a wish list for when you hit the lottery. Lots of great rides and gear here for all kinds of bicycling lifestyles.
Runner-up: Bicycle Link
Best Place to Buy a New Car
Best Place to Buy a Used Car
Grainger Honda
This perennial winner in both these categories is based on the Westside and not only deals with one of the most reliable makes on the planet – they pride themselves on customer service. Not that you really have to keep bringing Hondas back...
Runner-up, New: Critz
Runner-up, Used: JC Lewis Ford
Best Automotive Repair
Savannah Tire
With several locations around town, you won't have to get towed far to get there!
Runner-up: Dixie Motors
Best Car Wash
Savannah Car Wash
A flagship of vehicle hygiene on Abercorn for a long time, they now have a deluxe Pooler location open as well for your washing pleasure.
Runner-up: Car Spa
Best Rental Car Company
Enterprise
A perennial winner in this category, Enterprise rents from six locations locally including one at the airport of course.
Runner-up: Avis
Best Sporting Goods Store
Best Place to Buy a Boat
Bass Pro Shops
As Savannah Mall continues a heartfelt and so-far hopeful effort to rebrand and revamp, Bass Pro Shops has continued to pack in customers the whole time. Where else can you get a campfire lighter that looks like an M-16?
Runner-up, Sporting: Fleet Feet
Runner-up, Boat: Custom Marine
Best Toy Store
Toys 'R' Us
A perennial winner in this category. The veritable Godzilla of this category. Hey, is there an action figure for that? Bet they've got it.
Runner-up: Planet Fun
Best Daycare
Maggie's Morning School
As controversy continues to swirl around admission protocol for Chatham schools, Maggie's has quietly set the state of the art for early education in Savannah.
Runner-up: In His Arms
Best Arts/Crafts Store
Blick Art Materials
So this almost never happens: Local institution gets bought out by national corporation. National corporation helps employ most everyone at the former local institution. National corporation is able to retain and continue the extraordinary goodwill built up by said former local institution.
But that's exactly what happened with the switch from Primary Arts to Dick Blick, including a move down Broughton into the current expansive space. We sure miss Primary, but it's good to know Blick is carrying on the tradition with respect.
Runner-up: Michael's
Best Frame Shop
Maldoror's Frame Shop
A very deserved win, this awesome little shop in Starland offers a professional but affordable resource for serious local artists/art students. Also – and this we like, like, like – they sell prints in a space "with the aura of a Victorian curio-cabinet." We are so there.
Runner-up: Frame of Mind
Best Women's Clothing Store & Best Clothing Boutique
Red Clover
Once again Savannah ladies say their choice for pretty frocks and fabulous accessories is at this lovely women-owned-and-operated boutique on Bull Street.
Runner up: A tie! Civvies and TJ MAXX
Best Men's Clothing Store
J. Parker Limited
Southern gentleman still prefer their blue blazers and khakis, and this Broughton Street institution stocks top brands as well distinctive casualwear, including the original Jimmy Knows crab polo.<
Runner up: Macy's
Best Children's Clothing Store
Sara Jane Children's Boutique
Children who shop at Sara Jane are unarguably Savannah's best-dressed—until they spill their ice cream cones on those colorful smocked dresses and adorably tiny seersucker suits.
Runner up: Owl About Kids
Best Clothing Designer
Brooke Atwood
Nobody does leather like this Mississippi-born marvel—her 2014 collection of cutout t-shirts and fringed dresses rocked the runway from Bryant Park to Forsyth Park this season.
Runner up: Mamie Ruth
Best Thrift/Vintage Clothing Store
Civvies
One of our favorite lil' local thrift/vintage shops, this charming space upstairs from Gaucho faces an uncertain future – at that location at least – after the appearance of developer Ben Carter on the Broughton Street scene.
Runner-up: Goodwill
Best Eyewear Store
Eyeglass World
A full-service, inexpensive place to spec your specs out on Abercorn.
Runner-up: Lenscrafters
Best Shoe Store
Globe Shoe Company
This historic Broughton Street institution – not involved so far in any Ben Carter transactions – has been locally owned in Savannah since 1892, when it was just horses going up and down the street.
Runner-up: Fleet Feet
Best Bead Store
Epiphany Bead and Jewelry Studio
Wholesale and retail beads, with classes and repairs. Seriously, they're so awesome that if beads are your thing you're probably there right now as you're reading this.
Runner-up: Perlina
Best Jeweler
Levy Jewelers
Always nice to see locals win categories, and especially nice to see Levy Jewelers rewarded for stepping up to the plate and doing something with that premier space at Bull and Broughton they moved to in 2012.
Runner-up: Epiphany Bead & Jewelry Studio
Best Local Jewelry Designer
Danielle Hughes Rose
This year's sort of cover girl – she designed the brass knuckles Nicole is wearing on the cover – primarily works in metal, with an aesthetic that's both minimalist and striking.
Runner-up: Zia Schadina
Best Costume Store
Acme Costumes
Hey, sexy nurse for Halloween. Where you gonna get your sexy nurse outfit? That's right. Right here. STAT!!
Runner-up: Spirit Halloween
Best Novelty Store
Sunset Novelties
This long-running local business has kept a lot of local couples running longer. AMIRITE?!
Runner-up: Joker Novelties
Best Surf Shop
High Tide Surf Shop
Savannah's not exactly a surfing mecca, but we have our share of surfers and this is where they get their stuff! Us regular beach-goers can find plenty of cool merch there too.
Best Antique Shop
Habersham Antiques Market
There are lots of antiques stores in Savannah. Lots. But none approaches quite the level of rambling eccentricity combined with really high-level curation as Habersham Antiques, set inside a former meat market – literally, a former meat market.
You can find vintage, working toasters from the advent of electricity. You can find old dairy bottles. You can find wildly imaginative kitsch art. You can find really excellent high-quality Victorian jewelry. You can find awesome hipster-friendly '60s modernist furniture.
Just go. We'll send a search party after you if you're not back in three days. – Jim Morekis
Runner-up: Alex Raskin Antiques
Best Grocery Store
Publix
Service with a smile, and truly invested employees, is the difference-maker for this perennial winner in this category.
Runner-up: Whole Foods Market
Best Gourmet Grocery Store
Whole Foods Market
The long-awaited opening of Whole Foods – right across Victory from the Connect offices, woo-hoo – did not fail to impress, as the corporation did all its local community outreach right. Locally-sourced vendors, fresh produce, killer meats & seafood, and heck there's even a bar where you can get a pint of local brew.
Runner-up: Fresh Market
Best Health Food Store
Brighter Day Natural Foods
Not to be outdone by the arrival of Whole Foods, one of downtown Savannah's favorite and longest-running stores – 35 years and counting! – continues to serve a faithful clientele. The addition of a cool new sidewalk walk-up deli counter is particularly inspired.
Runner-up: Whole Foods
Best Lighting Store
Circa Lighting
For real, they've got some cool stuff here in this outpost of the southern chain on Whitaker in the Downtown Design District. Yes, that's a thing.
Runner-up: Pace Lighting
Best Maid Service
Green Methods LLC
Do we have to spell this out for you? Green Methods = green methods. They use non-harmful cleaning stuff. Rock on!
Runner-up: Saved by the Belles
Best Mall/Shopping Center
Oglethorpe Mall
Malls around the country are falling into steep decline with the renaissance of downtowns. Not so with Oglethorpe Mall, which continues to be as popular and relevant as ever.
Runner-up: Savannah Mall
Best Real Estate Agent
Chelsea Phillips
This realtor with Keller Williams will help you find the best home for your bucks.
Runner-up: Don Callahan
Best Real Estate Agency
Keller Williams Realty
The local outpost of this national realty firm focuses on awesome downtown properties
Runner-up: Judge Realty
Best Florist
John Davis Florist
Not only an expert horticultural maven, but one of Savannah's most colorful characters, John runs a beloved midtown business with deep roots in the community. Get it -- deep ROOTS?! We crack our own selves up.
Runner-up: Garden on the Square
Best Photography Service
Daly and Salter Photography
A frequent winner in this category, these fine folks specialize in portraits and weddings, with a focus on Savannah's beautiful natural surroundings
Runner-up: Bailey Davidson Photography
Best Pawn Shop
Welsh Pawn Shop
Over a century in business! That ain't easy to do. Then again, they are heirs to "mankind's oldest financial institution," as they say. Congratulations to this local establishment, now with four locations.
Runner-up: Crossroads Pawn
Best Pet Store
Best Pet Boutique
TailsSpin
For convenience's sake we've got a couple of the big chain pet shops in town, but there's clearly something great to be said for the small, locally-owned business, especially one that cares so much that it specializes in hypo-allergenic and natural pet foods and treats.
Runner-up, Store: PetSmart
Runner-up, Boutique: The Grateful Hound
Best Pet Grooming
Diva Dogs Pet Grooming Salon
Full service grooming, a la carte, nail painting, and.... Wait for it... Blueberry Facials!
Runner-up: Carol's Pampered Pets
Best Bed and Breakfast
Savannah's Bed and Breakfast Inn
This new winner offers 15 rooms in a gorgeous antebellum row house on Gordon Street.
Runner-up: Olde Harbour Inn
Best Hotel
Desoto Hilton
Well, who would have thought with all the new hotels springing up all over Savannah like resurrection fern after a rain shower, that the good ol' Desoto would get top spot? Just goes to show, that's why you play the games, to see who will win.
Runner-up: Mansion on Forsyth Park
Best Lawyer
Best Law Firm
Michael G. Hostilo
Hey, Mike can't let Jamie Casino get all the attention this year, OK?
Runner-up, Lawyer: Joel K. Gerber
Runner-up, Firm: Brannen, Searcy & Smith
Best Local Insurance Agency
Bernard Williams Insurance and Financial Services
Serving your insurance needs since 1934! Wow, that was a long time ago.
Runner-up: Stevens, Hale & Associates
Best Local Moving Company
Two Men and a Truck
Still the best-named company in the universe.
Runner-up: American Moving and Storage
Best Self Storage
Public Storage
Yeah, it's a pretty generic sounding name, but this is the former Morningstar Storage.
Runner-up: Uncle Bob's
Best Local Homebuilder
Lamar Smith Signature Homes
Building new abodes all along the I-95 corridor in Georgia.
Runner-up: JT Turner Construction
Best Wireless Service Provider
Verizon
Still number one in your hearts, and on your iPhones.
Runner-up: T-Mobile
Best Bank
Wells Fargo
Interesting that a bank with West Coast roots would end up doing so well here.
Runner-up: Savannah Bank
Best Taxi Service
Savannah Pedicab
Now that's keeping things real, and green, and eco-friendly. Pedal on!
Runner-up: Yellow Cab
Best Limo Service
Above & Beyond
Here at Connect Savannah, all of us use limos ALL THE TIME. Every day to and from work in fact. Sometimes even back and forth from our long, martini-soaked lunches. And we can attest this is the best limo service of all we've used over the years.
Runner-up: Coastal Limousine
Best Place to Work
Gulfstream
The only thing better than being one of the world's richest, most influential people is meticulously creating genius handcrafted state of the art engineering miracles designed to be used by the world's richest, most influential people.
Runner-up: Savannah Pedicab
Biz You're Most Sorry to See Go
The Sparetime
Dang it, we're still waiting to settle up so we can head out.
Runner-up: Blue Turtle Café
Best Category We Totally Forgot
Best Children's Art Studio
Alrighty then!
Runner-up: Best Teacher