IT WAS only last year that I was sampling Chef Will Herrington's menu at Kitchen 320, so I was excited to learn he had transitioned his career to a new location.
After 16 years of working in various kitchens, this past May, Chef Herrington decided to transition his career again, moving away from a hotel setting and into a more artful and creative space—Cohen's Retreat.
As their new Executive Chef, Herrington told me he loved the place as soon as he walked in, which is easy to understand with a place as beautiful and inspiring as Cohen's Retreat.
Chef Herrington kept a few menu items that were extremely successful on his last list, including his Field Peas and Hoe Cakes and Blue Crab Grit Cakes.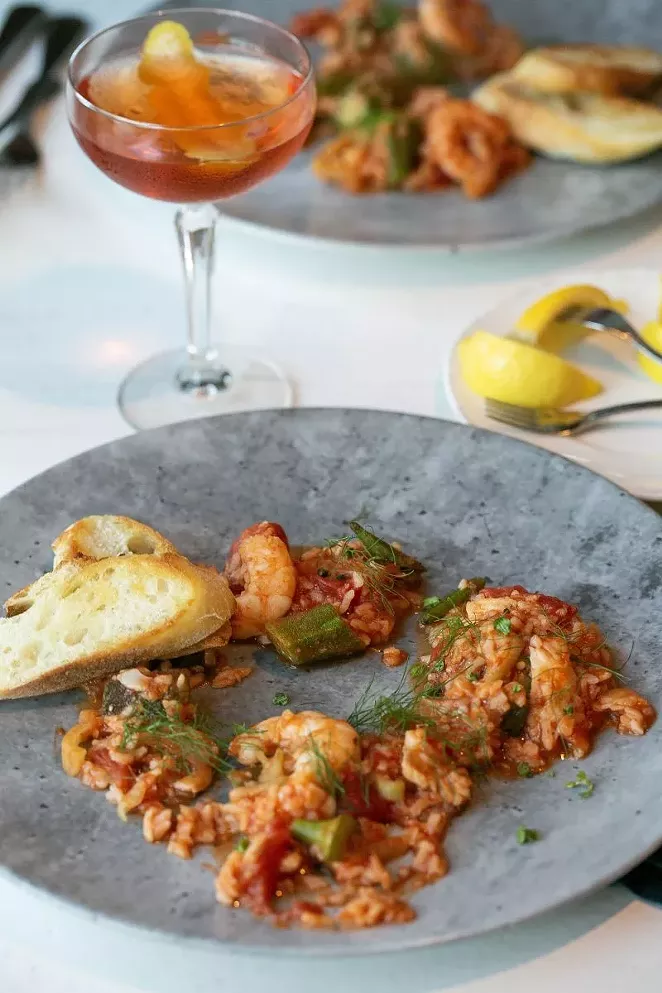 "Our play on how to eat a crab cake has been a hit since it was put on the menu," he explained.
The idea behind his menu is staying true to the Lowcountry, which Chef does very tastefully (and tastily too). Most of the ingredients are sourced locally from places such as Canewater Farms, then prepared in-house.
Working with Chef Herrington to create and pair Cohen's specialty cocktails is Nikki Davenport. Her creation, Romesmary's Revenge, is an ideal light and refreshing start to dinner. Silver tequila, Cointreau, rosemary simple syrup, soda water, and fresh lime are all shaken together.
A sizeable stem of rosemary garnishes the tall glass, which allows the effervescences of club soda to mix with the floral herb and hit your nose as you take in the airy refreshment.
The first course was an Artisanal Bread Board, the bread sourced from local and loved Auspicious Baking Company that featured two types of bread—tomato jam and pork rillette—alongside sweet compound butter. A rillette is simply a rustic pate.
This start to the meal embodied Chef Herrington's approach to food: fun and approachable. I would compare the combination to a deconstructed barbeque pork sandwich. The tomato jam, sweet and slightly spicy, acted as the barbeque sauce, while the pork was shredded and tender with the appropriate amount of smokiness.
Transitioning to the new restaurant, Chef Herrington gained Cohen's Lang Smoker which has inspired him to be even more creative with his food. Speaking of the smoker, he explained how he created the pork:
"When you do a pork rillette you want to braise it, so I decided why don't we braise it inside of the smoker and let some of that smoke feed in to create a smoky pork rillette."
Keeping things light, a Watermelon Salad was next up for me. The playful twist for this plate was the addition of pickled blueberries which had a flavor reminiscent of a sticky sweet reduced balsamic. The blueberries acted to balance the sweetness of the ripe juicy watermelon and the peppery arugula, fresh mint, and earthy basil.
Next came Smoked Wings—four to be exact. Pecan wood smoked chicken wings are lacquered in Cohen's BBQ Sauce and served with their own house pickles. The overall flavor, smokiness, sweetness, saltiness, and fatness, was well balanced, a difficult task to achieve while keeping the skin of a wing crispy.
I found myself devouring these wings like a man watching football with no concern for any manners a southern lady is supposed to display during a meal of multiple courses.
The Fisherman's Stew was unlike any seafood dish I have tried in a town ridden with saltwater fare. A deconstructed version of stew, the work of art was served on a plate and consisted of a thick tomato sauce, firm okra, pungent fennel, Carolina gold rice, sweet local shrimp, and a delicate market fish. Flounder was the market fish they day I visited.
Each element worked together to taste as though the dish had been stewing for days. Despite this, Chef Herrington managed to keep the tomato flavor fresh, adding an acidic lift to the heartwarming porridge.
The secret that brings a deepness to the composed dish is the addition of shrimp stock, made in house, that is added during the cooking process.
"We are so close to the water, it is easy," said Chef Herrington in explaining his approach to the dish. He further explained that Cohen's sources locally from Dubberly's Seafood.
The recommended pairing for this dish is "Nikki's take on a Sazerac, which is a big hit with our guests. Her twist is to use basil simple syrup that really emphasizes the herbal notes of the cocktail," Chef Herrington told me.
Next, Chef Herrington proudly presented his Barbeque Lamb Ribs, explaining ,"They are everything you love about pork and then we just take it up a little bit."
Like everything else on the menu that is smoked, the ribs were not heavy handed in the amount of smoke that was allowed to permeate the red meat. The result was a delicate fall off the bone meat with an umptious, fatty, and well-seasoned bark.
As I chomped down on the first rib, the bone slipped right out of the meat leaving me to eat what remained with my fingers.
The jelly to the peanut butter of this entree is Chef Harrington's braised collard greens, which were fork-tender and sweet, just like the best of New Year's Day. Because lamb ribs are much more fatty than most others, the plate was served with pungent vinegary pickles ideal for cutting through the richness of the meaty dish.
It says a lot about a Chef if he or she can deliver an end to a meal that is just as memorable as the beginning. It was terribly difficult to stop eating the dessert, a bread pudding made with Auspicious bread, even though I had filled up on the four prior courses.
By cooking and serving the gargantuan proportion in its own cast iron skillet, every single edge had a crunchy exterior yet the center remained delicate. Apples, cranberries, and cinnamon were intertwined with custardy chunks of bread then finished with a house made caramel sauce.
All of the flavors combined deeply warmed the soul, and the addition of cinnamon reminded me of the buttered oven baked cinnamon toast my mother used to make for breakfast.
The only thing that could've made the dessert course better? A giant glass of ice cold milk to wash it down.
cs