SCAD celebrates its 40th anniversary this year, and one special initiative is the SCAD40 prize.
The SCAD40 prize is the highest recognition an alumnus can receive and is awarded for exemplary contribution to their creative career. SCAD's president and founder Paula Wallace will present Le'Andra LeSeur with the SCAD40 prize this Thursday.
In her work, LeSeur explores black identity, particularly through the lens of racial trauma. LeSeur has exhibited throughout the Southeast and has won multiple awards for her work.
We spoke with LeSeur last week.
1. Tell me about your current body of work you are exploring and working on.
"brown, carmine, and blue." is my most recent body of work. It explores identity in a broad sense, but I'm also looking at how racial trauma affects the way in which we navigate the world and ultimately how that informs our day to day life. Within this work, I'm also tackling how that affects black women specifically and drawing from my own personal narrative. The work is about using my body in a direct way to navigate these feelings of pain and loss and ultimately releasing that energy to heal and get to a place of true vulnerability and tenderness which is something I define as Joy.
2. How do you explore the black identity through your work?
My work incorporates a lot of video, text, and photographic imagery. These are things we see every day in mainstream media but it's not always embracing the entire black experience based on who is telling the story so I'm interested in reclaiming that language so it's not something that is perpetuating a negative view of the black experience. For instance, what does it look like to honor a black woman and her voice–or to just honor a black body in general?
I'm also interested in portraying parts of blackness that may not be directly understood but are very important aspects of my life–the presence of black soul music, the joy and laughter with family and friends, the rhythmic motion of your body and soul through vulnerable actions such as publicly crying or dancing–they are all intertwined and they are also a part of my story and my identity as a black woman. Things like that bring me joy so I know that will show through in the way I incorporate it in my work.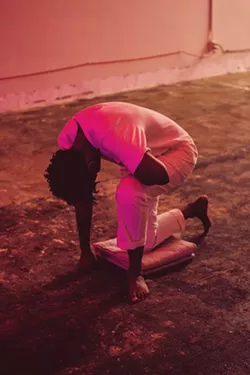 3. What's the main thing you hope people take away from your work?
I just want people to walk away knowing that your existence is powerful. No matter who you are or where you come from, your existence is powerful. We live in a world that tries to negate the thought of "existing" because there is so much pressure to fit all of these different molds and continuously reach certain points of success based on another person's validation. I really want to confront that idea. We are all powerful and resilient people. What if we began celebrating our life, not based on success, but based on how we show up for ourselves and others and how that is defined for each one of us. I think that's a radical act because it would allow people to just be.
4. You also curate exhibitions that include women of color. Why is that important?
"The function of freedom is to free someone else." This quote by Toni Morrison is a great way to define why that's important for me. I'm thankful for all the people in my life who have given me opportunities to share my voice and my story. I think about my first gallery show in Atlanta at Arnika Dawkins Gallery right after graduating from SCAD. Arnika believed in me and my work and that alone gave me the confidence to keep going. I believe we all need people in our life that can offer those affirmations. While there is power in validating yourself, it is a hard battle to constantly uplift yourself with no help so I also fully believe in the power of affirmations. My mother and grandmother affirmed my existence for years–continuously telling me that I would be someone. I'm always pushing to make space for women of color so they're voice and story is visible and they also have a chance to fully envision themselves as "someone".
5. What does it mean to you to receive the SCAD40 prize at deFINE?
It means everything. Going to SCAD was not an easy decision for me but it was the best decision I could have made. It was my second bachelor's degree moving from a focus in business admin to a full focus within the arts. I was scared that I was making a mistake but the family at SCAD, the people who make that community, put that worry to ease. I had professors who pushed me to think outside the box and fellow students who are now lifelong friends who continuously supported me through everything. To know that I took a chance on myself by enrolling in SCAD and have come out of the situation not just as a better artist, but a better person is truly a testament to the community Paula Wallace created along with the faculty, alumni, and students. I'm forever thankful for that and I know this prize wouldn't be possible without those people.
cs