YET ANOTHER sad — and sadly predictable — scene unfolded in City Hall last week, as tension on City Council became open defiance on the issue of which company will get the lucrative contract to manage the Savannah Arena.
In a hotly contested 5-3 vote, Oak View Group (OVG) won the contract over the more experienced firm SMG, which unsuccessfully made a formal appeal for Council to reconsider.
This is the second formally challenged contract award involving the Arena. In August 2018, JE Dunn lodged an official complaint after a "scrivener's error" appeared to play a role in allowing AECOM Hunt to secure the contract to manage the construction phase.
In both cases, a firm with longtime local experience was rebuffed in favor of firms with no local track record.
The continued infighting over the largest single public works project in Savannah history comes in an election year, with the City Manager leaving town in two months, the Arena Development Manager abruptly departing recently, and with no permanent City Attorney on hand.
The winning bidder, OVG, has only been in business for four years and apparently has yet to actually begin management on any project.
In contrast, SMG has been in business over 40 years and has run the Savannah Convention Center on Hutchinson Island, in their portfolio of over 200 facilities managed.
Technically however, that's not as much of an issue as some people are making it. The principals involved in OVG have many years of experience among them — including music tycoon Irving Azoff — and have inked a partnership with the massive LiveNation.
The real issue, as is so often the case with City government, has to do with transparency, or lack thereof, in the contract award, as well as the appearance of impropriety which has dogged so much business involving the Arena.
Adding to the unease is the fact that Alderwoman Carol Bell's son's cleaning company had already been recruited by OVG as a subcontractor. (Bell recused herself from the vote and all executive sessions concerning it. A previous version of this story incorrectly said she hadn't recused herself from executive session. We regret the error.)
Many observers said the incompleteness of OVG's bid should have disqualified them, while City Manager Rob Hernandez maintains that the bid was a "phased process" in which submitting certain documents wasn't a strict requirement.
The usual requirement that three years of audited financial data — which in OVG's case is virtually the entire history of the firm — was glossed over with the gimmick of allowing a single "designated member" of City Council to view OVG's financials behind closed doors.
The designated member was Alderman at Large Brian Foster, generally viewed as the Council's resident finance expert. Foster wouldn't divulge any information, saying the company's records were "confidential."
To which Alderman Tony Thomas responded incredulously, "Was it confidential to other members of Council?"
Foster refused again to share any details with fellow Council members, essentially saying they just had to trust him and City staff.
The decision to let only Foster view the information was taken by other members of Council as not only unethical, but as a personal affront.
"I've been on [Council] for 16 years and I've not seen anything like this," said Alderman Van Johnson, who is running for Mayor this year.
"We have to be fair, we have to be consistent, we have to be transparent in all of our dealings," Johnson said. "Whatever the rules are, need to be the rules... if we follow the rules, the rules are easily defensible. I don't think people mind losing as long as they lost by the rules.... You can't keep moving the goal posts."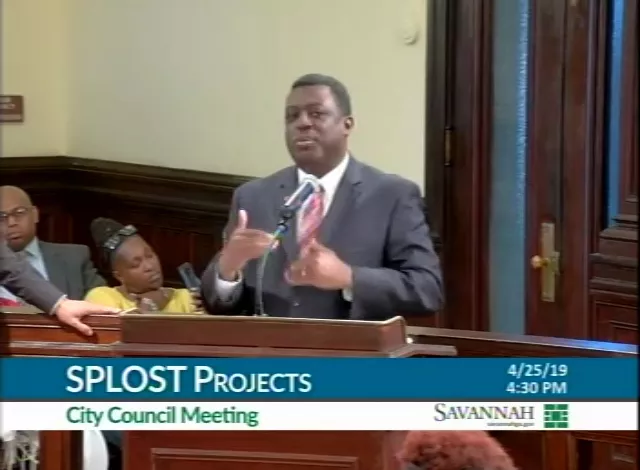 SMG's attorney Harold Buckley Jr. left it all on the field in his aggressive attack.
Referring to Assistant to the City Manager Bret Bell, who was sitting right in front of him, he cited a Morning News article from 2014 about two firms being cut from the Cultural Arts Center Request For Proposal process:
"In that article Bret Bell was quoted as saying they were cut because they failed to submit RFP documents," Buckley said, alleging that OVG wasn't penalized for the same transgression.
He said "there's not one single page of financial information, audited or not," in OVG's formal proposal.
At one point, Buckley said "I have pants older than OVG."
In making a final point, Buckley jabbed, "Just let me finish before I get home-cooked."
Alderman Thomas went for the throat when he questioned whether OVG and outgoing City Manager Hernandez had a previous relationship dating from Hernandez's tenure in Broward County, Florida (where he is set to return this summer).
While Hernandez capably defended himself, unfortunately the whole exchange seemed to echo a similar controversy over the awarding of surplus City property to the Foram Group as part of the Starland Village project.
Foram also shares South Florida roots with Hernandez, and the public record showed at least some level of mutual familiarity prior to the deal.
In the end, it does appear that the deal the City struck with OVG is amenable, at least on the surface.
The City gets a $2.5 million payment from OVG with another $2.5 million due at contract renewal in five years. Other agreements include rent of $200,000 a year, payment of operating costs, and profit-sharing (if any — the current Civic Center loses well over a million dollars a year).
But unfortunately the track record of questionable and controversial practices involving the Savannah Arena has grown into a pretty long list.
At this point, the number of controversies far outweighs the things that have gone smoothly.
With every new twist and turn, the project loses more public confidence and the City's legal exposure mounts — with taxpayers on the hook for everything, as always.
cs