When Hannah Wolf was in third grade, she was diagnosed with dyslexia.
"One of my teachers was like, 'Something's off,'" remembers Wolf.
Her parents put her in tutoring to help with her schoolwork, and Wolf began to channel her feelings into drawings.
Those drawings have become Wolf's latest body of work, "Decoding," that she'll exhibit this Friday at The Space Between gallery.
The title of the show refers to a technique used by people with dyslexia to separate a word to be able to understand it.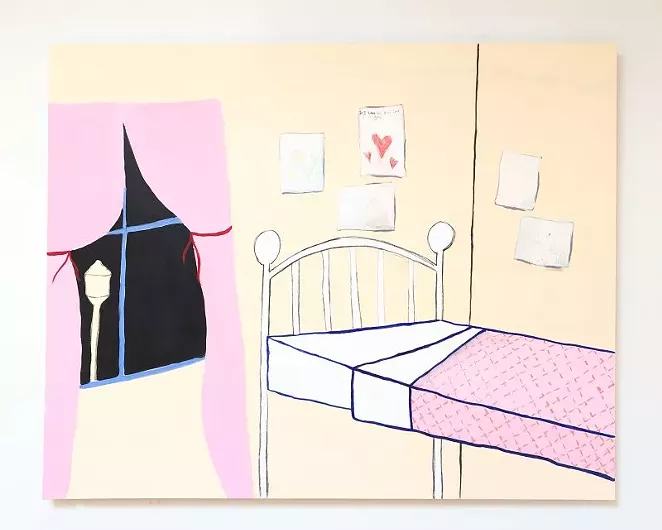 Wolf took her childhood drawings and replicated them in painting, creating a childlike, innocent feeling.
"Some of the lined paper paintings are actual things I've written in journal, and others are phrases that stuck out to me as a kid that I never understood," Wolf remembers. "'Clouds don't move.' Someone told that to me and I thought about it and was like, that doesn't make sense."
This body of work began last year.
"This past summer I started going through documents my mom had saved from the years, and I was thinking, 'These are really interesting! I should explore this more,'" says Wolf. "Then it turned into recreating them, like copying them onto canvas and seeing the different techniques I would use. It was funny because at first, I had a flower painting and I was using a source image of flowers, so it was interesting to kind of reduce all my techniques I've learned from SCAD, like regressing and going back."
While Wolf's subject matter is from her childhood, her painting technique is mature and thoughtful, using a light pink tone to convey innocence and sensitivity.
"I started using the pink background; the first painting I did exploring this was using pink," remembers Wolf. "And I'm like, 'Okay, why do I keep using pink for my background color?' It's sensitivity and this idea of a sensitive subject, but also I was called sensitive as a kid or that I was emotional or whatever. I feel like I need to keep exploring it. I'm pulling more towards using more language, actual words, actual text and potentially using books."
After high school, Wolf went to a high school for students with learning differences, which made a huge difference for her.
"I would hope that [visitors] would ask questions," says Wolf. "My big thing is asking questions about the education system and this singular learning platform. Not everybody learns the exact same, so I think it's important to make sure to be patient with people when you're trying to teach them something. Sometimes they're not going to get it on the first try."
CS