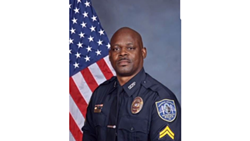 The Savannah Police Department confirms that an officer who was shot while responding to a robbery call Saturday night in the Starland area of Bull Street has succumbed to his injuries.
The officer has been identified in other official reports as Sgt. Kelvin Ansari, a 10-year veteran of the Savannah Police Dept. and a U.S. Army veteran.
"At approximately 8:10 p.m. on May 11, officers responded to the 2300 block of Bull Street to follow-up on a previous robbery call. Officers were notified of a vehicle description and upon locating and approaching the vehicle, a shooting occurred. Two officers as well as the suspect sustained injuries and were transported to the hospital at that time. The second officer involved was treated and released," Savannah police report.
As per standard protocol, the Georgia Bureau of Investigation (GBI) was called in to investigate this incident further.
SPD is planning to hold a press conference Sunday afternoon to release further information.