The members of Sub-Radio met in high school, with unique musical backgrounds that didn't necessarily align. Later on, they bonded over their shared passion and decided to form a band - spending years honing their craft and eventually releasing a series of EPs and singles. The music is catchy, smart, and melodically imaginative, and they've evolved stylistically even in just a few short years.
The Virginia-based band is about to embark on their first major, non-stop tour and is set to hit El Rocko Lounge on Fri., June 7. We spoke to vocalist Adam Bradley, guitarist Matt Prodanovich, drummer Michael Pereira, keyboardist John Fengya, and Kyle Cochran on a break from tour rehearsals.
How did you guys get together?
Prodanovich: Essentially, a couple of us met in high school and we started writing songs together. They were really bad at first, but they got better over time. We added some flowers and high energy, and that's Sub-Radio.
So how did you land on what it is that you do musically? Were you all into the same music?
Prodanovich: Some of us were friends, yeah. Some were more acquaintances who became friends through playing music. As far as listening to similar bands, we definitely didn't when we started. Polar opposites. Our drummer listened to a lot of metal and hard rock. Who else did you listen to, Mike?
Pereira: I listened to a lot of video game music [laughs].
Prodanovich: At that time, I wanted to be in The Fray for some reason. But we quickly moved on to other stuff and landed in this vein that we like to call indie pop. Bands like Walk The Moon and Smallpools are influences to us now.
With six people in the band, what does the writing process look like? Is it super collaborative or is there one guy who sort of handles the bulk of the writing?
Bradley: Both of those things at once [laughs]. Our lead songwriter for years now has been Matt, who will demo either verses or choruses out, have guitar parts written, and that'll sort of be the bones of something. And then we really just get together in a basement and play stuff until it sounds good. Parts are written by each member, and it's super collaborative in that way. But all of those seeds are coming from Matt.
And I'm the lyricist, at least up until now.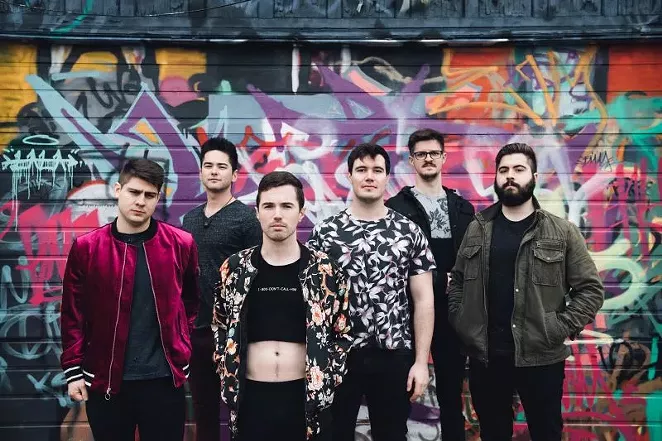 The songs definitely sound pretty slick sonically - do you leave a lot of room for the studio process to happen? Or is there typically a lot of pre-production?
Pereira: We usually have multiple iterations of demos before we go into the studio. Matt often will do demos in Logic, and then we'll come together and jam on the song. Then we'll go to our other guitarist, Kyle - he's got a nice studio, is a sound engineer and a really talented guy. We'll demo it overselves to get a sense of the sounds, tones, and arrangements. From there we go into a professional studio.
Bradley: When we went out [to Los Angeles] to work with Dylan Bauld, who produced our new EP, I think maybe we thought there was a lot of work to be done. But then we'd get a song up and he'd say, "I don't have any notes for you guys. This is already great." He'll help us with synth sounds and things like that, but as far as arrangements go, stuff is locked in.
Pereira: Part of the benefit of having multiple iterations is that even in the final product, we have tracks that we've pulled even from the original demo. So we're able to pull sounds from all the different steps and they all made it into the final product.
There is sort of a spontaneity to that early part of the process that's hard to recreate in a proper studio, so it's good that you can recognize when you don't want to lose that. So, tell me about this upcoming run. It's a really lengthy tour that takes you all around the country.
Bradley: John is literally over in the corner doing our routing and booking hotels right now [laughs]. This is going to be the first tour of this magnitude we've ever done. It's really the first tour we've ever done. We've called previous runs tours, but guys have had full-time jobs, we haven't really left the East Coast much, so this will be the first big one. We have no idea what to expect, really [laughs].
cs