WITH JUST a vintage magazine and a pair of scissors, Thomas Mizelle can work some magic.
The native Savannahian has always been interested in visual arts, and after going to school for museum studies, he picked up collaging in 2016 and hasn't turned back since.
We spoke with Mizelle last week.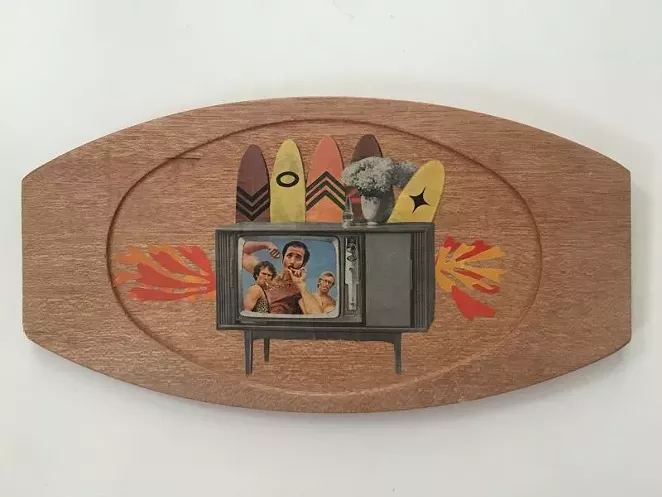 1. How did you get started collaging?
I've always been into visual arts. I went to high school for visual arts at Savannah Arts. I went to college and got my BFA in museum studies, and I took a few basic classes and started doing collage. I didn't get back into it until post-college. I started taking photographs, like going out and taking them, and getting them developed. I was like, "What am I going to do with these?" It was like 500 pictures. I started brainstorming and said, "Well, I've always liked collage."
I started cutting and cutting and cutting and making pieces. From there, I started collecting magazines and yearbooks and other miscellaneous items to collage with it, and that's been it from there.
2. What do you use as your source material?
LIFE Magazine probably has the best content. Like the 50s, 60s and 70s—70s the most, because it's the weirdest photography of food items. [The magazines] are pretty large, so you have a variety to work with, like larger and smaller formats.
I tend to go with Playboy as well because they have really good advertisements. They're geared towards men, so there's a lot of men's clothing or men's fragrances—you get a little more variety with that.
3. What's your method?
I tend to work on multiple projects at one time because I let things peak for themselves. I'll sit and put it to the side and come back to it and be like, "Well, let's tweak this a bit." Or it's done and I have to sit there and glue it down, which adds another layer of things get shifted or mistakes happen, and you have to go with it or it's ruined. I don't have the steadiest hand, and I'm kind of messy. That's part of what it is. I accept it and I go with it.
I did a challenge to myself; I did a 30-day challenge where I did a collage every day. I got to 25 days and was like, I can't do this anymore, I'm burnt out. I went out of town one weekend so I did three in one day. It wasn't easy, but it wasn't like I couldn't. Some days were just things slapped together, and that's good enough. Other days, I'm really getting it and it turned into something I didn't expect.
I started with that and eventually evolved to what I'm doing now. I'm doing plates and wood surfaces and mirrors. A lot of people responded really well to the plates, which is tchotchke stuff that people can connect to.
And mirrors—everyone wants to see themselves in art!
4.What's your organization style like?
I have different methods. I have manila folders, in a folder, and those are for small pieces I've cut out. I have a binder—which, I probably need to get a bigger binder because it's growing—and I have three stacked boxes of sheets just ripped out and stacked that I can eventually go through.
I can pull something from this and then go back through later and be like, I don't need this. It's a way for me to hone in on it, but also be able to clear it out if I don't need it.
I don't have a studio, so it's all in our dining room.
5. You recently had a show at The Rat on Bull. What's next for you?
I have an installation at PW Short General Store. That's my whole mirror situation. I did a whole series of mirrors in their windows. After I did The Rat on Bull and the mirror thing, I was like, "Okay, I need to take a small break because I've been going since January."
I have a few things in the works in the early stages. I'm eventually doing a collaboration with a friend of mine, kind of an installation immersive type thing. Then I'm working on a series that is men's chests photographed with a white shirt and I collage on the shirt. It'll be black and white, then color. I'm using a lot of my male friends as the subjects. My art falls into the gay-centric, queer-centric, stuff, so why not? I'll utilize different body types—chest hair, no chest hair, tattoos. I have to shoot first, and then I'll collage. That's my next project in my head of what I want to do.
CS