FOR OVER four decades, Brighter Day has been a Savannah institution.
In 1978, Peter and Janie Brodhead opened the natural food store as 24 year-olds straight out of college, in a then-unsafe and undeveloped neighborhood.
The Brodheads led the charge for food and health activism by themselves for a long time, until 2001 when they got their first compatible neighbors: the Sentient Bean.
Both locally-owned businesses that prioritized health, the two redefined what the South of Forsyth neighborhood was all about.
Now, after 41 years in business, the Brodheads announce they're passing the reins of their beloved store over to Kristin Russell and Brad Baugh of the Sentient Bean.
We caught up with all four of them last week.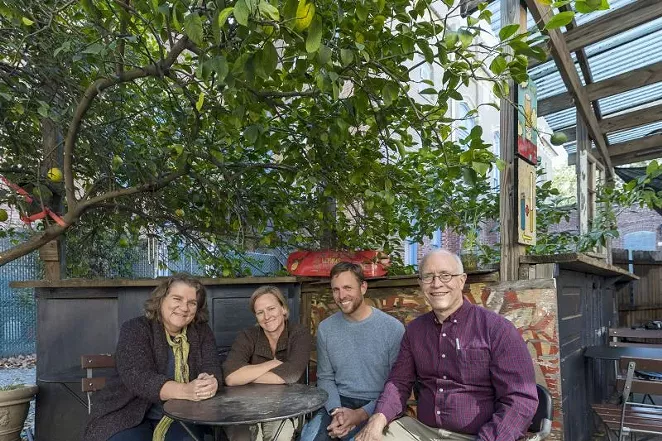 How did you all come to this decision?
Kristin: I like the sweeping story.
Janie: I was outside sweeping, and Kristin came up and said, "I'm wondering what you're going to do about Brighter Day. If you're ever interested in selling it, let us know." So I immediately went home that night to Peter and said, "Guess what?"
It had always been weighing on our hearts the past couple years, as we wanted to travel and do other things in the community that we might want to try after being in business for 41 years. But we really care about this neighborhood, we care about our store and our staff, so we wanted to figure out a way to do that so it would continue. So when Kristin came up and said that, it was so perfect because I've seen her work so hard as a businesswoman at the Bean. I know that Brad and Kristin have a great passion for this neighborhood, which is changing so quickly. We wanted to make sure it had the same heart.
Kristin: That Park Avenue and Bull Street remains a bastion of locally-focused independent business and nothing else.
How has the neighborhood changed in the years you've been here?
Kristin: The average income of the walk-by traffic has increased dramatically.
Janie: Even now, we have people who might come in for a coffee at the Bean while they're waiting to catch the bus to go downtown, so the way traffic is flowing as far as public transportation.
Kristin: Tourism is pushing south a lot.
Janie: We have a trolley stop over there, and we face the same problems with parking and things like that. When we first opened, nobody came. People would call and say, "Is it safe to come downtown?"
Kristin: The location on the park was great for us, but the regular customers would always say, "I love coming to the Bean because I know I can park," as opposed to downtown. But that's not true anymore and it hasn't been true for three or four years.
Janie: Yesterday I had this lady who was so worried about her car, and it was parked in front of the store. So I offered, "I'll put your ParkSavannah app in there for you." I don't think parking is as bad a problem as people who are used to old Savannah perception is. The woman I waited on yesterday was 84 years old, and she started shopping here when she was 42. It's pretty humbling. We were 24 when we started and we're 65 now. I think when you're in a business for so long, I'm beginning to see grown children with their kids. I'm seeing the second and third generation of customers.
Kristin: Same; we have generations here already. We have kids I remember being babies and they come back from college and I'm like, "Whoa, I remember you when you were this big."
Brad: Or even employees you remember from when they were younger.
Kristin: And of course, the neighborhood has filled in a lot too, which is nice. Even when I moved to the neighborhood only 20 years ago, the number of abandoned and boarded-up houses was high, and that's not healthy either.
Do you think it's going in the right direction?
Kristin: Yeah, it's such a dense residential area, which I love.
Brad: There's nothing left to develop.
Kristin: I just talked to the news about the 90 day to-go cup trial for this area.
Janie: That's one reason we're excited about Brad and Kristin becoming the owners, because they have the heart and passion for this neighborhood.
Kristin: We're neighborhood activists for sure.
Janie: And food activists too. That's such a great fit for a business we love so much.
Peter: When they moved in next door, that was the first time we thought, "Oh my gosh, we have an ally! They use organic stuff and they're coming from Eugene, Oregon—holy cow!" We had nothing but weird neighbors for decades, so a totally complimentary business was like, wow.
Kristin: That was not coincidence. We wanted to be here because they were here. We wanted to be in this neighborhood and on the park, but we looked at several locations and almost ended up at the north end of the park in what is now that very fancy shopping district at Jones and Whitaker, which would have been a whole different look and feel if we'd ended up there. This was our first choice, but when we asked, it wasn't available. But we came back a year later, and even then they said, "No, we've got somebody that's planning on going in there." But that's where Brad stepped in.
Brad: I said, "Kristin, go down there, drive to their house, knock on the door and offer them $50 more." And she did.
In the buzz around this story, readers expressed relief at seeing Brighter Day sold to people who they knew shared the same values.
Janie: We definitely have shared values and I feel like Kristin doesn't make a big enough deal about what a food activist she's been in our community. She does a lot. She's one of the founders of the [Forsyth] Farmers' Market and on the board of Georgia Organics, which is a fantastic deal. Having good food ethics is really key at Brighter Day, so that's continuing too.
I think we carry a lot of the same social values as being really inclusive to our customers. We've always felt like, whether you're coming in with an EBT card or buying $500 worth of something, you're still treated the same. I see that at the Bean too, and I know that's going to continue. We share the same challenges with some of our people who panhandle, and trying to treat them fairly but also consider our customers at the same time.
Kristin: Have some clear boundaries, but never forget that we're all humans.
What will the transition be like?
Janie: It will switch over at midnight on Dec. 31, when I'm going, "Cheers!"
Peter: And Kristin's going, "Oh my God!"
Kristin: They're going to stay and help us learn the ropes and figure it out for January and February. I've already started learning the ropes; I was cashiering yesterday. Ideally I'll be able to not rely on them.
Peter: Anything she needs, we want her to feel comfortable and like we're right there.
Kristin: Maybe on January 5 at 9 p.m. I'll call them with questions, but by the end of February we should be good.
Brad: And then they'll block the numbers.
Janie: We've got a really good staff, we've got stable people who have been with us for a long time and are well-trained.
Janie and Peter, how does it feel to retire?
Janie: We don't call it retiring—we're re-firing. It feels great to know that we still are young and healthy enough to really enjoy life. There's a lot we want to do as far as community, art projects, travel, enjoying grandkids and things like that, but we'll probably be doing a lot of volunteering and things like that.
Peter: I'm still on for all the community talks. I'm going to continue doing a lot of community outreach and nutrition talks.
Janie: Things you don't find time for but have a passion for. Maybe we'll get a chicken coop.
Peter: I finally get to call Longwood Plantation and say, "Bring that dirt over!"
Janie: We're definitely not going to lay on the couch and watch TV. We have strong friendships with people we've made that we're excited to actually be a friend to instead of just meeting them on the vitamin aisle.
CS