When I interviewed Dana Richardson back in January, she mentioned an upcoming mural at the Jepson Center in conjunction with their latest exhibition, "Launching Savannah's Art Scene: Founders of the Savannah Art Club."
"[It's] really perfect for what I'm thinking about, because how do we look back at those people?" she told me at the time.
Now, Richardson is wrapping up her work on the painting, which puts a fun modern twist on the work on view in the current exhibition and the upcoming exhibition, "Collecting Impressionism: Telfair's Modern Vision," opening March 6.
"I think that Dana's work really speaks to the elements of the artists in those exhibitions and makes sense," explains Erin Dunn, Associate Curator of Modern and Contemporary Art. "Painting en plein air, looking to the environment around her and finding inspiration in that environment, playing with colors like the Impressionists did, finding not just white to depict clouds but all the colors that your eyes can see in that."
Richardson's mural is part of an ongoing effort by Telfair Museums to incorporate local artists into the museum with their #art912 program.
"We're always looking at the building and thinking of ways we can add more color to it and bring the outside in, and all the wonderful things Dana's doing with that work," says Dunn.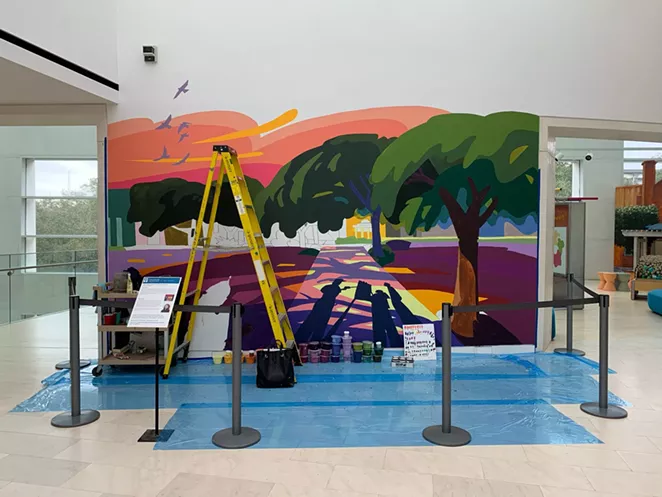 Thursday morning, I visited Richardson as she worked and caught up on her progress.
CS: When did you start this mural, and how far are you now?

I started Friday night, so we came in and projected it once the sun had gone down at 6:30, and then I started working Saturday morning. I've got all day Saturday and this coming Sunday, so I'm getting close. I had Tamara Garvey helping, so that really sped it along, but now that it's sort of blocked in, I can start actually painting, more outside of the original design. Cleaning up the shapes, making it a little more dynamic.
I want the colors to be saturated, and I feel like when they're opaque, they're more saturated. Also, part of it is I don't want brush strokes. I've always fought the brush strokes, just so the color is the predominant element.
CS: That lack of brush strokes in your work makes it look like something else, almost like tape.


I've had people say, "Oh, did you print that off the computer?" I'm like, "Now, look, I spent a lot of time cutting that line to make it clean!" There's no need to be too perfect about it, because then it'll just look like a computer did it.
But it does have a quality of being designed on the computer—I can see that. And it is. I took my computer outside and sat in Telfair Square and used Illustrator, which I thought was a fun way to do plein air painting.
Maybe sometimes, on the computer, things can get a little static, which I'm okay with as opposed to something being really expressive and done in the moment. This is extremely planned and labored over, and I think you can often tell that with work made on the computer.
CS: Let's talk about your approach to doing this mural for an inside landing, as opposed to your previous one done outdoors.

One thing I have learned, now that this is my second [mural], is mixing all the paint in the studio and then bringing it here, so I'm really making it in two locations. The last one I was trying to mix the paint in front of the wall, like, "Here's my canvas, and I'm working on it." But now it's not so much that. I'm making all the colors first, then coming here and executing it, then going back to my studio and making new colors.
That's more about what I've learned since the first time. But that also it's just lovely being in the Jepson—I need this ceiling in my dream studio!
I don't know what the difference between a mural and a painting is. I still consider myself fa painter, not a muralist. I've been painting much longer than I've been doing murals. But to me, this isn't just an illustration—I feel like it has a meaning that's personal, which I guess all murals would too, so I don't know.
Any painting on a wall is a mural, but I also think it's maybe one of those elusive conversations, like what's the difference between art and craft? Which never ends!