ASLI SHEBE is a writing fellow at Deep Center in Savannah. She enjoys helping 6th-12th graders establish their voices through writing.
Shebe is from Dar es Salaam, Tanzania and moved to Savannah to attend SCAD; she also lived in the United States during her formative years of early elementary school.
Shebe has a degree in writing and plans to pursue a Master of Education.
Last week, she wed her college sweetheart, Jeffrey Tindi, who is from Kenya. Family and friends from around the world watched the wedding on Zoom. The couple met while working at the Gryphon Tea Room. Tindi has a degree from SCAD in industrial design.
Tindi and Shebe have a yearning to go back to East Africa and share the skills that they learned while at SCAD, and during their years in the United States.
When she is not busy being a community organizer and activist, Shebe enjoys yoga, the beach, roller skating, and eating anything sweet.
Why does it matter that people educate themselves about social and racial justice?
It matters because black folx, POC, non-binary, trans, immigrant folx, people with disabilities, womxn, etc. have to live through these injustices. It's important to understand the role that you play in directly or indirectly discriminating against, and mistreating folx. Just in the past few months I have learned so much about the huge and very micro ways that people who are different from me have been mistreated and dehumanized. It's not enough to only advocate and fight for yourself and your people. If you really are an ally or a comrade you will take the time to listen and learn and do the deep hard work of actively standing up against injustices.
What changes are essential to bringing racial equality to Savannah?
Defunding and then abolishing the police. Investing in the youth, public schools, houseless folks, and stopping gentrification. Too many black folx, indigenous folx, and people of color do not get to benefit from Savannah's growing wealth. How many thriving businesses are black-owned? How many houseless folx are black? How many folx working minimum, or below minimum wage jobs are black? Black people built Savannah and continue to clean, upkeep, transport, protect, and serve Savannah but are still living below the poverty line, and have little to no access to education and free healthcare. It's ridiculous to me that this narrative of Savannah being so liberal, progressive, up-and-coming, and flourishing keeps being perpetuated when there's so much apparent racial inequality, racism, hatred, and discrimination in Savannah.
What do you say to "all lives matter" folks?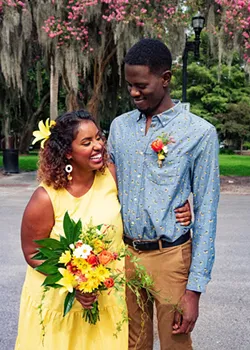 Black lives matter. Very few folx who say "all lives matter" actually believe that all lives matter. They use that phrase as a way of shutting up minorities for speaking out. If you said to me, "I'm severely depressed and suicidal," and I replied, "Well, a lot of people are," can you see how that is extremely flippant and dismissive and completely disregards what you said in the first place? Saying "all lives matter" is dismissive and basically says to me, a black woman, that you don't care about what I said.&nbsp
Good intentions or not, well meaning or not, as a non-black person navigating black spaces, people need to check their privilege and consider the effect of what they're saying has on black folks. Because we know that no life matters more than others, but the way folx keep acting is telling us that black lives just don't matter at all.
What are some of your favorite resources that people can use to grow a deeper understanding?
Too many to list here but a big one during this fast-paced age is social media. Follow black women and femmes who are leading the way in this type of work. Rachel Cargle and Erika Hart have taught me so much. I follow them both on Instagram. Ta-Nehisi Coates' books are amazing. White Fragility by Robin DiAngelo is a good one for white folx. The biggest thing to note is that instead of requesting the free emotional and mental labor of black folks and other minorities, people need to do the work themselves. In the age of the internet there is no excuse. Google it. And if you do learn from the prior labor of black folx, pay them!
What is the most important thing that people can do at this time?
If you are black, rest. Rest is resistance. The Nap Ministry taught me this and it is so true. We have so much work to still do. When you're black the work is not just "work," it is your life. We don't get to go to a protest and then come home and leave that behind us. We are black black blackity black 24 hours a day, 7 days a week. If you are not black, keep up the momentum. Plan out how you are going to continue the anti-racist work, continue to educate yourself, continue to uplift black voices for the long haul.
Is there anything else that you want to add?
It's so important that you understand the intersections. None of this—the police brutality, the racism, the transphobia—happens in isolation. You can't just say black lives matter and then discriminate against black trans womxn. You cannot stand up against racism and then ignore the fact that we are occupying stolen land. When you start to pull the curtain back, don't just peel back as far as you are comfortable. It's about time we rip the whole thing off and see things with our eyes wide open. It's going to be uncomfortable and you are going to have to reconcile with the role you have played in discriminating against and contributing to the discrimination of certain folx. But that's the work. The uncomfortable reckoning is such a huge and important part of the work.
cs