CONTINUING our series of stories that highlight the great work being done over at WRUU, we caught up with Dr. Jessica, Dr. Shay, and Dr. Keena—the hosts of the increasingly popular show The Sister Perspective.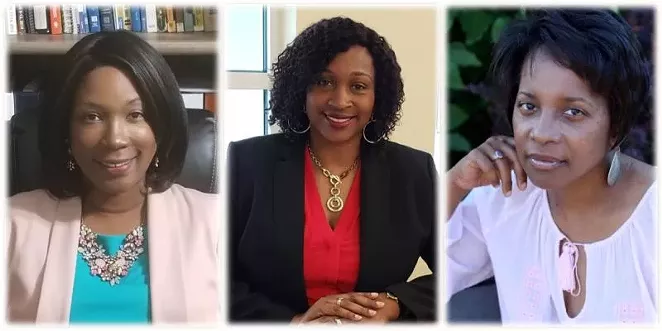 For those who haven't listened yet, what is The Sister Perspective?
The Sister Perspective is a weekly radio show that explores the experience of Black women at the unique intersection of race and gender. The issues and current events we discuss affect everyone, but we examine from the perspective of Black women. Tuning in to our show helps you "keep your finger on the pulse of powerful Black women who are living out loud."
Tell me a bit about your history with radio. What got you interested in radio?
Dr. Jessica: I've been interested in doing radio for a while because I liked the idea of using my voice to create a mood and connect with people. My first vision was something like a "quiet storm" kind of show where I could play love songs and share my poetry. I didn't consider talk radio until later when so many people said I had interesting perspectives on topics and a great radio voice. Once I connected with Dr. Keenya and Dr. Shay, I knew it was time to go for it. Co-hosting The Sister Perspective is the first opportunity I've had to delve into radio, and I love it. I also do voice overs, audio book recordings, record promos for WRUU, and other voice work.
Dr. Keenya: I love the elements of radio. From the music that helps create a mood to the commercials that led me to invest in services or products to the talk shows. When I was younger, I used to listen to the radio while getting dressed for school and on the weekends at night so radio has always been a part of my life. I've done radio interviews for different projects I've been involved in and I must admit I enjoyed those experiences. More so, I enjoy radio talk shows because they dig deep into issues with less censorship than television, but I never saw co-hosting a radio talk show in my future. I was probably the most hesitate about taking this step. My interaction with Dr. Jessica and Dr. Shay has always been engaging and no matter the topic we always seem to address the world's ailments during our conversations. Therefore, it seems very natural that we would be here. After celebrating one year on WRUU with The Sister Perspective, it's evident we were destined for this opportunity.
Dr. Shay: I have been interested in radio since I was a small child. I remember listening to the radio in the car and being entertained by the local disc jockeys. After school, I listened to the radio while I did my homework. Whenever I had to do special projects for history or English classes, I always focused on radio as a mass medium and the power that radio has. When I went off to college, I studied radio, T.V. and film, and radio was and still is my favorite of the three. After college, I volunteered at a local radio station in Washington, D.C. and taught radio and T.V. production to middle and junior high school students. I now teach human and speech communication and work with students on podcasting and video production at a local college. Dr. Jessica, Dr. Keenya and I talked about issues from the perspectives of Black women and expressed that we would like to have our voices heard in a meaningful way. Dr. Jessica found the opportunity for us to do just that here at WRUU.
Your show is particularly important at this moment in our country's history. Why is it important for you on a personal level that you and your co-hosts' voices be heard right now?
Dr. Jessica: Our listeners understand that we want the best for everyone. The choices we make are for the good of the order, not just us.
The voices of Black women have been silenced in a way that no others have in this country. Racism and sexism, often accompanied by poverty, have kept us marginalized for centuries. We see the world not only through our eyes, but through the eyes of many others. As mothers, we see the world through the eyes of our children. As wives and significant others, we have to see the world through the eyes of our husbands and partners so that we can be supportive of a world that often doesn't support them. As an oppressed group, we have to see the world through the eyes of our oppressors who, in the past, did not see us nor did they hear us, and if they did, they suppressed our voices. As we fought to go from serving everyone else at the table to having a seat at it, social expectations and stereotypes still muffled our voices.
But now is the time. Black women are mobilized. We have once again found our footing, our closeness, our togetherness, our sisterhood. It is time that our voices are heard because the world is awakening and is ready to hear us. The world is ready for wisdom that leads, and that is us. When your role has been to take care of everyone, you learn how to do that without being selfish. We have been forced to be wise; our collective survival depended on it. We showed the highest participation rate in the 2008 and 2012 presidential elections. In recent years, we ran in and won elections in historic numbers, from Congress to county school boards. It's important that our voices be heard right now because we have birthed a nation, we have nursed a nation, and it's time for us to lead a nation.
When it comes to the tone and structure of the show, how has it evolved since it began?
Dr. Jessica: The show is more fun. When we started in April 2019, the tone was conversational, but a little more formal. We all depended on and shared more research related to the topics we discussed. Now, we still use research, but it's more of a springboard for our discussions than it is the "meat" of the show. The atmosphere has relaxed a bit, but we are about the business of the topic. We also address a broader array of topics than we did over a year ago. We try to stay current and fresh while continuing to provide content that is universally helpful but from the perspectives of Black women. We have definitely grown as communicators.
Why do you think it's important to support community radio like WRUU?
Dr. Jessica: Community radio is the most authentic expression of a population. It provides a voice for the people. It helps the community to bypass the gate-keeping legacy media where the message is controlled by a handful of corporations.
WRUU is a community radio station that is inclusive and reflects the heart of Savannah. It provides a platform for everyday people to be a part of news making by providing the opportunity to showcase eclectic musical tastes and divergent thoughts on current events. Community radio stations support, reflect, educate, and entertain citizens in a way that mainstream radio cannot, and no station does this better for Savannah than WRUU.
cs