JEN HINTON LOVES music. It's obvious from the minute you start talking to her that her passion for singing and performing is unparalleled. The longtime singer for Outlaw Gypsy is prepping for one of the band's few shows this year, an outdoor gig at Coach's Corner on Fri., October 9. The band, which started in 2012, will include new bassist Darien Converse among others who've been in the mix for some time.
"Gigs have definitely been at a standstill, but we played a sold out show at Coach's on August 9th. The assistant manager said it was the first time a local band had sold out the venue, so that made me feel good," Hinton tells Connect ahead of the show, adding that the success of their previous Coach's show has energized them for the upcoming one. The presence of a new member breathes new life into the set list as well.
"Darien came in as a bass player, so the collaborative effort has made us able to just sync in," she says.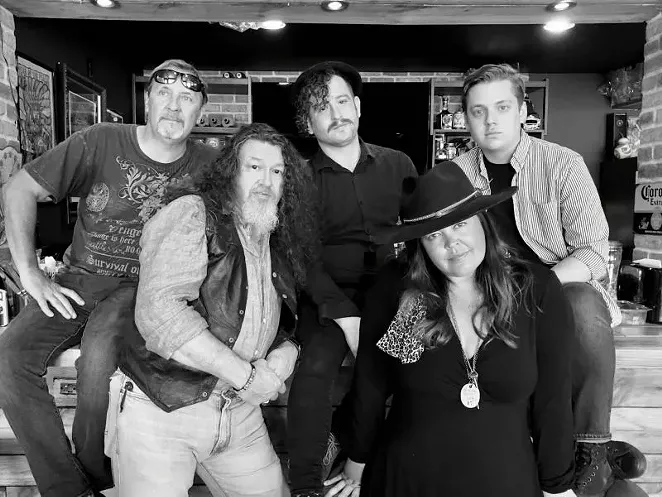 Hinton says the band has come "full circle" since starting in 2012, when she was playing in another band that dissipated soon after. The soon-to-be drummer of Outlaw Gypsy met up with Hinton at a jam session and invited her to sing for his new project.
"This was a working band, which is what I'm used to. I went and we formed Outlaw Gypsy," she says. The band continued on for a while, before fading out and starting up again a few years ago. The current lineup had just begun playing together again when the pandemic began. Having only played a couple of shows since, Hinton says they have a new sense of appreciation for the music as well as the people who come to see them regularly.
"I always use the tagline, 'Get on board the caravan,'" she says. "We're so pumped every single time we play. I really want to meet all of the people who come see us. If I see a couple who has traveled from bar to bar to see us, I'll buy them a drink. They could be anywhere in the whole wide world right now. So everything I do is with love. I'm so [grateful] to feel energy from people while we're performing."
The music the band plays is a set of cover songs, ranging from Led Zeppelin to Madonna, Chris Isaak and everything in between. But that doesn't mean they're recreating the sounds meticulously; in fact, they make it a point to put their own spin on the songs to make it a unique experience for themselves and their audience.
"We kind of gravitate off of the live vibe," Hinton says of the way the band approaches music.
As for her favorite song in the repertoire, Hinton says she has a particular affinity for the songs they do by Zeppelin and similar bands. Being able to pull off such complex material, she says, is a satisfying experience for the entire group.
"One of my favorite things to do is to go see other bands, and there are a lot of bands that don't cover Led Zeppelin and Heart because of the [vocal] range. We cover 'The Ocean' by Zeppelin, and there's a very cool vibe," she says. \<cDirOverride: