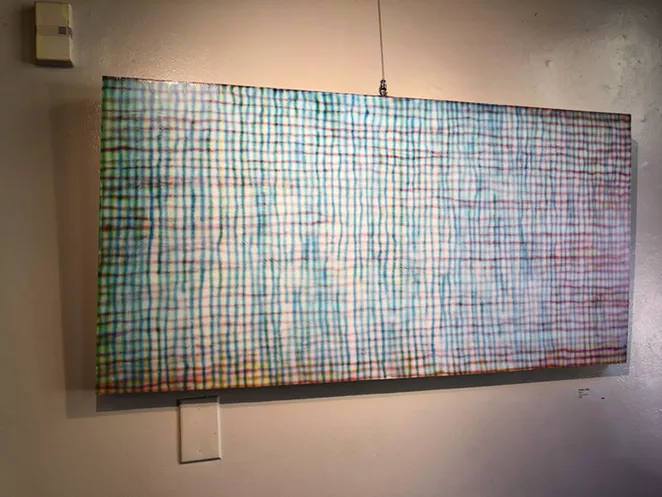 As a student at the Savannah College of Art and Design, Bradley Collins began a journey of odd jobs that ranged from monotonously moving boxes off an 18-wheeler to picking up bowling pins at the Starland District's Moodright's Bar. The pins eventually pointed the way to the idea of having his April 2020 SCAD thesis show, called "Work Order," in the back room at Moodright's. Now 14 pieces by Bradley Collins are on display in his second solo show, "Found a Job," at another popular Savannah hangout: The Sentient Bean coffee shop near Forsyth Park. All of his "Found a Job" paintings were made during a time when Collins found himself out of work after graduating during a pandemic, excluding two pieces he calls "Lines in Silence," which "were the start of my journey into the idea of painting," Collins says. It could be said that these paintings by Collins are abstract works, but they were all created according to his own regimented system of overlapping intersecting lines and randomly chosen colors that result in boxy patterns and blurry patches inviting the viewer to get lost in wavy wonder. All of the paintings in "Found a Job" are interpretations of the relationship between employer and employee, and examine how creativity can emerge from even the most repetitive tasks. "My process, it's more conceptual, it's different. Like seeing most art for the first time, you can look at it and build your own ideas about it. You can enjoy it just by looking at it and creating your own meaning. You can like it if it's what you're into, but then, in my case, you figure out the process that goes into the pieces, and it just gives it more life," Collins said.
Since actually becoming employed in November, Collins has been balancing creativity in the studio with working in the kitchen at The Fitzroy in downtown Savannah. "I have a studio I get to be in every day, and I get into the flow space. Then I have to pack up and go to an actual job after months of not working; it's brought something new to my process. I'm constantly thinking about work in the sense of where I want to be and what I love to do − painting. But I have to do other things to get funding for that. It's an interesting time to be making work," says Collins. His artistic process is driven by chance-based responses of "yes" or "no" from rolling dice or flipping a coin, which removes him from decision-making. He then goes from being "the boss" to becoming "the worker" by fulfilling those tasks implemented by a sequenced set of rules. "I have a specific set of questions written out before I start a piece. So, for example, if I flip the coin and it lands on tails for the question I'm asking, the task will not be applied. If I have a question, flip, and it lands on tails for the question I'm asking, the task will not be applied. If I have a question, flip, and it lands on heads, I fulfill that labor aspect of it. I treat it like a job. Going through this list and following the directions," Collins explained. "I think it's hard for people to understand because they want you to finish a painting. And as an artist, if you don't like it, you can just go back in and mess with it or change something or add something. My process doesn't let that happen. It's just what it is, and when it's done, it's done," explains Collins.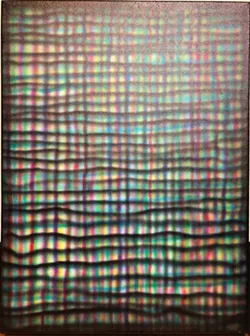 Casual viewers of Collins' finished works most likely would never guess that they were painted according to arbitrary twists of fate. The blending lines and colors create soothingly intriguing visuals that play with the eye and beckon for second looks as new forms and subsections make themselves apparent based on each viewer's interpretation and imagination. Grab a coffee and let yourself drift into Collins' paintings on display at The Sentient Bean through March 2, with the artworks available for purchase in varied price ranges through Sulfur Studios (sulfurstudios.org). The artist specifically made his works smaller so that the pieces can remain affordable. The artist's closing reception is open to the public, happening during 5-7 p.m. on Friday, Feb. 19. "This is all the work I did during 2020, after graduating and not having a job anymore, during a pandemic − assigning myself tasks. I was in a sense giving myself a job," says Collins. 'Found a Job' is on view at The Sentient Bean (13 E. Park Ave., Savannah) through March 2. Visit
bradleycollinsart.com
for more information.