After a difficult year, 2021 is materializing auspiciously for Savannah's Ghost Coast Distillery. In January, Ghost Coast was ranked as one of the U.S.A.'s top 25 distilleries, according to a list generated by Yelp.com for Travel + Leisure magazine. Now Ghost Coast is welcoming guests to its recently refurbished onsite Cocktail Room for an ongoing series of fun events featuring live music, diverse cuisine offered by food trucks and other vendors, and, of course, delicious drinks made with their spirits produced just steps away from the bar.
"Now that we have a stage, the possibilities are endless." - Kelcie Beausir, Ghost Coast marketing manager.

tweet this
While operating the city's first and only local spirits distillery since Prohibition, Ghost Coast management is celebrating their fourth year of business, especially after experiencing the thrill of being ranked 20th in the Travel + Leisure list. "People are liking what we're doing," said Ghost Coast Distillery General Manager and co-founder Chris Sywassink. "We like to think we're doing something right." In recent months the distillery renovated their Cocktail Room, allowing more natural light into the space while cultivating socially distanced seating. The facility also added a stage as part of their effort toward becoming more of a venue and less of a bar, according to Ghost Coast Marketing Manager Kelcie Beausir.
"Fundamentally, we've changed everything that we could possibly do in here," Sywassink said. "It's a completely different setup now." During the onset of the COVID-19 pandemic in 2020, the distillery was forced to discontinue their tours and stop screening movies in their onsite theater. To support the community's coronavirus response, Ghost Coast utilized the facility's alcohol-making capabilities to produce their own line of Daisy Maze Hand Sanitizer. However, now that the pandemic is showing signs of subsiding, Ghost Coast is again hosting events with coronavirus-safety measures in place. In addition to their popular Saturday concerts, visitors can enjoy live music performed on the new stage on Fridays and Sundays. "Now that we have a stage, the possibilities are endless," Beausir said. "Our space is a lot more accommodating for music now. So, we want to be more associated as a venue in town, and not just a bar or a cocktail room, because it really is the perfect space." During March, Ghost Coast boasts a lineup of talented local musicians playing afternoon and evening concerts in the Cocktail Room. On Saturday, March 6, Jacob Evans plays guitar while singing poetic lyrics, and then on Saturday, March 13, the rocking siblings of DRAUCKER play while the Loki Food Truck serves North African and Israeli cuisine, like pitas and Za'atar Fries with harissa ketchup and toum garlic sauce. The following weekend, Ghost Coast welcomes Moss City Groove to perform cool covers on Friday, March 19, before Ben Keiser plays the Cocktail Room with Big E on Saturday, March 20 – and that same afternoon, guests can feast on savory tacos prepared fresh onsite by South of Heaven BBQ. But it's not always about partying at Ghost Coast. Spearheaded by Beausir, the distillery's Puppy Time Yoga sessions are back on, with the next canine-enhanced vinyasa class occurring on March 27. Beausir added that Ghost Coast may even start hosting goat-yoga sessions, should there be enough interest. When it is safe to do so, a grand celebration will mark the distillery's fourth birthday later in 2021, with the event set to feature more live music, food, and drinks, Sywassink said.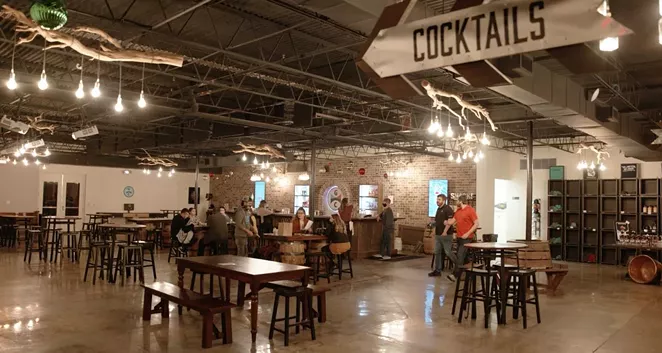 The distillery also plans to host the Master Bourbon Music Festival, an event originally planned for April of 2020 as the release party for their flagship spirit, Master Straight Bourbon Whiskey. The festival has been postponed to this summer or fall, with a concrete date expected to be announced in the near future, according to Beausir. "That event is going to be huge," Beausir said. "We definitely don't want to sacrifice any aspects that we worked so hard to plan. We want it to be something that everyone can attend and feel super safe with it, and we don't want to do it [with] limited capacity. So, we're going to keep postponing it until we're able to safely have it." Ghost Coast Distillery opened in 2017 after Sywassink and his business partner, Rob Ingersoll, casually discussed the idea for launching a distillery like in a scene from a movie, which then fermented into a business plan. At the time their experience was limited to simply having consumed spirits, Sywassink admits, but they sought distillation degrees through Moonshine University and learned everything they'd need to know about brewing up a distillery. Through the university, the duo met other people interested in the same dream, and a network of distillers was forever bonded. Sywassink said he even appeared on the "Still Talking Podcast" with fellow classmates on Feb. 18. "It's how the fraternity kind of works – once you go through that, you develop friendships that last forever," Sywassink said. "That's one of the fun things about this industry: the competition isn't against each other, it's against ourselves to make the best product that the consumer would want." Beausir and Sywassink echoed sentiments of not trying to compete with their fellow locally owned business down the road, Service Brewing Company. "We can't be everything to everybody – not everybody likes to drink spirits – so, if someone is looking for a good beer, we send them down the street [to Service Brewing Company], and likewise, if someone doesn't want a beer, per se, they send them down here to get a spirit," Sywassink said. Going forward, Ghost Coast aims to keep helping surrounding businesses and the community return to normalcy in terms of enjoying life outside of home. Sywassink said he's looking forward to getting back to a new normal and operating the way they did before the pandemic, while staying as safe as possible. "Now we're looking for excitement going into 2021, because as we all start to get vaccinated, we all keep wearing masks, we all wash [our] hands, we do the smart things to get us through this, we are excited to think that that restaurant and bar scene is going to start to come back because we're all getting to a better place," Sywassink said. "We're all dying to get out and just go." cs Ghost Coast Distillery: 641 Indian St., Savannah. Visit
ghostcoastdistillery.com
for details.