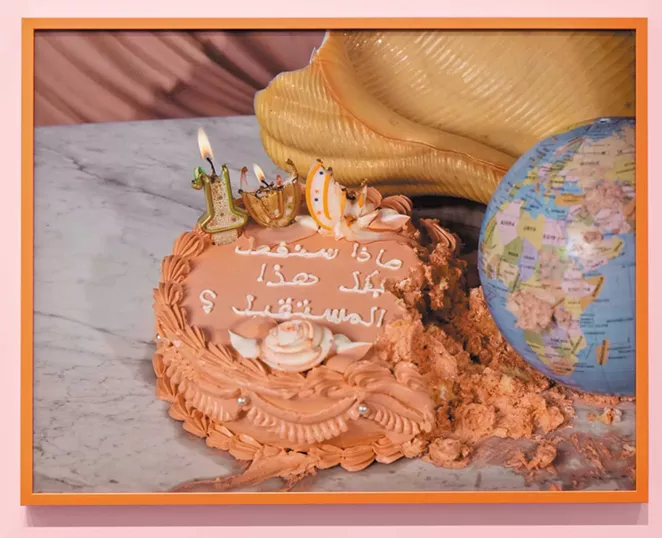 Christto and Andrew are an international recognized duo that use contemporary images to portray the future, as an exploration of evolution of time and nature. The two formed a global collective upon meeting at college in Spain and have continued to work together while being based apart. Christto is based in Doha, Qatar and Andrew is currently in Copenhagen, Denmark. "When we were working in Qatar, we had to be a little bit careful as our work was in some way political, which could lead you into trouble," Andrew said. Christto and Andrew communicate through symbolism to represent their work, which lets the viewer interpret the artwork itself. The opening image of "A Message from Venus" at the SCAD Museum of Modern Art is of a photograph of a cake entitled "Counter Clock." "The meaning of the cake, first of all, this was a commission for a magazine the subject for the magazine was about the future," Christto said. "The cake says, 'what are we going to do with the future.' There is also, on top of the cake, candles with the number 100. This idea was also about a time and the perspective of time," Christto said. The images depict ideas that speak to the future and the evolution of time and nature and aims to challenge current belief systems. "We started experimenting with nature because we wanted to mix nature with technology. We are interested in esoteric themes like clairvoyance, telepathy, new technology," Christto said. Their imagery contains a myriad of symbolism and a juxtaposition of trash and luxury, which presents a vital connection to image-making and the still nature art history for students and viewers alike.
"The show 'A Message from Venus' is the first U.S. museum exhibition by Christto and Andrew, which presents recent works and offers the opportunity to connect with the artists' urgent discourse about global exchanges, technology and symbolism," said adjunct curator, SCAD Museum of Art, Humberto Moro. "I'm thrilled that we can continue with SCAD Museum of Art's mission of bringing relevant international artistic practices which bring interesting conversations to enrich the academic life of our community and to the American South at large." "A Message from Venus" will be on view at SCAD Museum of Art now through Aug. 1. "I think it's a great opportunity and a great audience for our work, actually," Andrew said. "I think our work represents a new way of looking at how to approach art in many ways," said Andrew. 'A Message from Venus' will be on view from now through August 1st for the public as well as SCAD students. Visit
scad.edu/event/2021-02-11-christto-and-andrew-exhibition-message-venus
and follow the artist on Instagram
@christto_andrew
.