With a new season comes a new brewery and local distillery. Yesterday marked the grand opening for the historic district's newest restaurant, bar, brewery and distillery: New Realm Brewery & Distillery. New Realm Brewery first opened its doors in Georgia's largest growing city of Atlanta. After taking the city by storm with quick success, the brew empire expanded to Virginia. Within two years of its first opening, New Realm Brewery became a multi-state venture.
Now, New Realm is taking over the Low Country. This week marks the grand opening for the newest location right here in the Port City. With the expansion in territory comes an expansion in products; New Realm Brewery started with and is known for its unique craft beer. Euphonia Pilsner, Hoplandia IPA and United Craft Lager are just some of the brewskies that put them on the map. The Savannah New Realm Brewery & Distillery location will expand the distillery side of New Realm products. Patrons can expect to find liquors like gin, bourbon and vodka. My personal favorite is the hand-mixed old fashioned with their signature aged bourbon. Co-Founder and CEO Carey Falcone said it best, "We are a brewery and distillery. The way we ought to think about this location is scratch food, scratch beer and scratch spirits all made locally on site here." Because drinks are so much better with a salty pairing, New Realm recognized the ability to create sumptuous food items to with their libations. The New Realm Distillery & Brewery is not just a beer house or bar, but rather a full service establishment in which to sit and enjoy both food and beverage. "You are going to see a lot of creativity and innovation on the spirits side, on the beer side, as well as on the food side," Falcone said. "Everything we do here is from scratch, so you are not going to see us defrosting food and heating it up. That is not who we are; [we are] able to pair our food with our spirits and our beer. We will have live music and we have a lot of space for social events." Rather than pairing drinks with food, a lot of the innovation starts at New Realm with creative drinks then they figure out how to partner their libations with the fare. Executive Chef John Cole is the brain behind the new Savannah location's menu. He brings his roots into the mix, along with local sources. "Everything we use, as much as possible, is all local," Cole said. "I make sure we go to the farmers' markets and local farmers to try and get the best products." Everyone I spoke with about the menu agreed that the Cheddar Crusted Mac & Cheese is Chef Cole's standout dish. We southerners love a tried-and-true helping of macaroni and cheese as a side, but it is often exhausted by using the same boring ingredients. Cole starts with beer to create his base then layers the southern staple with a punch of cheddar and a Belgian amber glaze.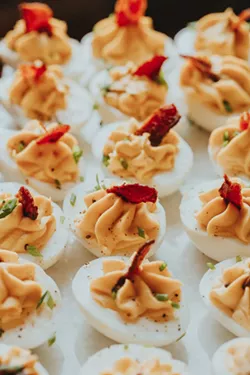 "One of the things that I love about our menu is that we will do some complex dishes and we will do some simple things," Falcone said. "Even simple things like a burger — we grind our own meat. We have several different burgers that we do. We source our cheese locally. So, if you just come in a have a burger and some mac and cheese and some bourbon, it is going to be a very, very unique experience." One of those straightforward dishes, the BBQ Half Organic Chicken, has a simple preparation that results in a full-flavored dinner. The chicken is infused with beer to create some of the juiciest roasted chicken out there and comes with a hearty garlic mashed potatoes and seasonal vegetables. The glaze for the full-flavored chicken is the signature Hazy Like A Fox beer. The She-Crab Soup is anything but shy. New Realm's house soup is Charleston-inspired, fitting considering a fourth location of New Realm will be opening there soon. The kitchen is heavy-handed with the crab, and the soup is lightly finished with brightening sherry and a basil scallion oil. Finally, the most talked about dish at New Realm is their New Realm Burger. The beef is ground in-house from prime beef before it is hand-patted into its saucer-sized round. The finishing touches for the house burger is a melted slice of white cheddar, handmade super sour burger pickles, a slathering of a special sauce, and a delicate and sweet brioche bun. The best pairing for the juicy burger according to Falcone is "Euphonia and our New Realm burger; it's amazing. We always have a dark beer on. These guys, what they will do — whether it is their food or our beer or our spirits, they are very disciplined — they start with tradition and they twist the hell out of it. We try to do some things that are very different and very unique. You will see that we will always be recommending different pairings." For the true connoisseurs, the Ultimate Wagyu Burger is the way to go. It features freshly ground wagyu beef, cheddar fondue, and a Dunkel bacon sauce. For those not fond of beef, the Beyond Burger is the way to order. To finish, one of New Realm's signature milkshakes is a must. Classic vanilla, chocolate, or strawberry are the featured flavors and are made with a River Street Sweets' ice cream base. Keeping with the theme of infusing their beer into recipes, the Chocolate Stout Bread Pudding is made with house beer and served warm with a heap of vanilla ice cream.
New Realm Savannah opens its doors at 120 Whitaker St. on April 20. Visit newrealmbrewing.com for information.