As quickly as the ships roll in and out of our port, the commerce in our town grows. As normal with most port cities, thriving tourism and all, the market includes a wide array of cuisine concepts. A plethora of Hispanic, Asian, Indian, American, and of course southern fare graces our city. With such an expanse of well-rounded food and established restaurateurs, it can be hard to stand out of the crowd. Most would agree that a California roll at one restaurant can be interchanged with a California roll at another restaurant without anyone noticing. A seaweed salad can be indistinguishable with other sesame oil-flavored salads. Many iceberg-based ginger dressed salads are just like other ginger dressing-drowned starters found around town. To rise above and beyond the horde of Asian influenced food, one has to think outside of the box.
"We had many tastings to make sure that we got it just right. Sushi is one of those foods that takes years to perfect. We encourage everyone to come down to Plant Riverside District and try it." — Riverside Sushi Executive Chef Kyle Lipetzky

tweet this
The idea behind Riverside Sushi is a walk-up counter that serves high quality food that guests can take with them and enjoy any time of year and anyplace downtown. Many of the options are on the lighter side, making the food the best possible option during the sticky months. Sit by the breezy river, watch mammoth boats pass, and delight in a delicate meal — and some to-go sake, too. Executive Chef Kyle Lipetzky explained the concept best, "The Kessler Collection's Chairman CEO Richard Kessler, the founder of Plant Riverside District in Savannah, has a passion for all cuisines and great experiences. With his guidance and vision, we wanted to create a communal space at Riverside Sushi where our guests could walk up and get a couple of sushi rolls and a beer in a causal environment while enjoying everything the Savannah riverfront has to offer. Guests can also get their sushi to-go and enjoy fresh food while they're exploring Savannah." Creating a new menu based around tried-and-true dishes is no small undertaking. "Working with our sushi chefs who have 30+ years of combined experience, we created a varied menu for Riverside Sushi with classic rolls as well as new, exciting offerings," Lipetzky said. "We had many tastings to make sure that we got it just right. Sushi is one of those foods that takes years to perfect. We encourage everyone to come down to Plant Riverside District and try it."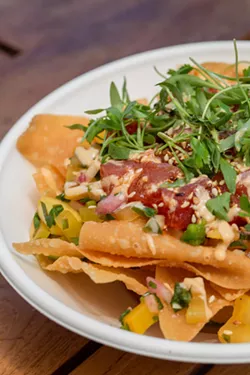 You should also try the Tuna Nachos, a plate that should by all respects taste and feel heavy but eats lighter than anything else on the menu. The nachos are not your normal soggy story; instead thin wantons are fried to an airy crisp to create the base of the dish. By using golden brown wanton chips the entire dish stays as light as the tuna that graces each triangle of tang. To round out the sapor, the uncommon nachos are finished with house-made mango Pico de Gallo, punchy pickled radishes and a creamy spicy aioli. For a more sinful selection, both of the spring rolls are hand rolled then flashed fried. The Hoisin Duck spring roll is jammed with fall apart duck meat flavored with hoisin, fresh scallion, and cabbage. A side of soy ponzu sauce is served with the duck in which to dip it and add a touch of sweetness. The Pork Belly spring roll is just as enticing, in fact it is hard to say which of the two is superior. Pork belly is the sister to bacon, and everyone loves bacon. The only difference is that bacon is cured whereas pork belly is the same cut of meat but in its original state. To lighten the hearty roll, the pork belly is married with shaved cabbage. The spice comes from Korean inspiration via a handmade cucumber kimchi. And finally, a sticky ginger soy glaze is thrown in. Everything you thought you knew about a spring roll will change after stuffing your mouth with the salty pork filled conception. Almost all of the rolls are unique takes on the mundane. "For our spicy tuna roll, we wanted to add a crunchy element to add texture and contrast," Lipetzky said. "One of the chefs just happened to be eating Flaming Hot Cheetos and it clicked. We ground them up and rolled the Cheeto dust into the sushi roll. It was delicious and added the perfect crunch we were looking for. From there, we created our own flaming hot chili dust, which we incorporate in our spicy tuna rolls."
The Everything Bagel roll is yet another extremely creative sushi offering. Super smoky and delicately textured tuna is hand rolled alongside tangy cream cheese and buttery avocado. And as you would guess, the entire roll is finished with a shaking of everything bagel seasoning. Smokey BBQ eel, cream cheese, and jalapeno grace the Chimichanga roll — another extremely original creation. To finish off the fusion inspired flavors, connoisseurs get spicy mayo, sriracha and eel sauce. The Yellowtail Kick is not for the faint of heart. Bold green Thai chili makes this roll one of the spiciest on the menu.
The heat sits mid tongue, building with each bite, then is quickly cooled with sweet sticky mango, crisp cucumber and Hamachi tuna. On special, there are usually a few rotating rolls, some of which are just as spicy. When I stopped in Riverside, a lobster-based roll and a Cajun crawfish roll. Stop by Riverside Sushi any weekend for a bustling outing that includes light, yet colorful fare. No matter the time of week, Riverside is buzzing. Keeping with the celebration, Lipetzky said, "With Memorial Day approaching at the end of May, we will be celebrating with live music and great food throughout the holiday weekend, including special sushi rolls for the occasion."