Officers are visiting the neighborhood as National Night Out is back in Savannah on Tuesday, Aug. 3. This the first National Night Out that the Savannah Police Department has participated in since 2019, due to the pandemic. Across all 50 states, U.S. territories and military bases worldwide, millions of neighbors take part in National Night Out on that first Tuesday in August. In Savannah, the celebrations will take place from roughly 5-8 p.m. National Night Out is an annual community-building campaign that promotes police-community partnerships and neighborhood camaraderie to make our neighborhoods safer, more caring places to live, the national website reads. To celebrate, neighborhoods throughout Savannah have been encouraged to take part in the annual celebration by hosting their own celebrations. Communities can create and participate in block parties, festivals, parades, cookouts and various other community events with safety demonstrations, seminars, youth events and more. In this light, National Night Out is a great opportunity for officers to connect with Savannah youth. Each year, - void of 2019 and 2020 due to COVID-19 - the Savannah Police Department compiles a list of neighborhoods participating and posts it on their website. Then, when the night comes, the officers stop by and make a presence at the events being hosted in our jurisdiction.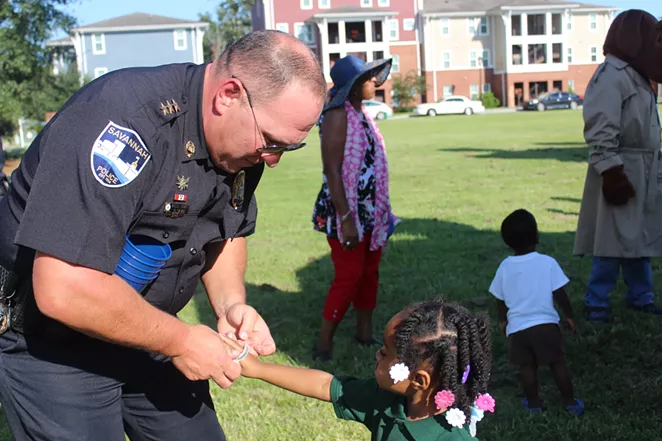 "It's a great event that really allows us to get into the communities and spend time with the residents in a relaxing environment," said Savannah Police Department Public Information Coordinator Bianca Johnson. "It's also a great opportunity to connect with the youth. Officers can often be seen dancing, playing basketball, football or just breaking bread with the youth in Savannah during National Night Out." Visit savannahpd.org/outreach/#nno for the list of participating neighborhoods. Our neighbor city, Hinesville, is also participating. Hinesville Public Relations Manager, Heather Teter released, "This event, which is free and open to the public, will take place at Bryant Commons Park, located at 438 W. Oglethorpe Highway, from 5:30-8 p.m. During the event, residents will be able to meet local police officers and learn more about crime prevention and public safety." Visit
cityofhinesville.org/DocumentCenter/View/3750/On-Tues-Aug-3-HPD-will-host-a-National-Night-Out-event-at-Bryant-Commons-Park-More
for information.