I meet vivacious and loquacious Stacie Jean Albano in her stuffed-to-the-gills home studio in Savannah's Parkside neighborhood.
One text read, "Let's do Tuesday. Mondays are always a little cranky since I have to get used to getting up at 6 am after the weekend (don't want too much cursing in the article)." Another warned me, "This is the house of clutter, and we get to walk through almost every single room (which goes from clean, to a little less clean, to full on s—t show) on the way to my studio."
Such is the life of a full-time artist, caregiver, and mom of 14- and 11-year-old boys.
As we do, indeed, navigate clutter (more on that later) and enter her tiny studio, my eyes are immediately drawn to a loosely rendered landscape, her signature terracotta red underpainting peeking through.
This is the genre for which Albano is best known through frequent group shows with her good friend Peter Roberts at Location Gallery and through her inclusion in Carmen Aguirre's impressive stable of artists at the Mansion on Forsyth Park's Grand Bohemian Gallery.
Her townscapes and landscapes are typically very gestural, the acrylic paint strokes visible in bold colors over the vibrant underpainting. Sometimes they become less impressionistic and more abstract as she breaks the surface into planes and segments of color.
Originally from Long Island, NY, Albano came to Savannah in the early 90s to attend SCAD and graduated magna cum laude with BFAs in Illustration and in Painting.
After graduation, she sold her landscapes through sales at the much-missed Café Metropole (now home to The Grey) and regular shows at Gallery Espresso, all the while waiting tables at Vinnie Van GoGo's to supplement her sporadic income.
The landscape I initially admire is of Orient Point, at the very tip of the North Fork of Long Island.
"Just to be fully immersed in that environment, how could you not paint it? But I typically don't say where they are, preferring the viewer to see what they want to see." Orient Park is where Albano and her sister spent every idyllic summer, rising early to look for beach glass while her grandpa started on his Italian sauce.
Sold after her grandmother's death, the property was bought back by the family daughters about 15 years ago, and now Albano and her two boys spend three weeks each summer in that heavenly part of the world. (Besides providing infinite inspiration for her paintings, the beaches on Long Island Sound yield driftwood for her impressive annual beach fort festooned with neighborhood kids' artwork.)
Art has always fed Albano's soul. All through elementary school and beyond, she was heavily influenced by her Aunt Loretta and Uncle Kenny who had both attended Pratt.
They ran a thriving book illustration company, and their Hasbrouck Heights, New Jersey home was filled with amazing artwork and a phenomenal book collection.
Albano is also very musical, "We have tons of instruments and I try to play all of them. After SCAD I took cello lessons for three years with the 2nd Chair of the Savannah Orchestra before I made the conscious decision to really focus on my art."
Last spring, her now widowed Aunt Loretta fell and broke her hip. Her dementia was worsening, and she needed fulltime care.
Besides running the successful illustration company, Loretta had been a potter, organic gardener, painter, and art aficionado, and Albano adores her. She and her sister shared the onerous job of packing up Loretta's house in just three days and moving her into a facility in Savannah where she can receive daily visits.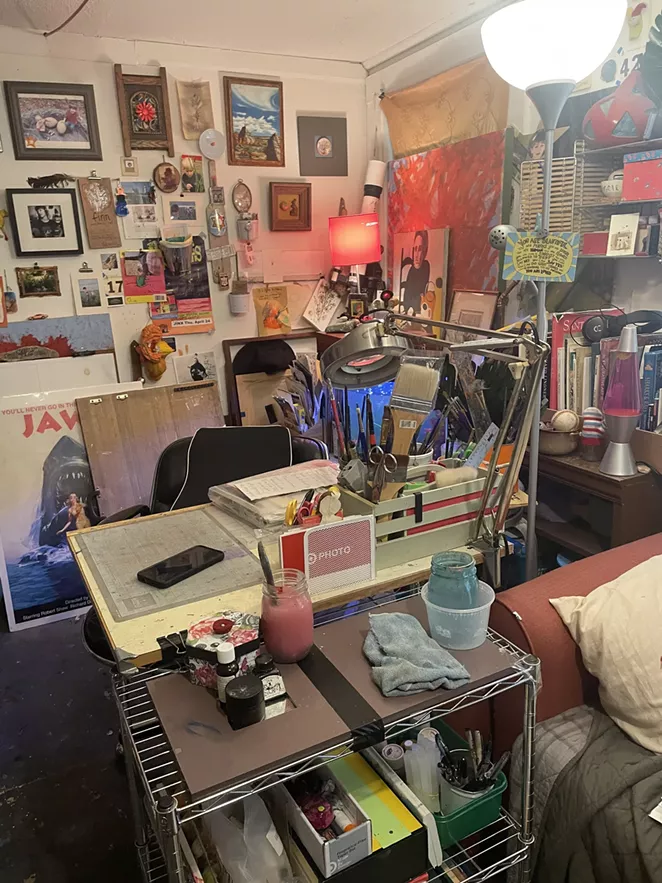 In her fast-paced Long Island accent, Albano points in one direction and says, "My sister lives three blocks that way."
Pointing in the other direction, she says, "My mother lives three blocks that way. I see her every day. I love my mother. Put that in the article because she'll kill me if you don't."
"After Loretta's move, and before we decided what was going where, my house was totally filled with her furniture and possessions," Albano goes on. "I couldn't even get into my studio and the only art supplies I could access were my aunt's travelling watercolor sets. I started painting and posting on Facebook and Instagram and people just had a great reaction to them."
So much so, that Carmen Aguirre of the Mansion's Grand Bohemian Gallery approached her about having a show of works on paper. She brings out a heavy sheaf of watercolors of assorted sizes – all of brightly colored flowers. Not a landscape in sight.
Painting floral watercolors while her house was so chock-full of her aunt's things "was cathartic after everything we'd gone through," Albano says. "It was a moment of not thinking about problems. A time where I could feel the connection to my aunt. She and my uncle had an amazing garden, and these are all images taken from her vast collection of gardening notes."
She continues, "My uncle laid out beautiful, raised beds with interconnecting bricked pathways. In addition to flowers, they grew cabbage, artichoke, Asian pears, strawberries, everything you can imagine. All organic."
In her aunt's gardening notes, Albano found numerous scribbled pieces of paper containing ideas of what to plant next to what, what to use to battle insects, and hundreds of images of flowers. These images, and her memories, are the inspiration and the heart of the new show.
Albano, who has not painted with watercolor since college, says she lays down the color first and then draws over it with pen, later adding acrylic. Some pieces have a stained-glass quality because of the black pen's tracery-like effect.
She feels that this work marries her landscape painting with her illustration work.
(We go off on somewhat of a tangent talking about her illustrations, which include a mural in Liberty Street's Savoy Society, and about how, prior to having children, she was known for illustrating the ladies' bathroom at Pinkie's. "I don't go anywhere without a Sharpie.")
Despite the stress of home schooling her sons during a pandemic, coping with her aunt and uncle's estate, and becoming a parttime caregiver, Albano's life seems chaotic but rewarding.
Most weeks she carves out time to get into her studio – a small, cluttered room where she is surrounded by her children's, aunt's, and friends' artwork, by found objects, art supplies, memorabilia and even a fish tank of Black Mollies she got from the tattoo shop in Starland after seeing them on the Buy-Nothing-Midtown Facebook site.
Being around Albano is both fun and energizing. She has a razor-sharp wit and is very funny and self-deprecating. Just a good person. Making good art. And wanting to honor the life of her inspirational and beloved Aunt Loretta.
The opening champagne reception for Stacie Jane Albano's "In the Borough of the Laurel Tree's Garden" is Thursday, April 7 from 5 to 8 pm, and runs from April 7 through April 30. (The title of her show derives from the boroughs of Long Island and pays tribute to Loretta's name – which means Laurel tree in Italian.) Follow her on Instagram or Facebook @staciejeanalbano