"DFACS would send toys to foster homes during Christmas. I would get one or two and she would let me keep them in my room. And then she would break them in front of me or bury them in the backyard by the riverbank."
Memories such as this, are at the root of Rob Forbes' show "Childish Things; Explorations of the Inner Child" opening this Saturday at RO3 Gallery on Montgomery St.
I have written before about my respect for Stephanie Forbes, owner and director of one of Savannah's newest and most exciting art spaces. My affection and respect deepen as I meet with her to discuss this powerful show of her father's work…A conceptual exhibition comprised of over 500 toys, sculpture, installation pieces, small panels, and photographs.
Based in Augusta, Rob Forbes owns and operates his own studio and business, Moving Canvas Media, a full-service production company specializing in original creative concepts, video, film and photography content for television and the web.
He graduated Summa Cum Laude from the Savannah College of Art and Design (BFA, Illustration), met his wife Lynne while there (her degree is in Graphic Design), and eventually raised their daughter Stephanie as the first double legacy SCAD graduate.
It seems fitting that Rob's first solo show will coincide with Saturday's SCAD Sidewalk Art Festival, the first since the pandemic, and Stephanie looks forward to welcoming her parents' college friends and SCAD alumni.
She particularly hopes his three college roommates can make the trip. Tangentially, she tells me the crazy story of how, as a SCAD Alumni Atelier Associate, she was given an apartment and studio in Forsyth House on Barnard St.
Her mom and dad came to see it last year, and unbelievably, it was Rob's very first apartment that he'd shared with his three roommates. Pure kismet.
Stephanie says, "My father has been an artist for a long time. Originally he made constricted, perfected graphite work and illustrations, but eventually started creating childlike, playful, colorful collages and paintings. I never knew why. I didn't know the root of his trauma until we started to talk about my own issues about six years ago. Now Dad is finally moving away from that happy, childish work and creating from an adult's perspective. The divine blessing of being an artist is that, eventually, we must make those things."
The trauma she references is Rob's childhood in the foster system of the 60's and 70's.
Taken from his mother at age one, he and his siblings were separated and housed in numerous foster care homes until age seven, when he was placed in the permanent care of foster parents on St. Simon's Island. It was an abusive environment.
Here is another gut wrencher of a memory: "She used to make us go around and collect yard trash from all the neighbors. She would take all the debris to mulch her garden. One day, when we were doing that, I found a half-inflated basketball and that's one of the only things I ever had to play with. I used an old 55-gallon drum in the backyard as a kind of hoop. It lasted for years…All the foster kids who came and went from that house played with it too. They probably remember that."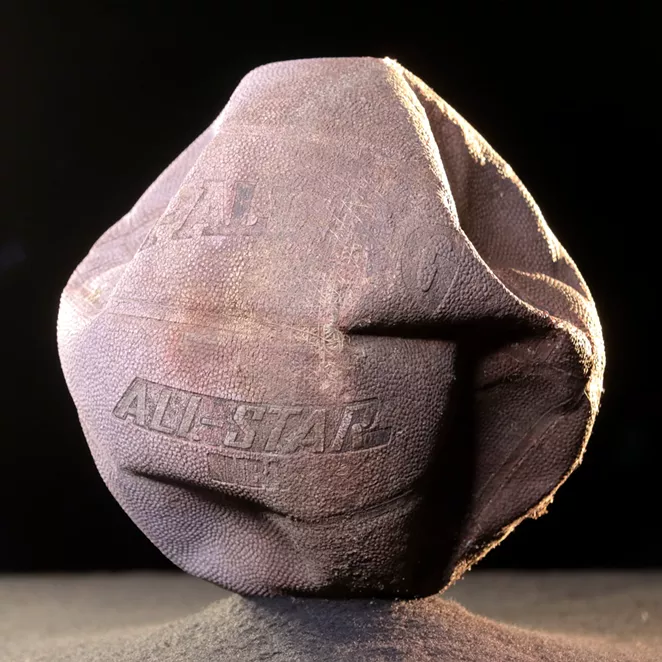 During our FaceTime session with Rob, he tells me, "When you are in the foster care system and you have toys and then they move you, things get lost. I don't really remember particular toys – just that my sister had Barbie Dolls and a Mrs. Beasley doll. After age seven, I got toys from DFACS at Christmas but the home I was in, if you got in trouble and they took your toy, it was gone forever. It wasn't taken for a week to punish you. It was taken forever."
For many years, this childhood lack has translated into a compulsion to collect.
Rob says, "I don't buy new toys. New toys don't have a story yet. I like toys that have a history of bringing joy and love to the ones who got to own them, even if it was short-lived. That's why I go to estate sales every weekend with my wife."
Rob recently made a Facebook post asking friends for more toys as the deadline to complete the work for this exhibition loomed nearer. Serendipitously, one of his friends brought over a big garbage bag, full of ten different basketballs.
"Some of them had no air, some of them had a little bit of air, some were almost inflated – and I realized that they needed to be part of the show."
Stephanie explains her father's collection compulsion this way, "It began as a way to compensate for what felt as a lack of innocence allowed to his younger self: a process to restore a disadvantaged youth and honor the art-making process that allows one to tell stories and heal."
She talks about him micro-dosing his memories…Coming to terms with things that he's never talked about. She sees "Childish Things" as offering "a lens into a current and activated healing process" while "highlighting the dark side of the foster care system of the 60s and 70s…a child unheard, and a journey toward recovering from an abusive and narrow youth as each piece is a story that honors a specific and transformative moment in the artists' journey toward overcoming."
Rob tells me, "I guess this show has been brewing for 50 years. It kind of manifested organically but I can assure you, if it had not been for Stephanie pushing me, this would not have happened so quickly! This work has been in my head for years, but I never had the resources, the structure, and the motivation to get it done." He says creating the pieces has been therapeutic, "and very exciting, because I like what I have done."
A self-described "extremely private person," he is clearly concerned that the opening reception will be difficult for him. "People will have questions and that will probably evoke a lot of emotion for me. I had some things in my head that were very dark, but I chose not to do that. The memories are dark but the experience of making this artwork has been really bright."
After we finish the FaceTime session with her dad, Stephanie tells me about growing up in a home where the guestroom had been turned into a display room for his Hot Wheels collection.
"He had thousands of them in glass cases. That was his obsession. But it shifted when he started to understand that it stemmed from his not being allowed to have toys as a child." She continues, "This exhibition is very intense. He's almost 60 years old and he's just now getting to this kind of work and this kind of consideration as an artist and creative. I'm excited for him. There's tension in what he's doing now. I think this is what he's meant to be doing. There are so many scarred adults…Dad never talked about this until six years ago. It's important work."
The opening reception for Rob Forbes' "Childish Things; Explorations of the Inner Child" is Saturday, April 23, from 6-9pm at RO3 Gallery, 915 Montgomery St.
A food truck will be on site. The exhibition runs through May 26. His work can be seen on Instagram @RForbes_Art
Find out more at RO3.com. And follow along as Stephanie begins her second stint as a SCAD Atelier Associate. For the next three months she will be creating "Mema in the Magnolia" honoring the rich memories of her mom's mother.