The Savannah Repertory Theatre will present "On Beckett," conceived and performed by Bill Irwin (Fool Moon, Who's Afraid of Virginia Woolf?, 2005 Tony Award for Best Actor in a Play), as its 2022 Season opener from May 12 - 15 at the Ben Tucker Theater in Savannah's Cultural Arts Center.
"Seeing this production in person shortly before the pandemic and then watching Bill re-invent it for a digital audience in 2020 was inspiring beyond belief", said Rep's Executive Director Ryan McCurdy, "and we knew instantly we wanted to share this stunning work with Savannah as soon as the world re-opened."
Bill Irwin cannot get away from Samuel Beckett. Irwin has spent much of his life enchanted by the legendary Irish writer's language.
Irwin's approach to the comic, the tragic, to every side of Beckett's work - including Waiting for Godot, Texts for Nothing, and more - will allow audiences to get immersed in the language in fascinating new ways.
"I do admire Beckett's work and have for decades, but it's a complicated admiration. About 50 years ago, I first picked up his best-known play, and gradually I've been immersing myself in his writing ever since, sometimes reluctantly," said Irwin.
Beckett was an Irish novelist, playwright, short story writer, theatre director, poet, and literary translator. A resident of Paris for most of his adult life, he wrote in both French and English. It was his use of words, language and being Irish American that peaked Irwin's interest more.
"It began as a coping mechanism. Language I would put it into my brain as an actor to perform it. It didn't go away like other great language. Shakespeare, Edward Albee would go in my brain. I'd have some fond memories, but pretty soon it's like, you can hardly remember," said Irwin.
This was not the case with Beckett's work which stuck with him. In Irwin's production, he studies a performer's relationship to Beckett, mining the physical and verbal skills acquired in his years as a master clown and Tony Award-winning actor.
"Some people say Beckett's work is a wall of words and sometimes it is. I think within that wall of words on the page is incredible reference to deep technicality," said Irwin who enjoys Beckett's descriptions for different things.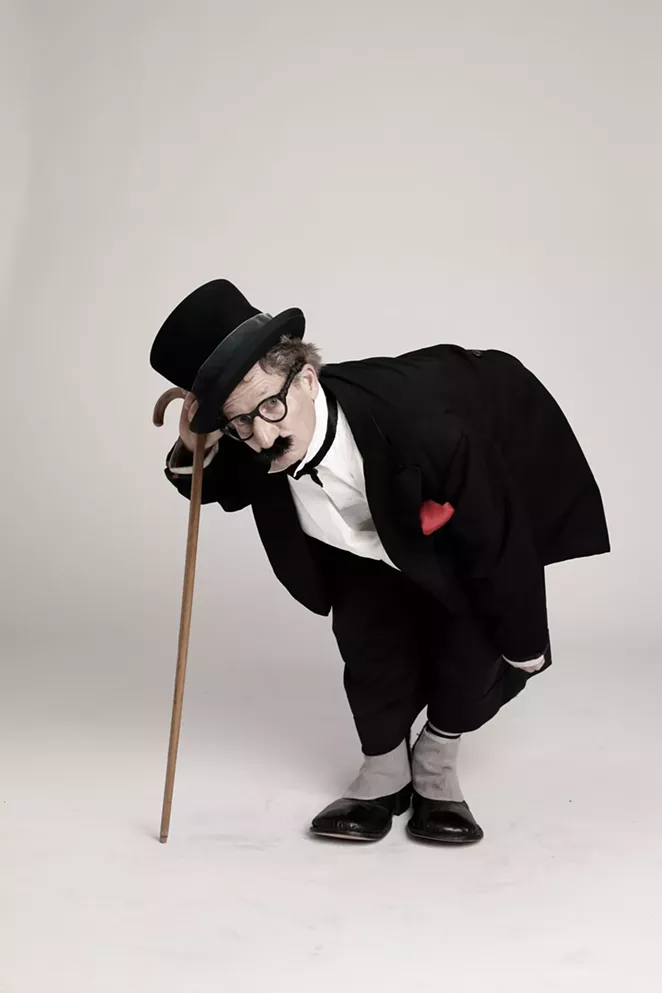 For example, Beckett's use of stage direction, like in his famous play "Waiting for Godot" he uses the stage direction "They remain motionless, arms dangling, heads sunk, sagging at the knees."
"He's the only player in the world who's going to give you that kind of stage direction. It's just so specific in what he wants to see. Then for motion, he has another stage direction later in the play where he says he goes feverishly to and fro just feels like a sign up. I think he is a writer of the body," said Irwin.
"On Beckett" was originally developed at American Conservatory Theater in San Francisco.
The production premiered Off-Broadway in 2018 at Irish Repertory Theatre and received a special Lortel Award for Outstanding Alternative Theatrical Experience. In addition, Irwin received a 2018-2019 Outer Critics Circle Award nomination for Outstanding Actor in a Play.
"There is nothing like being together in a room hearing an incredible writer be given voice by an incredible performer, and to have the legendary Mr. Irwin and the works of Samuel Beckett help us re-open Savannah Rep's next act is a true dream," said McCurdy.
The creative team for "On Beckett" includes set design by Charlie Corcoran, costume design by Martha Hally, lighting design by Michael Gottlieb, sound design by M. Florian Staab, stage management by Lisa McGinn, and is produced by Octopus Theatricals.
They found ways to virtually produce the show during the Covid lockdown and now Savannah will be the tour's first multi-night stop after it premiered at the McCarter Theatre Center earlier this year.
"I have to say thank you to Ryan McCurdy and the Savannah Rep because I'm thrilled that whatever set of circumstances has me coming to Savannah to bring this show to an audience there and learn a new city. They are an incredible organization and I am glad that Ryan is bringing equity theater to Savannah," said Irwin.
The show runs 90-minutes with no intermission. Children under the age of 4 are not permitted in the theater.
Tickets are on sale at savannahrep.org. Visit the site for more information.