"In time, we hate that which we often fear."
Yeah, that's William Shakespeare to open this week's sports column.
Heady stuff, but it's relevant to the renewal of the city's fiercest high school rivalry this weekend in midtown Savannah. Two undefeated football teams with a healthy amount of hate between them, Calvary Day and Savannah Christian are set to play for the 44th time ever on Friday, September 23 at Calvary's Specialty Sports Complex.
The game will be televised locally on WSAV beginning at 8 p.m. Although the kickoff is set for 7:30, the broadcast will be tape-delayed. You can watch it on TV or online at WSAV.com. Andrew Goldstein and Andrew Davis will be on the call.
SCPS has an advantage in the all-time series with a record of 26-17, but CDS won 21-0 last year before making its run to the state semifinals. Friday's game will be the third time ever that SCPS and CDS have met when both squads are undefeated (2011, 2014).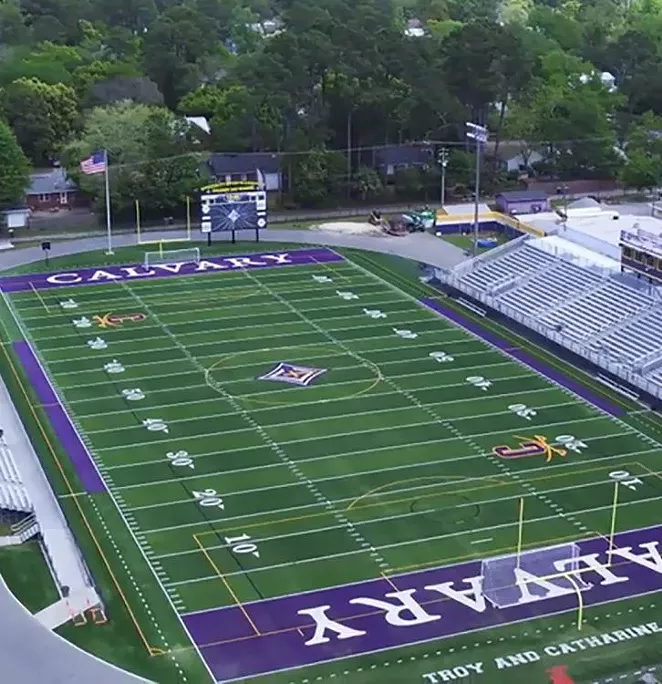 The Cavs (3-0, 1-0 region 3-3A) enter the game ranked No. 3 in most Class 3A polls this week and they are, in my opinion, the best high school football team in this area. Georgia Public Broadcasting has Calvary as the No. 2 team in the state.
Savannah Christian (4-0, 1-0) has been absolutely dominant through the first month of the season, but the Raiders remain unranked in most 3A polls (they are No. 8 in Score Atlanta's Week 5 poll). That isn't a slight to the Raiders, but it might be a nod to their soft(ish) schedule in the non-region (the four SCPS wins thus far have come against opponents with a combined record of 5-13). Critics of Savannah Christian's legitimacy won't be able to point to the strength of schedule after this week, however.
Now is a good time to remind those new to the rivalry: Everyone knows everyone here. The two private schools have a lot in common, including the people who have helped contribute to the rivalry over the years.
Many of the players on both sidelines grew up playing with and against one another in youth sports leagues. Parents and fans in both sets of bleachers work together and are no strangers to the history between the schools.
Savannah Christian's head coach, Baker Woodward, played quarterback at Calvary in the late 1990's. Calvary's offensive coordinator, Russell DeMasi, played quarterback at Savannah Christian in the mid 2000's. A defensive assistant for Calvary under head coach Mark Stroud, Donald Chumley was the head coach at Savannah Christian from 2005-2016. While at SCPS, Chumley had a record of 116-32, reaching the state championship game three times and winning it once (2011).
In short, both teams will know exactly who is lining up across from them come Friday night. They will know what's at stake. For games like this, the fear of losing is potent. It's palpable. This one simply matters more than the others and everyone involved knows that.
Fear breeds hatred. There will be no shortage of either emotion on Friday when Calvary and Savannah Christian kick off at 7:30 p.m.
For fans of high school football in this area, it is everything we could ask for. It's put up or shut up time.
SPORTS NOTES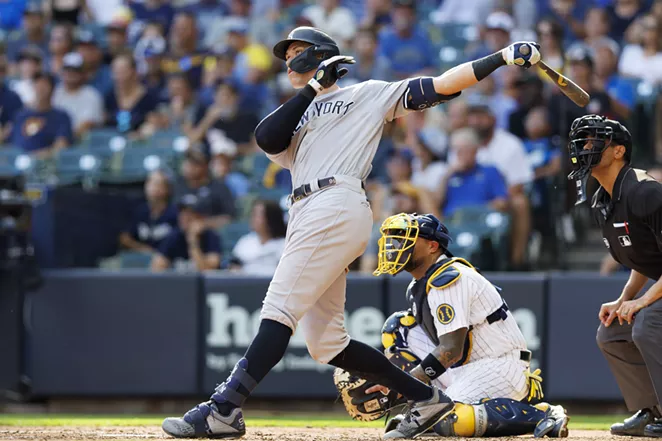 As of Monday, September 19, New York Yankees outfielder Aaron Judge had hit 59 home runs, moving him two homers shy of tying the legendary Roger Maris single-season mark of 61 home runs. With 16 games still remaining in the season, Judge seems to be a lock to break that record. It'll be interesting to watch how teams and opposing pitchers approach the slugger as he nears the record. Something tells me he won't see many strikes as nobody wants to be the pitcher who surrenders the record-breaking long ball.
Georgia Southern Football (2-1, 0-0) couldn't keep its early season magic going last weekend in Birmingham as the Eagles were roughed up in a 35-21 loss to UAB. GS opened this week as a 9-point betting favorite against Ball State for the non-conference game in Statesboro this Saturday evening.
Georgia continues its stroll through the college football season. The No. 1 ranked Bulldogs (3-0, 1-0 SEC) made easy work of the South Carolina Gamecocks last week in Columbia, South Carolina. UGA won 48-7 and put up 547 yards of total offense. "I thought we had some guys grow up today," said Kirby Smart after the rout. Props to the Gamecocks, though. They scored the first touchdown against the Bulldog defense this season with 53 seconds remaining in the game. UGA hosts Kent State on Saturday at noon in Sanford Stadium.
FOLLOW Travis Jaudon on Twitter/Instagram @JaudonSports. Email him at travisLjaudon@gmail.com. Listen to him on Hot Grits Podcast, Savannah's No. 1 sports podcast. New episodes are released each Tuesday.