The city is moving forward with long-needed restoration plans for three of its historic downtown buildings, while a long vacant commercial building in Midtown could be getting a new use. In addition, another apartment complex is under construction in an area that is seeing increasing commercial investment in recent years. Read all about it in the latest edition of Property Matters.
Stay engaged Savannah, Eric Curl
Two Tides Brewing owners planning diner in Midtown
The owner of a Savannah microbrewery is planning to open a restaurant at a recently renovated building at 1401 Paulsen, which once served as a dry cleaners and laundry business.
Two Tides Brewing owner Liz Massey said that she is planning to open an "American-style diner", similar to Waffle House, at the location. Two Tides beer will also be brewed at the site, but at a greatly reduced scale, Massey said.
"This project is going to look vastly different from Two Tides ," she said via email on Dec. 8. "Right now we're thinking we'll have 1 year-round core beer, and release 1-2 other seasonals each year at the diner."
For comparison, she said Two Tides releases more than 100 new beers a year.
Built in 1955, the former dry cleaners and laundry business on the southwest corner of Paulsen and Anderson sat boarded up and vacant for many years. Vintage Home Restoration's owner Michael Condon acquired the building in Sept. 2018 and subsequently renovated the structure.
The diner concept is in its early planning stages. Massey said she will have to get approval from the Metropolitan Planning Commission and Savannah City Council since the current zoning doesn't allow for microbreweries. The building also needs some additional work, including the installation of windows, electric, restrooms, air-conditioning and a staircase to the second floor.
The concept comes more than four years after Massey and her husband, James Massey, opened Two Tides Brewing in March of 2018. The brewery and bar is located at 12 W. 41st St. in the Streetcar Historic District – also branded as the Starland District – south of downtown.
Work begins on apartments at East 39th & East Broad
New York-based Procida Development Group recently began clearing the site for a 3-story apartment complex at 601 East 39th St, following the city's issuance of a building permit for the project.
Located on the southeast corner of 39th and East Broad streets, the planned 38-unit apartment development consists of three buildings with some street-level retail on the westernmost building adjacent to East Broad.
The plan includes the demolition of a single-family home and one-story commercial building on two adjacent parcels east of a vacant lot that is also part of the development site. In addition, a parking lot is being developed on two parcels across 39th street and some on-street parking will also be provided for a total of 44 spaces.
The properties are part of a planned urban development that also includes the Hop Atomica microbrewery and restaurant across East Broad, in addition to an apartment building catty corner to the planned multifamily housing complex.
Construction is expected to take about 16 months and the rental rates will be in line with the market once the units are ready to lease, according to Peter Procida, Procida Development Group project manager.
City planning restoration of three historic buildings
The city is moving forward with plans to restore three historic buildings.
On Thursday, the Savannah City Council approved contracts related to the restoration of city hall, the Gamble Building, and the Savannah Police department's headquarters.
Ethos Preservation was awarded a $$490,395 design contract for the restoration of city hall, which has had no interior restoration beyond regular maintenance and the installation of some modern systems since it was built between 1904-1906, according to city officials.
The contract comes about four years since an analysis by Lominack Kolman Smith Architects reported issues such as cracked mosaic tile, damaged wood trim, damaged columns, altered window sashes, missing brass door knobs, active water intrusion and electrical deficiencies. The restoration will focus on portions of city hall's front facing the public, including the council chambers, the rotunda, the main stairwell and the entrance lobby.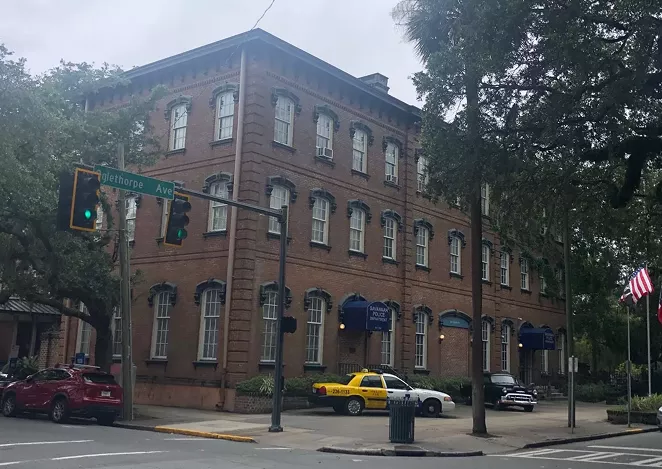 Police Headquarters
Savannah's 153-year-old police headquarters at 201 Habersham St. will undergo exterior and interior renovations following the council's award of a $7.8 million contract to Johnson-Laux Construction.
Since about 100 employees will need to be relocated during the project, the city council approved a 3-year lease agreement for use of an office building at 6600 Abercorn St. The initial annual rent will be $414,550, and this base rental rate will increase at 3% per year.
After the renovations are completed and police department employees are back downtown, the space will be used to accommodate other employees who are currently working in substandard conditions, according to city officials.
Gamble Building
The city council also approved a $960,833 contract with Johnson-Laux Construction for interior demolition work in the Gamble Building, as part of a plan to once again use the building for employee offices.
Built in 1877, the city had vacated the building in recent years as part of the past administration's plan to sell the property. Preferring to retain ownership, the current council abandoned that plan after a previously approved sales agreement fell through. The city expects a full renovation contract to go out to bid in the fall of 2023.