Burlesque, drag, some local honey, and southern glamour all come together at the Hostess City Hoedown presented by the Savannah Sweet Tease Burlesque Revue, which returns May 25–27 at Club One in Savannah.
"I was really shocked at how well it came off last year. A lot of momentum built up, and last year was amazing, and we had a great turnout," said Rita D'LaVane, festival co-producer and co-founder of Savannah Sweet Tease.
D'LaVane, a Savannah native who started performing burlesque in 2004, won 'Best Burlesque Performer' in Connect Savannah's Best of 2020 and 2021 and has been performing locally and across the country, including winning Duchess of Funk at the 2019 What the Funk: All BIPOC Burlesque Festival in Seattle. They studied their craft and brought their years of experience to this festival.
"We spend so much time perfecting our craft and creating a persona to make sure that we are giving our audience an experience that they'll definitely remember and something to come away with," said D'LaVane.
The three-day festival is a celebration of the performing arts in our area. D'LaVane created this festival to celebrate drag, burlesque, and cabaret, especially in the Southeast.
"I feel there was a blind spot in our area for this kind of performing arts. There isn't a lot of attention, and I am glad our festival brings that," said D'LaVane.
The festival will feature many local performers and those from across the country. Kicking off on Thursday, May 25, guests can step into the beehive with "Local Honey," a showcase highlighting performers local to the southeast with a few extra special guests.
"Last year, I think opening night was my favorite. Just like last year, the kickoff event is lined with performers that are based in Savannah and the surrounding areas," said D'LaVane.
The featured local performer for Thursday is Sallie Just Sallie. She was voted "Best Local Drag Queen 2022" in Connect Savannah and was crowned Miss Savannah Pride 2022. The headliner for Thursday is Jenny Castle out of Gainesville, Fl.
On Friday night, people will come from near and far for the sparkly gala at "The Southern Glamour Get Together," with some of the most renowned acts in the business coming to perform.
"Our headliner for this event is going to be our legacy icon performer. That great performer is Sepia Jewel, and she's in her 60s. We wanted to show people that you could do this at any age," said D'LaVane.
Returning this year to perform on Friday is Dax ExclamationPoint. She is a drag queen, cosplayer, performer, and one of the Season 8 contestants of RuPaul's Drag Race.
The other headliner on Friday is Dr. Lady J. She currently serves as the official drag historian for the Austin International Drag Festival. Friday night's event will be hosted by Della-Kate Flower and Roula Roulette.
There will be a raffle this year on Thursday and Friday nights, with proceeds going to the ACLU Defense Fund.
The festival ends on Saturday with the "Hoedown Throwdown Competition Night." Opening the evening, the all-star headliners will strut their stuff in a special showcase, followed by our competition. Performers will go head-to-head to be crowned the Supreme of Savannah.
"Before we crown a new supreme, the current reigning supreme, Phoenix Midnight, will headline on Saturday, and then the competition takes place, and people are going to be pulling out all the stops. People are coming from near and far for this event," said D'LaVane.
Also headlining on Friday are King Perka Sexxxx and Bella Sin, who was voted one of the top 50 burlesque performers in the world. Saturday's event is hosted by Club One icons Chi Chi Bonet Sherrington and Blair Williams.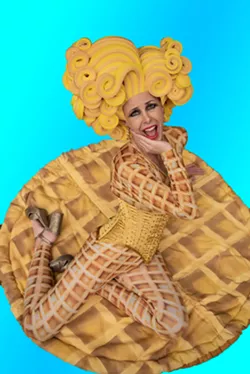 Producing the festival with D'LaVane are Magnolia Minxxx and Cassie Caddel, and together they have over 15 years of combined expertise in production and event planning. Their mission with the Hostess City Hoedown is to bring diversity to the forefront of the performing arts community.
"Historically, drag and burlesque are considered theater as well. It confuses me as to why people feel like what we do is wrong, when the only thing we want to do is make sure that everybody's having a great time and feels the same sense of joy that we feel when we're out there performing," said D'LaVane.
D'LaVane hopes that this event continues to grow and will become a woven piece in the fabric of the Savannah performing community.
Tickets for the show can be purchased by visiting clubone-online.com.